Domino's Pizza Equipment (Must Know Things)
Last updated on September 11th, 2023 at 02:13 pm
It is fair to say that Domino's Pizza sits at the top of global pizzerias. The brand has had over 60 years of innovation and excellence.
The competition seems to follow as the largest Pizza chain in the world leads the way. In fairness, its rivals are not miles off. But no one has been able to match Domino's Pizza stride for stride.
Many people have tried to recreate the Domino's Pizza effect. Albeit in vain.
The exploits of Domino's Pizza in the food industry always raise curious eyebrows. What is the secret to its success?
One cannot help but stand in awe at its level of consistency and dominance. The crunch of Domino's Pizza is a delight beyond compare.
Apart from the quality of its product, it has stood out in fast preps and delivery. So, does Domino's Pizza use equipment out of this world?
Domino's Pizza equipment differs among its franchisees. But the brand sets a standard every outlet must follow. It does not focus on the manufacture of equipment yet. But, Domino's does have a distribution arm. The unit sells approved equipment to franchisees. Due to the scale of work, the equipment is industrial-grade.
Domino's Pizza Equipment List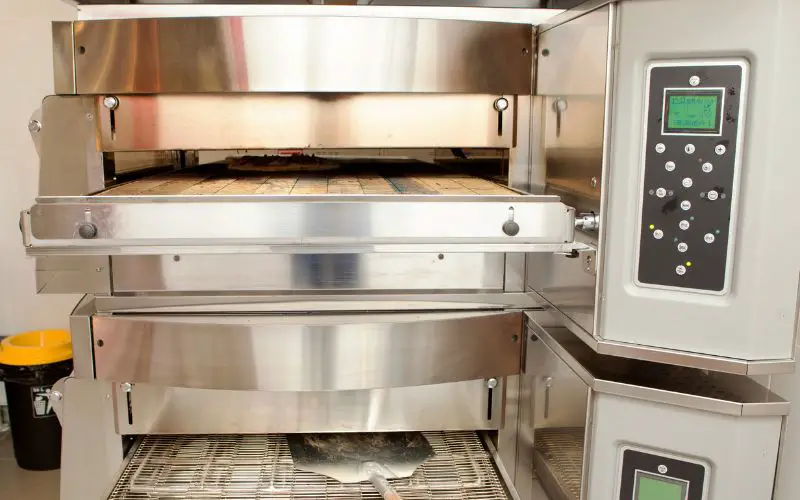 Domino's does not mix and make pizza dough at the store. So, you will not find any such tools at the pizza store.
Instead, domino's has a dough factory that supplies stores with fresh pizza dough daily. 
That serves to cut down the work on staff at the pizza store. Instead, they focus on pizza orders and cooking. Domino's prides itself on fast delivery services.
So the equipment you find in any outlet is always premium.
The equipment type you find at Domino's Pizza differs among franchisees. However, it is usually down to taste.
That is, as long as the equipment is up to standard. Let us run through the list of Domino's Pizza equipment at the pizza store.
#1. Pizza Store Equipment
Dough Boxes
Trays
Spatulas
Pizza screens
Pizza prep table
Bowls
Ladles
Pizza oven
Pizza peels
Pizza cutters
Pizza boxes
 Pizza delivery bags (Heat Wave)
Refrigerators.
Much of the process at the dough factory is automatic. So, equipment is on an industrial scale.
First, the staff pours 500 pounds of six main ingredients for the pizza dough into each giant metal mixing bowl.
Then, flour, yeast, sugar, salt, oil, water, and a secret goody bag make up the dough. The goody bag is what makes Domino's Pizza dough special.
After mixing, the mixer moves the dough to a bowl elevator. The bowl elevator dumps the dough into a divider. The divider then cuts the dough into perfectly-shaped balls.
From there, the dough goes to a conveyor belt. The staff then pick the dough balls into trays, placing six balls in each tray.
Finally, the workers cool the dough on the trays, then pack them into refrigerated trucks. The dough factory usually ships dough to pizza stores with other ingredients.
Which Oven Is Used by Dominos?
Generally, you find that Domino's Pizza uses the conveyor oven. These units are great for baking pizza en masse. They are the go-to ovens for most pizzerias.
Though recent tech makes it possible to have Smart Ovens, they do not take many orders like conveyors. Smart ovens, however, speed up the baking process for pizzas a great deal.
Domino's favors XLT ovens in its franchises. They are state of the art and take excellence to new heights. XLT ovens are the favorite of many pizza chains and restaurant groups.
They do not only stand out in performance, but they are also the quietest. The quietness is down to the XLT patented Quiet Fire Burners.
Buyers can choose the single, double, or triple stacked option on every XLT Ovens model. It is also simple to upgrade a model or add another deck.
XLT parts are off-the-shelf top branded parts from top producers like Honeywell. They cost little compared to original manufactured parts. So, you get huge savings if a part needs replacing.
A recent XLT innovation is the Hood System, which fits any XLT model. The patented design fits tightly around the ovens.
It captures all the heat and directs it outside. The XLT Hood System uses at least 50% less air extraction than a regular canopy.
Less installation and operation costs and simple maintenance. These factors make XLT the first choice for every pizza restaurant operator.
Domino's is in the works to make a unique oven that cooks pizza dough in 3 minutes. Yes, you read that right, three minutes!
The brand has had test runs of the pizza oven. But, there is no mass production of units just yet.
How Much Does Domino's Equipment Cost?
The prep table and pizza oven are the major equipment in a Domino's Pizza store. The conveyor oven is usually the double or triple deck option.
The single-deck conveyor oven does not serve too well for many pizzas per time. The pizza prep table should be large enough to give plenty of room to prep the dough and have toppings.
Here also, the pizza prep table is usually the three-door or four-door option.
Domino's favors wares like the Delfield TB113SL2S 114-inch 3-door pizza prep table. It costs a little over $16,000.
The Traulsen 186114PTBMP 113-inch 4-door prep table with two pan rails is also a good fit. It goes for about $27,626.
Still, products can come from other makers. A pizza prep table is a good fit if it is wide and has space for 20+ toppings. Single-door and two-door options are not good buys.
XLT conveyor ovens do not have fixed prices. That is because the buyer can customize each unit before purchase.
For any product you want to get from the XLT store, you need to select your preferred specifications.
After that, you can request a quote from the company. There are usually six customizations to make.
#1. Stack
Single
Single with Hood
Double
Double with Hood
Deck only
#2. Belt
#3. Extended Front
#4. Power
120V, 60Hz
208/240V, 50/60Hz
#5. Heat
Natural Gas
Propane
Electric.
Your selections determine the final cost of the model you want to get.
Frequently Used Types of Equipment by Dominos
Domino's is not too picky on the choice of equipment makers. Franchisees can use products that give them the needed results and standards.
Wares like the pizza peel, ladle, screen, cutter, and other prep tools can come from any producer. That is, as long as they get the job done well enough.
But the oven, prep table, and refrigerator come from the top manufacturers in the industry.
What Technology Does Dominos Use?
One-time CEO of Domino's Pizza, Patrick Doyle, praised the brand as a tech company that sells pizzas. That held when he was CEO from 2010 to 2018 and still holds today.
The brand is always at the forefront of innovation in the food industry. Here are some of their existing technology below.
#1. AnyWare Ordering
Domino's came up with this feature in 2015. It allows customers to make pizza orders from a wide range of line-ups. They include;
Alexa
Amazon Echo
Android Wear smartwatch app
Apple Watch
Facebook Messenger
Google Home
IFTTT
Pebble smartwatch app
Slack
Text
Twitter.
#2. Electric Bikes
In 2019, Domino's teamed up with Rad Power Bikes to launch the hallmark e-bikes. The bikes reach speeds of 20 miles per hour and can hold 12 large pizzas.
#3. Heat Wave Delivery Bags
Here you have a patented delivery bag from Domino's Pizza. Domino's Heat Wave is a unique insulated pizza delivery bag that locks in heat.
It keeps the pizzas warm until customers take delivery of them.
#4. Online Pizza Ordering
Customers can place their orders online via the Domino's Pizza app or website. They can also use the voice ordering feature with Domino's AI expert, DOM.
#5. The Easy Order Button
Domino's lets customers place orders with just a touch of a button. Customers can register their details and select a preferred pizza set up for the feature.
It works over Bluetooth, and the shape is like a tiny pizza box.
#6. Pizza Builder
This feature allows customers to choose the exact pizza toppings they want. In addition, they can select a combo of any available ingredients.
So, customers can get pizza orders tailored to their taste.
#7. Pizza Tracker
Customers no longer need to hang in suspense waiting for orders to arrive. The Pizza Tracker allows customers to follow the cooking and delivery process.
They only need phone numbers to check their pizza orders on the tracker.
#8. Self-Driving Cars
In 2015, Domino's Pizza tested self-driving cars with Local Motors (LM). They called the vehicle DXP (Delivery Expert). It had space for a human safety driver to tag along.
In 2019, Domino's Pizza launched an upgraded model called NURO R2, this time with Ford Motor Company. NURO R2, however, had no space for a safe driver.
Customers in some locations can use this option for pizza delivery. There are plans to make units available in more areas soon.
Conclusion
Domino's Pizza uses first-class industrial-grade wares on the market. It is not picky about the equipment its franchisees use but sets a standard they must follow.
Domino's prides itself on fast delivery services. Its advanced technology incorporation is a stand-out feature. Little wonder you hear Domino's is a tech company that sells pizzas.