19 Discontinued Starbucks Food!
Last updated on October 26th, 2022 at 05:18 pm
Starbucks is a well-recognized coffee chain for its unique drinks. But aside from the famous coffee, they also serve some dishes for breakfast and lunch. 
These additions make them an excellent spot for early breakfasts, coffee on the go, or even a late lunch. 
However, after some time, Starbucks discontinued some of its foods due to some problems. And this didn't go unnoticed by customers despite their broad menu.
Starbucks removed some foods from its menu a few months or years after being launched. Most of these foods were sandwiches and salads; others were snacks such as cookies and potato chips. And all discontinued foods had different reasons for being removed from the menu, either due to quality, ingredients supply, or profit issues.
List of Discontinued Starbucks Food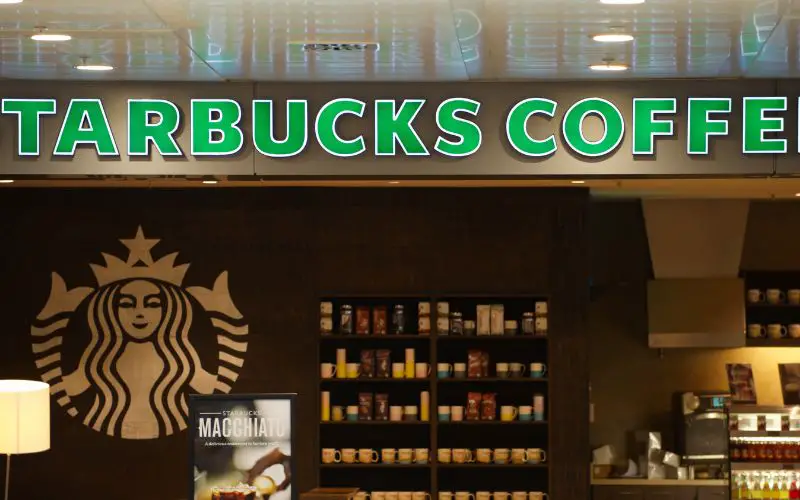 Starbucks discontinued over 19 foods due to some issues. And although this happened a while back, customers still hope they can be brought back. 
These foods are mentioned below as well as the reasons for their discontinuations.
#1. Smokey Sweet Barbecue Kettle Potato Chips
While these were customers' favorites, Starbucks complained of the supply shortages.
So, they couldn't import/distribute them to any Starbucks location, hence the discontinuation.
#2. Fire-grilled Chicken Protein Box 
It turns out this protein box didn't check all boxes. According to Starbucks, they constantly evaluate the items available. They do this to ensure they meet customer satisfaction/business priorities.
#3. Chicken Shawarma Wrap
Supply and shortages are two different problems. Supply refers to importing some products from warehouses and distribution to all Starbucks. 
But that isn't what caused the shawarma wrap's discontinuation; it was ingredient shortages. 
#4. Vegan Yogurt Alternatives with Blueberries
The pandemic from 2020 has caused a supply chain issue for Starbucks. Hence, there is minimal availability and a higher supply.
#5. Fruit Salad
The overwhelming popularity of this healthy snack has caused increased demand. And because there are constrained supplies, it has been discontinued temporarily.
#6. Chicken Sausage & Bacon Biscuit
Its discontinuation resulted from limited deliveries due to staff shortage. 
#7. Morning Bun 
Starbucks said that the morning buns were discontinued due to great demand. They needed to reduce the current offerings as well as introduce new items.
#8. Bantam Bagels
They discontinued their bantam bagels because they didn't meet quality standards.
#9. The Confetti Cookie
Supply shortage caused the discontinuation of the famous confetti cookies. 
#10. Smoked Turkey Protein Box
This turkey protein box was discontinued to make room for new lunch favorites. Currently, there are other protein box servings as an alternative.
#11. Chicken Caprese on Ciabatta Sandwich
It was discontinued due to low supply and high demand. Starbucks continued selling a few in some locations until they completely ran out.
#12. Zesty Chicken and Quinoa Protein Bowl
As with other food items, this protein bowl is facing shortage issues from suppliers.
#13. Creminelli Soppressata Salami & Monterey Jack Snack Tray
Starbucks' global shortage affected over 20 items. Hence, even this salami snack tray was affected.
#14. Cheddar & Peppers Sous Vide Egg Bites
These egg bites were discontinued due to the global shortage, but there's an alternative.
#15. Ham and Swiss Croissant
This roasted ham and other ham sandwiches were discontinued due to ingredient shortage.
#16. Rip Van Waffles
This waffle was discontinued due to a supply shortage from partners.
#17. Sweet Potato Chips
Constrained supplies and high demand caused its discontinuation.
#18. Swiss and Egg Sandwich 
It was discontinued due to supply shortage and rising ingredients costs.
#19. Chicken Maple Butter and Egg Sandwich
This was discontinued just recently because it failed to meet quality standards. Customers complained of getting sick from it, although Starbucks refuted the claims.
Will Discontinued Starbucks Items be Brought back?
Undoubtedly, as confirmed by the CEO, most of Starbucks' foods discontinued due to supply chain issues will be brought back. 
This supply issue became a complication after the pandemic, and it seems that even though the Covid 19 has reduced, we still have to deal with its aftermath.
Starbucks' customers have noticed these discontinuations as they were among popular items. The table displayed above shows the reason for food discontinuation.
And you can see that most meals were stopped due to supply chains, while others were over ingredient costs and quality issues. 
Starbucks hasn't kept mute about these unfortunate events. They work on providing suitable alternatives for some products until the original ones are restocked. 
Further, they put up signs telling customers of these supply problems. However, it may seem that many customers are still annoyed by this turn of events. 
Therefore most of them have refused to come to terms with this temporary discontinuation.
It is evident in their petition requests across different websites urging Starbucks to return the removed items. 
Not to worry, Starbucks hasn't failed to update customers that items removed from the menu due to ingredient shortages are not on permanent removal. 
But the only problem is that they have no precise date to work with when they will all be restocked. 
Starbucks is experiencing turmoil for a few reasons, and customers aren't kept in the dark about this.
These problems also contribute to their food discontinuation issues and are explained below.
#1. The Staffing Scarcity Is Reducing Store Hours 
Following the covid 19 in 2019, there have been reports of an omicron variant since 2021. 
And this disease occurrence caused many problems for Starbucks as there are minimal staff working in shortened hours.
It seems like it's been problem after problem for Starbucks, leading to shutting down some locations. 
And because this omicron variant is much easier to transmit and contract, most workers have stopped working, and fewer people seek to work in Starbucks during this period. 
Furthermore, this shortage is affecting delivery supplies & even the production of items at bakeries, hence the discontinuation of some items.
#2. Ingredient Shortages Are Skyrocketing 
Starbucks experienced slight ingredient shortages at some point and promised customers to fix that as soon as possible. 
However, the matter worsened and caused tremendous havoc on their menu.
And these scarce ingredients were used to make many of the customer's favorite foods and drinks. 
That caused friction between Starbucks and customers, and to date, there isn't a precise date for restocking. 
But Starbucks promises all complaints and pleas to return discontinued items are discussed with the appropriate teams and will be brought back. 
However, the good news amidst all these crises is that Starbucks continuously emphasizes that this discontinuation is temporary. 
And this makes some customers hopeful about enjoying their favorite Starbucks food sometime in the future.
#3. Mobile Orders Are Intensifying Complications
Starbucks has a mobile app for orders, and while that seemed convenient before, it is causing problems for employees and customers now. 
This problem became more complicated during the pandemic. Its aftermath made more people use mobile orders, an issue for the overworked Starbucks baristas. 
But the mobile order caused problems. It allowed multiple orders to be made at once since there was no bot to check if the first order was done and delivered.
Hence, it was ordered after an order for these workers, and they couldn't keep up. Besides, Starbucks was already dealing with staff shortages.
How Did the Food Discontinuation at Starbucks Start?
These food discontinuations didn't start simultaneously in Starbucks locations across the globe. 
Some customers began noticing them in their states before creating awareness through their posts on many social platforms.
Initially, these shortages caused havoc as the demand was enormous. 
So Starbucks locations that still had some in stock were selling even after the discontinuation until everything ran out completely.
Supply is a priority in every multinational company, and Starbucks understands that. 
In the past, they've made adjustments in their supply strategy and planning to ensure they don't run out of any items that help them remain viable. 
It also boosts their chances of having a lean, competitive coffee and fast-food chain.
However, you must remember that Starbucks isn't the only company undergoing this supply issue.
 It is no secret that the pandemic put many things on hold and changed how people ordered food.
How Did this Pandemic Issue Influence Supply and Affect Starbucks?
During the pandemic, people worked remotely and were distracted by their refrigerators, televisions, and resting in their comfort zone. 
Hence, this period was synonymous with resting time as they didn't frequent fast-food chains that much.
Although the mobile app for online orders helped, it didn't feel like Starbucks to most people. 
Additionally, the pandemic resulted in social distancing, which Starbucks had to implement by removing their chairs. 
As a result, Starbucks ceased to be a sip and chill spot but evolved into a grab-and-go store as customers were only allowed to come to pick up their items and leave.
Undeniably, Starbucks is the go-to spot for remote workers and many others who like to read or write while having coffee or iced tea.
And that is why most people have an early breakfast there. Or you may notice others writing down ideas for their next blog post or book. 
Unfortunately, these activities were reduced during and after the pandemic; sadly, the pandemic did last for a while. 
Production, distribution, and demand during that period were less, and many businesses experienced that. 
So when things started returning to normal, it didn't happen at a go; it took time.
Hence the former supply that Starbucks adopted during that period didn't work out well later. 
When businesses resumed, everyone returned to work and their regular secular activity.
It also meant more demand for coffee on the go, sandwiches for lunch at work, drinks for refreshments, etc. 
But ingredients for most items were lacking, and since then, they've not returned to the menu despite temporary discontinuations.
Conclusion
Starbucks has been experiencing shortages in items for a while, and this caused the discontinuation of many customer-favorite foods. 
However, they've reassured customers they're working on it and that these items removed from the menu are short-term. 
In the meantime, they've provided suitable alternatives for some removed items, which will serve you until the desired ones are returned.