Can You Cook Shop Bought Pizza In Ooni? (Explained)
Last updated on September 11th, 2023 at 02:13 pm
Pizza ovens are gradually becoming essential kitchen equipment in every household because of their reliability in cooking and reheating.
Making a delicious pizza involves trial and error and is the most time-consuming for most beginners. In urgent situations, shop-bought pizza becomes an option.
Many people have questions about how reliable the dough can be or whether you can cook shop-bought pizza.
You can cook shop-bought pizza in your Ooni. Cooking shop-bought is still the same as making a homemade pizza; the difference is the shop-bought pizza dough. The pizza needs to be cooked for more time if it's frozen in degrees between 425- 500° F or kept at room temperature before rolling it out and getting it into the Ooni.
How Can I Cook a Ready-made Pizza In An Ooni Oven?
When you buy a ready-made pizza, you don't need much work to cook your pizza compared to making it freshly.
Get a ready-made pizza base from a reliable store around you, and start stretching the dough out.
After adding all spices from the sauce to others you like, heat the Ooni before using it.
A ready-made pizza can either be a pizza dough bought from the store or a pre-made frozen pizza.
The toppings on such pizzas are left uncooked to stay longer with the help of some preservatives. I will be explaining how to use the store-bought pizza dough first.
Now, before you start cooking your ready-made pizza dough, there are some things you need to know.
First, before getting dough from the store, make sure you get a quality pizza from a reliable store.
Depending on your location, some pizza stores make their pizzas a good sign for a good dough purchase.
For best pizza results, with ovens with high temperatures like the Ooni, you should go for doughs with simple ingredients.
I'm talking about something like a dough consisting of; wheat flour, yeast, semolina, salt, olive oil, and water.
Others might have more ingredients to their dough, but for high heat ovens, keep it simple because they do well more in high heat ovens.
The main part of a pizza is its dough. A delicious, crispy, chewy pizza with a nice crust depends on the pizza dough.
As the name implies, ready-made pizza dough is already well made for use. When buying, you could see the included ingredients listed on the dough package to make your selection.
Let's see the steps you can follow to cook your ready-made pizza in an Ooni;
Firstly, whatever Ooni you are using, turn on the oven and preheat for about 30 minutes.

If your pizza is refrigerated, you should let it sit out for about 20-30 minutes so it can get warm enough for rolling.

Before removing the dough from all packaging to the board, spread some little flour on the board and clean hands.

If not done, it's likely to get sticky to both your hands and board. However, the flour can be bread flour, and it's ok.

After applying the flour, it's time to roll it out. Here's a trick in rolling the dough out; pick up your dough, work it, and make it into a ball.

This will help get a thin round-shaped pizza; some ready-made pizza comes stretched, making it easier.

Before rolling it out, ensure to flour it once more to avoid sticking again. If you want a crispy pizza, make sure to roll it out as thin as possible and not break it.

You can preheat the dough for a few minutes before adding sauce and other ingredients to it.

Get your favorite toppings and add them to the pizza when you've gotten your desired shape.

Everybody has different topping choices, though, try out new toppings and get a nice tasty pizza.
After that, reduce the heat and place your pizza in the middle rack inside the Ooni; always ensure to check and turn it to avoid burning.

This will only take about 1 minute to complete. Now for a readymade frozen pizza, the steps below can help you cook your pizza.
Remove the pizza from its package and dispose of the package.
Preheat your Ooni between 425-500° F for some minutes to let your oven heat up.
Place the pizza on the oven rack placed in the middle of the Oven.
Cook/bake the pizza, check your pizza regularly, And turn to avoid burning.
It will take about 15 minutes or more for your pizza to cook.
Can I Cook Frozen Pizza In The Ooni Pizza Oven?
Sure, you can cook frozen pizza with Ooni pizza ovens. When the oven heats up to around 500° F, you can cook your frozen pizza quickly.

However, the time it will take to cook it won't be the same as when you make your fresh pizza in 1 minute.
Instead of baking the pizza, the frozen pizza cooks by steaming, which makes it take time to be cooked.
Frozen pizzas will cook well in any Ooni oven, from the Ooni Fyra to the Ooni Koda series. When cooking the pizza, you will want to defrost on heating and get cooked, warm and crispy.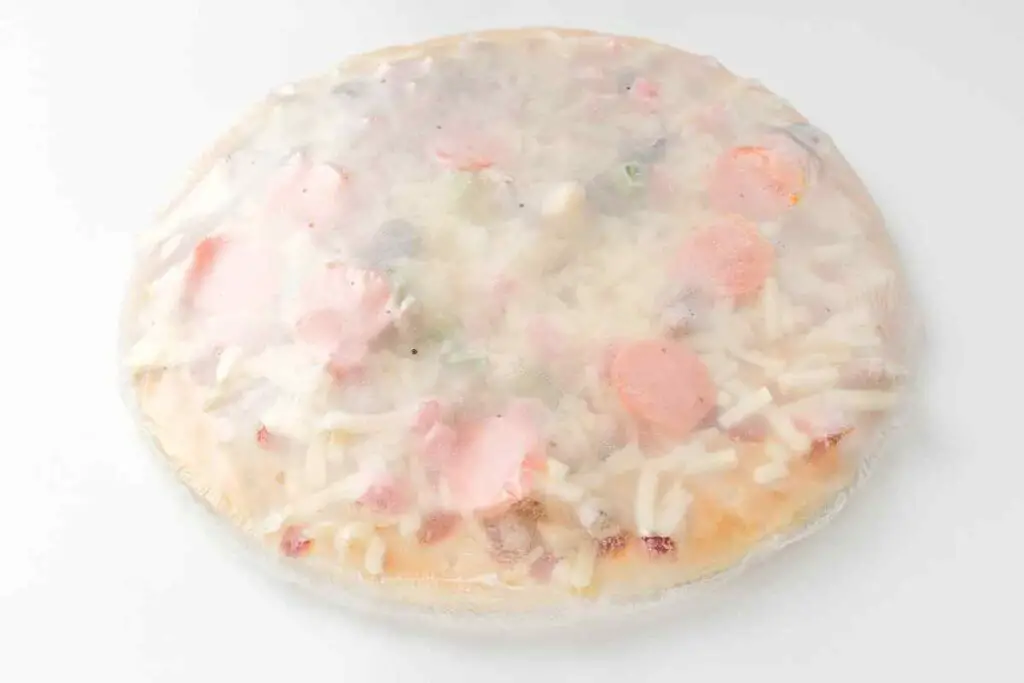 When cooking frozen pizzas in your Ooni, you don't have to set it up at the max temperature.
Instead, you should go for temperatures of like 425° – 500° F; this will allow it to defrost and cook. And it takes about 10 – 12 minutes to cook.
What Are the Differences Between a Fresh Pizza and Ready-made Pizza?
There are not many differences between them, and they are almost the same. For a fresh pizza, you can get it from a pizza restaurant or order It and get it warm and fresh.
Meanwhile, a ready-made pizza can either be a pre-cooked pizza base/dough or a frozen pizza which must have stayed frozen for some time.
#1. Based on availability
When comparing them, people don't prefer them because they almost taste the same.
But, on the other hand, some people tend to go for ready-made frozen pizza because of its ease of access and availability any day.
For instance, you can't get a pizza order or make one at home, having a pizza in the refrigerator can help.
#2. Based on taste
As for the taste aspect, the fresh pizza wins here because the ingredients are moist and fresh compared to preserved pizza.
This doesn't make a ready-made pizza bad in taste. Sometimes some preservatives are used to preserve the ready-made pizza, altering its taste.
#3. Based on texture
when it comes to a pizza with a bubbly and raised crust, it's a fresh pizza. You can't expect to get such fresh raised crust from a ready-made frozen pizza.
You can't have the same texture experience from both; that's an available feature with all preserved foods.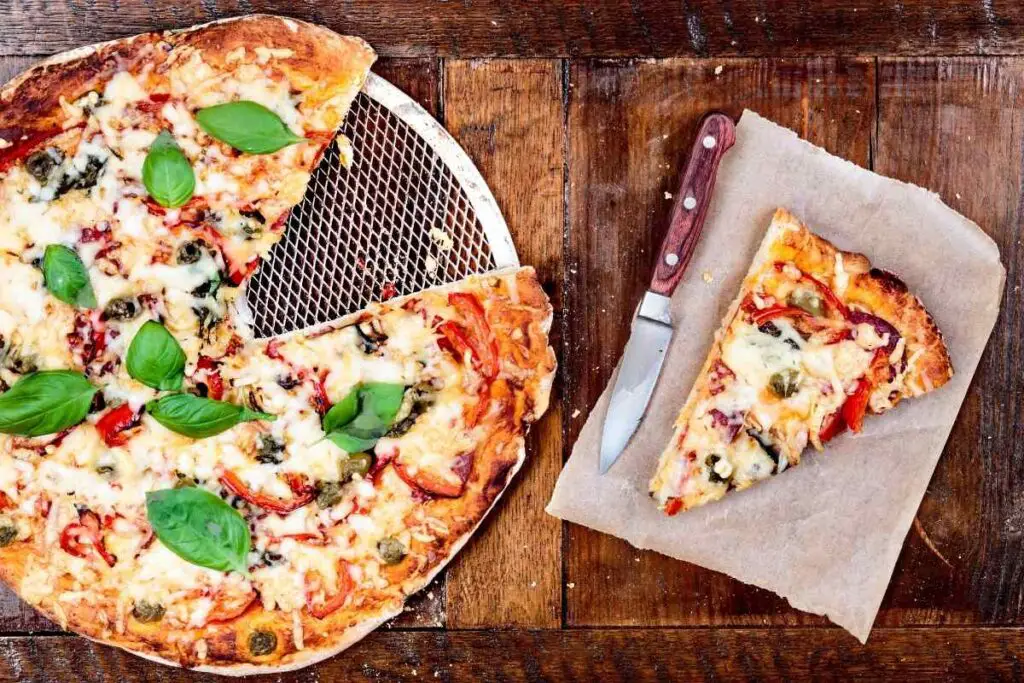 Most pizza restaurants also use ready-made pizzas sometimes. They keep the pizzas and doughs in the refrigerator and use them another day, serving their customers.
And the pizzas still taste good. The only main difference between a ready-made pizza and a fresh pizza is their availability.
The fresh pizza just has that newly fresh pizza taste than the ready-made pizza, still taste great regardless.
Conclusion
Getting a shop-bought pizza is a good option, comes in handy, and eases the stress of making yours at home.
The Ooni is a great oven to have too, apart from the pizza you can also use it for other things like barbeque.
Pizza making is always fun, so get your pizza dough from the store and have fun turning it into your homemade pizza.