Do Any Pizza Chains Offer Cauliflower Crust? (Must Know)
Last updated on September 11th, 2023 at 02:13 pm
Recently, people are now more familiar with the benefits of switching to a cauliflower crust instead of a flour crust to make Pizza.
Cauliflower crust is perfect if you are craving Pizza and avoiding carbs. Cauliflower has become one of the low-carb and gluten-free go-to alternatives for people.
Most of the major pizza chains offer cauliflower crust. Examples are the California pizza kitchen and Jet pizza. Jet's Pizza has recently introduced an Italian seasoned cauliflower crust pizza. Other examples of the best cauliflower crust are Caulipower which is the USA's top-selling brand of cauliflower pizza crust, Cali'flour Foods, and Trader Joe's.
Which Pizza Chain Has the Best Cauliflower Crust?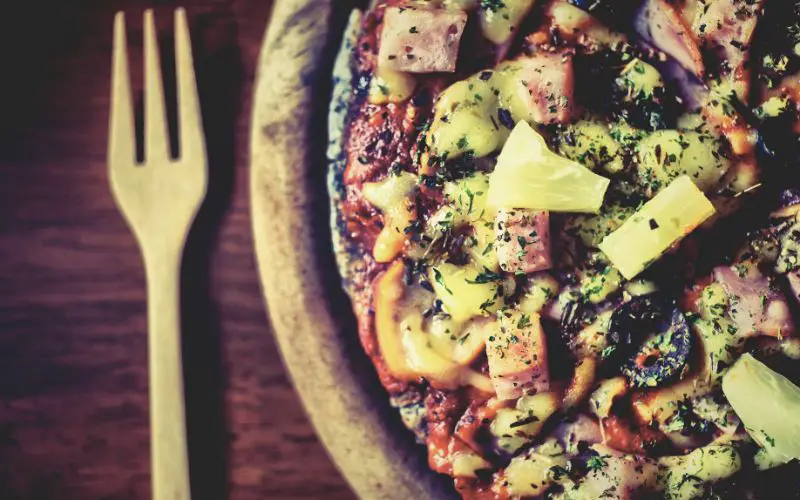 Most major pizza chains like California pizza kitchen and Jet pizza have the best cauliflower crust.
Jet's Pizza has recently introduced an Italian seasoned cauliflower crust pizza.
Other examples of the best cauliflower pizza crust are Caulipower, the USA's top-selling brand of cauliflower pizza crust, and Cali'flour Foods.
After years of being tagged as a boring and unexciting dish, people are becoming familiar with the health benefits of taking a carb-loaded food with cauliflower.
Making a pizza crust out of cauliflower offers a lot of health benefits. Apart from the fact that it is nutritious, cauliflower has low calories with the appropriate quantity of vitamins and minerals.
A good diet should have a high amount of fiber. Fiber helps to improve digestive health and reduce inflammation.
For example, cauliflower has high fiber content, making it helpful in reducing the risk of cancer, diabetes, and heart-related diseases.
In addition, since the fiber content is high, it will help prevent obesity because it makes you feel full. 
Cauliflower is a perfect dish for people that wants to lose weight by eating healthy.
People that have diabetes or with irritable bowel syndrome are advised to take a gluten-free diet. Cauliflower is gluten-free and is an alternative to grains and legumes.
It is an easy replacement for grains and legumes in the diet. Replacing the flour crust in Pizza for cauliflower crust is a great alternative for diabetic people that wants to eat Pizza.
Also, cauliflower is a good source of antioxidants. Antioxidants help to protect your cells against free radicals, which can increase the risk of having heart diseases and cancers.
Free radicals are produced by the body when the body breaks down the food eaten. 
Glucosinolates and isothiocyanates are one of the major antioxidants in cauliflower, which slow down the growth of cancer cells. They are also anti-inflammatory.
Does Pizza Hut Have Cauliflower Crust?
Pizza hut has cauliflower crust. The varieties of cauliflower crust include and are not limited to Keto Cauliflower Crust Pizza, Keto Broccoli Crust Chicken Pizza, Keto Chicken Pizza, and Keto Mexican Pizza.
Pizza hut has one of the most nutritious pizzas. A significant example is a veggie pizza made on a thin and crispy crust. 
This particular option has fiber and protein with few calories and carbohydrates. However, it also requires multiple vegetables and a thinner crust.
Other Pizza Hut crust types include pan crust, thin and crispy crust, pizza hut hot dog bites, pizza hut cheesy bite crust, stuffed crust, and bacon stuffed cheese crust.
Although none of the pizza hut's Pizza is vegan, they still have a way of making vegans enjoy Pizza without the cheese. Their vegan menu includes pizza rolls, salads, pasta dishes, and desserts.
Pizza hut dough contains yeast, salt, sugar, sodium stearoyl lactylate, and vital wheat gluten as its primary ingredients.
You do not have to pay an extra penny for crusted Pizza. Most of the common flavors are not available at your local pizza hut.
Cauliflower crust pizza has many health benefits compared to the normal flour pizza crust. It contains high content of major vitamins like vitamins K and C.
It also helps reduce high blood pressure and strengthens the body's immunity. It is also advisable for obese people who crave Pizza because it is low in calories and carbohydrates.
Does Papa John's Have Cauliflower Crust?
Papa John has cauliflower crust. They have different combinations that give a perfect taste.
There is cauliflower crust pizza for starters, a traditional Papa John's pizza for the main meal, and a sweet pizza for the desert. 
Papa John also offers delicious thin crust pizza if you want your Pizza to be lighter and crispy.
The thinner crust is also made with flavor to make you enjoy your Pizza. An example is the classic authentic thin crust.
Do Fast-food Pizzas Have Cauliflower Crust?
Fast food pizzas have cauliflower crust. It is a perfect choice for people that are sensitive to gluten and conscious of their carb intake.
It is a delicious alternative to Pizza and can be prepared in a few minutes.
Making a cauliflower crust pizza does not take time, but it is labor-intensive. To start with fresh cauliflower, you need to make it tender by steaming it.
After that, you pulse it using a food processor till it has a rice-like texture. You can purchase pre-riced cauliflower as an alternative to save time.
When the cauliflower is tender and has a rice-like texture, there is a need for a removed part of the moisture that is naturally present in cauliflower.
After squeezing, you get a dry crust that you can pick with bare hands.
Mix an egg with the dried cauliflower and add some soft goat cheese and Italian seasonings. The mixture gives the crust a better texture than using shredded cheese.
However, if you do not have goat cheese, you can try other types of cheeses. Most people prefer soft goat cheese because it provides the driest form of texture.
Other types include mozzarella, cheddar, and cream cheese. Spread the crust with a spatula and use your hands to press the dough into shape.
After that, bake the crust until it has dried and shows a golden color. Then, you can flip it to the other side to ensure it is well dried and does not look soggy.
Parchment papers and flat spoons help to make the flipping process easy. 
To save more time, most stores now have frozen pre-riced cauliflower, which will not require you to use the food processor. It makes the whole process faster and easier.
Does Marco's Pizza Have Cauliflower Crust?
Marco is well known for its pizza crust topping, Marco's Pizza has cauliflower crust. Their Pizza has nutrition facts that are beneficial to health.
Marco's Pizza has 85 calories, and most of the calories in it are from carbohydrates.
The Pizza is made with a gluten-free crust, but it is made in a kitchen where there is gluten. Marco's Pizza has been around for some years.
They offer different sizes of gluten-free Pizza, which are medium-sized gluten-free crust and were replaced with a slightly sized cauliflower crust.
After some complaints, both sizes are now available.
However, Marco's Pizza is not advisable for celiacs. This is because celiacs are immune to eating gluten, a protein found in wheat and barley.
Eating gluten triggers an immune response in the small intestine of people with celiac disease.
Conclusion
Most major pizza chains now have cauliflower pizza crust. It is healthier than deep dish pizza because it has fewer calories.
Cauliflower crust pizza offers many health benefits compared to regular flour pizza. 
Since cauliflower is an excellent alternative to avoiding high-carb Pizza, most pizza chains now have them on their menu.
Examples of the significant pizza chain are Blaze, California kitchen, and Jet's Pizza.