What's in The 911 At Dutch Bros? (Taste, Sugar, & Caffeine Content)
Dutch Bros is a popular drive-thru coffee chain based in the united states of America that sell different kinds of coffee drinks with lots of in-house recipes.
Dutch Bros are well known for their wild product naming format, with coffees like the Annihilator, Double Torture, and the ER-911.
The ER-911 contains six espresso shots, Irish cream syrup, and a helping of half n half cream. All these ingredients make the Dutch Bros 911 the best of both worlds because it combines the stimulating effect of caffeine, the sugar rush of the Irish cream syrup, and the half-n-half to bring out a combo at both ends of the spectrum.
In this article, I will explain what is inside an ER-911, the ingredients used in making it, and the calories and nutritional information of a small, medium, and large cup of 911 coffee.
What Do the Dutch Bros at 911 Contain?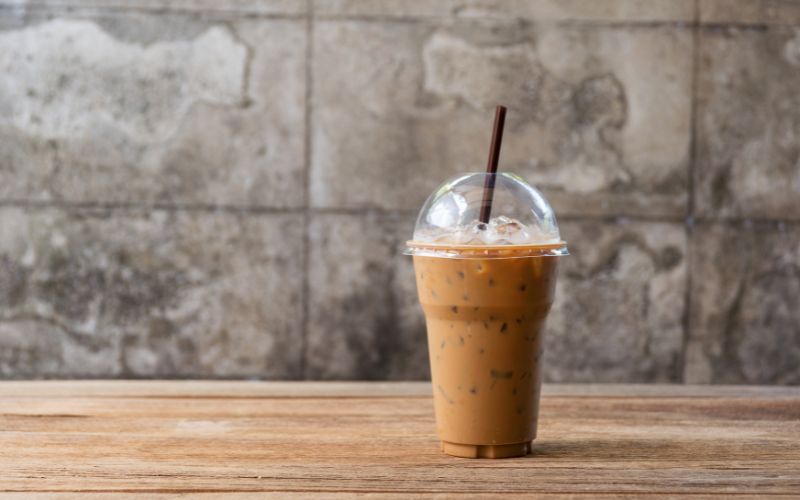 The Dutch Bros ER-911 contains six espresso shots, Irish cream, and a helping of half n half.
A large cup of ER-911 contains 510 calories and 462 mg of caffeine.
The Dutch Bros ER-911 is available as iced, hot, or blended variants and comes in large, medium, and small sizes.
This table contains information on the concentration of various amounts of nutrients in the Dutch Bros ER-911.
| Nutrient | Small Size | Medium Size | Large Size  |
| --- | --- | --- | --- |
| Fat (g) | 2 | 13 | 25 |
| Protein (g) | 3 | 6 | 10 |
| Sugar (g) | 46 | 50 | 54 |
| Calories  (g) | 250 | 370 | 510 |
| Cholesterol (mg) | 5 | 40 | 80 |
| Carbohydrates (g) | 51 | 54 | 58 |
How Does Dutch Bros 911 Taste?
The Dutch Bros 911 is a very nice espresso that contains a lot of caffeine (up to 462mg) and tastes like a classic Irish cream coffee mixture.
Dutch Bros have a variety of coffee espressos like the 911 that you can purchase at their stalls. 
They have coffee drinks like the caramelizer, annihilator, double Torture, and many more.
#1. The Kicker
The Kicker, as its name sounds, is a coffee made with Espresso breve and an Irish syrup that packs a serious kick.
It contains more calories than a classic 911 coffee, sitting at 640 calories per large cup. The Kicker is a good way to get your day started.
The Kicker has a lot of creamy ingredients, and it might be creamier than most coffee espressos, but it retains the characteristic taste of coffee.
You can purchase the Kicker as iced, hot, or blended helpings.
#2. Caramelizer
The Dutch Bros caramel mocha, also called the caramelizer, is an espresso that uses chocolate milk and caramel syrup as its main ingredients.
If you are a fan of chocolate-flavored drinks like the chocolate cream espresso and like a touch of caramel in your beverages, you will fall in love with the caramelizer.
The caramelizer is sold as iced, hot, or blended and is available in different sizes, ranging from small to large cups of deliciousness.
#3. Annihilator 
When something is called the "annihilator,"  you know it will demolish your taste buds, and this Dutch Bros coffee is out to do just that.
The Dutch Bros annihilator is a coffee espresso made with cold brew coffee and chocolate macadamia syrup that is way sweeter than many of their espresso coffees.
A large-sized cup has 550 calories and a hefty 52 grams of sugar. You can get the annihilator in iced, hot, and blended variants.
#4. Double Torture 
The Dutch Bros Double Torture is a sweet and strong espresso mix made with vanilla syrup, whipped cream, and chocolate milk.
As the name suggests, the double Torture highlights tastes on both ends of the spectrum.
It highlights the bitterness of normal coffee and has the sweetness of the other ingredients.
It also has lower cholesterol than other coffee espressos, and a large cup contains up to 450 calories.
How Much Caffeine Does the 911 Dutch Bros Have?
The 911 dutch Bros contain about 462 milligrams of caffeine, which is a lot of caffeine and is more potent at stimulating consumers than most cold coffee brews.
The average human is advised not to consume more than 400 mg of caffeine daily.
That means a large cup of Dutch Bros 911 contains caffeine well over the required limit.
Although it is very difficult to overdose on caffeine, taking more caffeine than is advised is dangerous for your health and can cause unwanted side effects.
Here are some of the side effects of taking too much caffeine;
#1. Trouble Sleeping 
One of the most noticeable effects of caffeine is its stimulatory effect on the human brain.
Caffeine is a stimulant that "awakens" the body and makes it harder to fall asleep either early in the morning or at night.
Sadly excess caffeine intake can trigger bouts of insomnia that would leave you jittery and make it difficult to fall asleep. 
Ingesting large amounts of caffeine can mess with your sleep cycles, further aggravating the situation.
#2. Anxiety
Caffeine is a stimulant that elevates the activity in your nervous system, and it also causes your glands to release stimulant hormones like adrenaline.
People suffering from bouts of anxiety will find that the stimulating effect of caffeine can trigger episodes of anxiety. 
#3. Cardiovascular Problems
The hormones the body secretes when caffeine is ingested elevate heart rate and increase BPM in most cases.
People with heart issues are prone to complications because of the increased heart rate and should consume only small amounts of caffeine.
#4. Heartburn/GERD
Studies have shown a link between coffee intake and increased gastric activity.
Excess caffeine intake can cause your stomach to produce excess stomach acid and lead to things like heartburn and acid reflux.
Patients with one form of stomach ulcer and another should reduce their caffeine intake to avoid worsening symptoms.
How Much Is Sugar In the Dutch Bros 911?
A large cup of Dutch Bros ER-911 contains about 54 grams of sugar.
A normal Dutch Bros 911 will have some quantity of sugar in the form of raw sugar and animal fats.
You can request a special lean and sugar-free version of the ER-911 and other popular Dutch drinks.
The Broistas will replace some sugary and high-calorie ingredients with their lower calories or plant-based alternatives.
You can get some of the following dutch espressos in their low-sugar, low calories versions.
#1. Sugar-Free Rebel Energy Drink
Dutch Bros Rebel Energy drink consists of more than ten flavored energy drinks with sugar-free and low-calorific versions.
They offer leaner versions of their rebel drinks like the electric berry, aftershock, and midnight rebel drinks. 
Their sugar-Free energy drinks can have as low as ten calories and contain zero amounts of cholesterol and animal fats.
#2. Classic Cold Brew
Real coffee enthusiasts will agree that a well-prepared cold brew is a great way to start your day.
Dutch Bros cold brew contains as low as 20 calories and has zero grams of sugar.
Their cold brew is a good choice if you search for coffee with small calories.
#3. Tea
Dutch Bros have a wide selection of assorted teas like Green tea, black tea, and many more.
You can request unsweetened tea without sugar and animal milk.
You can substitute high-calorie sweeteners with plant-based sweeteners and milk with lower calories.
#4. Skinny Kicker 
Dutch Bros also sells a skinny Kicker espresso that replaces the Irish cream syrup used to make it with lower calorie-based syrup and the half and half with plant-based substitutes.
The skinny Kicker is a sub-100 calorie espresso you can order from any dutch Bros if you want something more healthy.
Conclusion 
An espresso is a great way to start your day and give you the boost you need to begin your day at full power. 
You can get the 911 in small, medium, and large cup sizes. A single large cup of 911 espresso contains about 462 mg of caffeine, enough to keep you going for a day.