Chile Relleno Vs. Chile Poblano (In-Depth Comparison)
Mexico is known for various things, including its cuisine. The Chile Relleno is a common Mexican dish. 
The Poblano is a medium spicy pepper used by Mexicans and Americans to prepare this dish.
But there are several other pepper varieties and preparation methods for this meal. 
It may not be easy to decide how you want to have your Chile Relleno and Poblano because of the delectable options available. 
There are different ways to prepare Chile Relleno, and using Chile Poblano is one of them. Roasting the Poblano pepper, filling it with cheese or any filling, dipping it in fluffy egg batter, and frying is the most common way to prepare Chile Relleno.
You should read this if you didn't pick between the dish and the pepper. You might be able to pick a favorite after reading.
Chile Relleno vs. Chile Poblano; Which Tastes Better?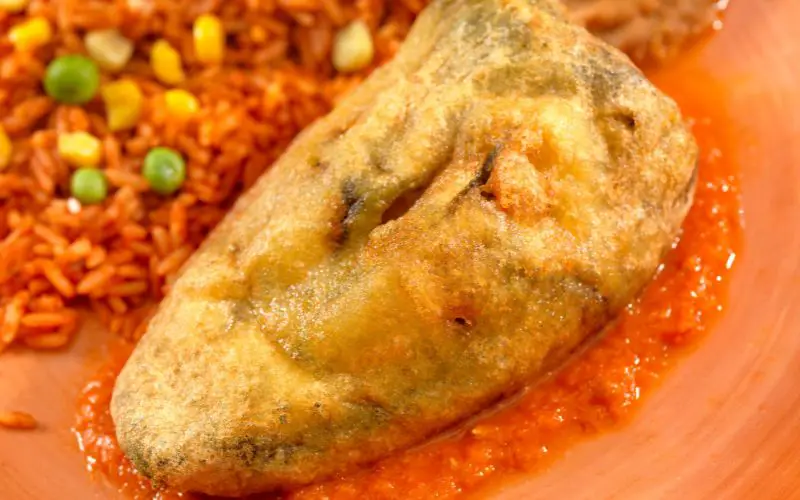 The Chile Relleno is a Mexican dish you can make using various peppers, including the Chile Poblano.
The kind of pepper you use determines the taste of your Chile Relleno. 
You can choose from the Anaheim pepper, Hatch Chile pepper, Jalapeño peppers, and the most used Chile in Mexican cuisine; the Poblano Chile pepper. 
#1. Chile Poblano 
Poblanos Chile is a type of green pepper with a powerful flavor and mild heat that is vital in Mexican recipes. 
This pepper features a glossy deep green pod that is long and in the shape of a heart.
The outer layer has a cottony texture and tiny white seeds that you should remove before eating or cooking. 
The wonderful thing about the Poblano pepper is that the heat is often moderate, yet it can occasionally be hot according to its growth environment. 
Poblano peppers are spicy, rich, and slightly acidic if you eat them raw; however, roasting the pepper enhances its smokey and savory taste. 
The Chile Relleno with Chile Poblano has the right amount of spice for people that don't like bland food and need a sharp taste. 
#2. Anaheim Pepper 
The Anaheim pepper has a mild heat level. You can use this pepper when it is still green and under-ripe. It is also okay to use it when it is red and fully ripe. 
Making your Chile Relleno with this pepper is good for people who don't want something very hot or spicy. 
#3. Hatch Chile 
Hatch Chiles are long bright green peppers. The inner membrane of it is relatively thick, with tiny, white seeds. 
Anaheim and Hatch Chile grow from the same seed; the only difference is their location. 
Hatch Chile grows in Hatch town, Mesilla Valley area of New Mexico, while Anaheim pepper grows in New California. 
You can use the Anaheim pepper in place of the Hatch Chile and the Hatch Chile in place of the Anaheim pepper. It all depends on what is available. 
#4. Jalapeño Peppers 
Compared to the other two peppers above, the Jalapeño is a hot and spicy pepper, especially when you use it to make your Chile Relleno. 
Despite having its roots in Mexico, you can find it almost all over the world because of its flavor and heat level. 
Most people use the Jalapeño pepper when it is still green, but if you give it enough time, it will ripen and become red. 
Even though they are slightly sweeter, red jalapeño peppers are just as tasty as green ones. 
The "Scoville scale," a scale of heat or spice, assesses capsaicin sensitivity and calculates the total level of heat present in a pepper. 
Below is a list of different types of pepper and their heat level according to the Scoville heat unit (SHU) scale. 
| Different types of pepper | Scoville heat unit scale |
| --- | --- |
| Carolina Reaper | 1,400,000 to 2,200,000 |
| Trinidad Scorpion | 1,200,000 to 2,000,000 |
| Ghost Pepper | 855,000 to 1,041,420 |
| Chocolate Habanero | 425,000 to 550,000 |
| Red Savina Habanero | 350,000 to 550,000 |
| Scotch Bonnet | 100,000 to 350,000 |
| Jalapeño Pepper | 2500 to 8000 |
| Poblano Pepper | 1000 to 1500 |
| Anaheim Pepper | 500 to 2500 |
| Pepperoncini | 100 to 500 |
| Bell Pepper | 0 |
What Is the Difference Between Chile Relleno and Chile Poblano?
There is one major difference between Chile Relleno and Chile Poblano. 
Chile Relleno is a classic Mexican dish, while Chile Poblano is a type of pepper that is moderately hot and usually used to prepare Chile Relleno. 
The Chile Poblano is what most people use to prepare Chile Relleno.
However, if you can tolerate the spiciness, you can make your Relleno with any pepper you want. 
Chile Relleno is a Mexican delicacy that is very easy to prepare but can be time-consuming if you are in a hurry. Notwithstanding, here's how to prepare it. 
Get a gas stove, put it on and hold the peppers over it until all sides are dark. After, cover it in a bowl for a while. You can grill it instead of holding it over the fire. 
Remove the peppers' dark outer layer carefully. Make sure to maintain the shape of the pepper.
Cut the side of each Poblano carefully to remove the seeds and rinse. After that, fill it with cheese shreds or any filling of your choice, and close it with a toothpick.
To make the batter, place some egg whites in a mixer. Mix till it becomes firm before adding the yolk and sprinkling salt. 
Put oil in a pan and heat it. 
Put some flour in a bowl and sprinkle some salt on it. 
Place the Poblano in the flour and then in the egg batter 
Once the oil is hot, put the pepper in it and let it fry
Flip the Chiles to the side until all sides are golden brown. 
Place the fried Poblanos on paper towels to absorb the excess oil and season with salt. 
Following these steps, the Chile Relleno is ready. Serve it with any other food of your choice. 
It makes sense that most cooks use the Chile Poblano in Mexican cuisine because of its light and delicious flavor.
This delicious pepper is great for stuffing, roasting, frying, and salsas. 
Poblano pepper also provides various health advantages and adds taste to dishes.
This green Chile, which is rich in vitamins C and A, benefits the health of the skin and eyes. 
In addition, capsaicin in Poblano, Chile, aids in the reduction of pain and swelling. 
You can store fresh Pablano peppers in the fridge for seven days without spoiling.
After roasting and peeling them, they can only stay for up to three days.
In the freezer, fresh and roasted Poblano pepper will remain edible for 6–12 months. 
Do Chile Relleno and Chile Poblano Use the Same Sauce?
Since Chile Poblano is used to prepare Chile Relleno, they can use the same sauce. 
After roasting the Poblano peppers and stuffing them with any filling of your choice, you can prepare a sauce to eat. 
It could be a homemade sauce, using any ingredients that you want. You can make a creamy sauce using the same hot Poblano pepper with cheese. 
Another incredibly simple sauce to create at home is tomato sauce. Even better, you may prepare it in advance and reheat it before serving. 
Final Thoughts 
Chile Relleno and Chile Poblano are famous Mexican dishes that the whole family can prepare and enjoy without spending too much money. 
Even though this meal can be time-consuming, you can prepare it beforehand, store the leftovers for a few days and eat them later. It's a wonderful dish that you'll enjoy.