Are Outshine Bars Vegan? (Everything You Should Know)
Last updated on September 11th, 2023 at 02:13 pm
All Outshine fruit bars aren't the same. They are available in different varieties and options. 
This variation also applies to the bar's ingredients and nutritional value as some tend to have more vitamins or protein than others. And they differ in taste too. 
Hence, it's best to know which Outshine Bars are vegan and free from animal products and those that aren't. So, let's delve into it.
Outside Bars have varieties of options that are vegans. These varieties are from real fruit juice such as strawberry, peach, blueberry, tangerine, lemon, acai, etc. However, the outshine creamy coconut is simply indulgent, and other outshine bars with the word "creamy" aren't vegan.
Are Outshine Bars  Vegan-friendly?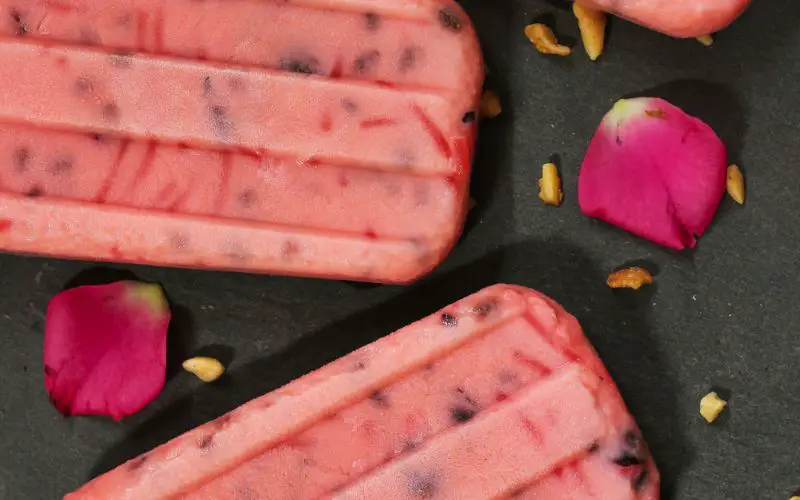 Not all outshine bars are vegan-friendly, as some have milk and cream. Contrarily, the outshine fruit bars are 100% vegan. 
These outshine bars options include some fruit bars with strawberry, lime, tangerine, lemon, etc. All these fruit bars don't have high fructose corn syrup in them.
These outshine fruit bars are made from real fruit juice and are vegan-friendly. They are low in fat but high in fiber, making them good vegan diets.
Due to the presence of the fruit in them, they're highly rich in vitamins A and C.
Additionally, they don't have added sugar except the one in the fruit, making them low in calories. 
These fruit bars lack salt, artificial colors, and flavors with GMO ingredients.
Do Outshine Bars Have Dairy?
The outshine bars with dairy products are half-dipped and simply indulgent.
They made these bars from properly filtered skim to reduce the amount of lactose and sugar in the milk and maximize the protein content.
This process is responsible for simply indulgent bars' creamy flavor and looks. 
The simply indulgent bars come in different flavors, namely, chocolate, coffee, mango, and strawberry, produced from real fruit.
The coffee and chocolate make the non-fruit flavor bars, while strawberry and mango form the fruit flavor bars. 
Due to their surplus milk, they have 25% less sugar than other outshining dairy bars.
All outshine dairy bars are highly proteinous but don't contain GMO additives, artificial flavors, high fructose corn syrup, gluten, colors, and sweeteners.
All their colors are from natural sources, and their milk comes from cows that didn't undergo growth hormone treatment. 
Here is a table outlining the nutritional value of all the flavors of simply indulgent bar per one serving (96g)
| Type | Chocolate flavor | Strawberry flavor  | Mango flavor  | Coffee flavor |
| --- | --- | --- | --- | --- |
| Calories  | 90 Cal | 100 Cal | 100 Cal | 80 Cal |
| Trans. Fat | 0g | 0g | 0g | 0g |
| Fat  | 3g | 2.5g | 2.5g | 2.5g |
| Saturated fat | 2g | 1.5g | 1.5g | 1.5g |
| Sodium  | 30mg | 25mg | 25mg | 30g |
| Dietary fiber | Less than 1g | 0g | 0g | 0g |
| Cholesterol  | 15mg | 10mg  | 10mg | 10mg |
| Sugar  | 11g | 10g | 13mg | 10g |
| Added sugar | 8g | 10g | 10mg | 7g |
| Total Carb | 12g | 14g | 14g | 10g |
| Protein  | 5g | 5g | 5g | 5g |
Which Outshine Bar Flavors Are Vegan?
All Outshine flavors without cream and milk are vegan. And they include the fruit bars and the fruit & veggie bars. 
Just like their names imply, they are products of fruits and vegetables. And these veggies and fruits serve as huge supplies of vitamin C.
Find below a table that shows the differences between all Outshine bars.
| | Simply Yoghurt Bars | Half dipped Bars | Fruit BarsFruit Bars | Fruit & Veggie Bars | Fruit & Cream Bars |
| --- | --- | --- | --- | --- | --- |
| Contains real fruit  |           ✓ |         ✓ |       ✓ |         ✓ |         ✓ |
| Contains real milk  |         ✓ |         ✓ |        |       ✓ |         ✓ |
| Have dairy options |       ✓    |         ✓ |        |        |         ✓ |
| Have organic options  | | |       ✓ |         ✓ | |
What Ingredients Are Used to Make Outshine Bars?
Outshine bars come in different varieties resulting in differences in their ingredients.
However, all outshine fruit bars have guar gum, carob bean gum, and their respective juice extracts.
Guar gum, xanthan gum,  and carob bean gum are similar emulsifying agents that allow all other ingredients to mix evenly.
Pectin also functions as a stabilizing and gelling agent. Here are other ingredients in detail;
#1. Outshine Strawberry Fruit Bars 
Strawberry fruit bars' ingredients include pure strawberries, strawberry juice concentrate, cane sugar, citric acid, guar gum,  and ascorbic acid (vitamin C).
Other ingredients include natural flavor, beet juice color, oleoresin color, carob bean gum, and turmeric.
#2. Outshine Lime Fruit Bars
Water, cane Sugar, lime juice from lime concentrate, citric acid, natural flavor, and lime pulp. 
They also include ascorbic acid (Vitamin C), guar gum, lime, lemon Peel, and carob bean gum.
#3. Outshine Raspberry Fruit Bars 
Raspberry fruit bars are water, red raspberry puree, and raspberry juice from raspberry concentrate. 
They also include natural flavor lemon juice from lemon concentrate.
Its ingredients include guar gum, ascorbic acid (Vitamin C), cane sugar, carob bean gum, and citric acid.
#4. Outshine Blueberry Acai Fruit Bars
These ingredients include blueberry puree, cane sugar, water, Acai puree, carob bean gum, and lemon juice. 
They contain guar gum, pectin, black carrot juice concentrate color, and ascorbic acid (Vitamin C).
#5. Outshine Peach Fruit Bars
Outshine makes peach bars from ingredients such as peach puree, pectin, water, lemon juice concentrate, and cane sugar.
Plus, natural flavor,, guar gum, carob bean gum, turmeric oleoresin color, ascorbic acid for vitamin C and annatto color.
#6. Outshine Half-dipped Creamy Coconut Bars
These bars contain dairy products such as skin milk, coconut cream, and dairy cream. 
On the other hand, the non-dairy ingredients include sugar, carob bean gum, xanthan gum, natural flavor (containing soy), carrageenan, dextrose, and guar gum.
#7. Outshine Mango Fruit Bars
Mango fruit bars contain mango puree, mango juice from mango concentrate, lemon juice from lemon concentrate, and cane sugar. 
They contain guar gum, ascorbic acid, natural flavor, carob bean gum, and water. 
#8. Outshine Creamy Pineapple Coconut & Cream Bars
The outshine creamy pineapple is another dairy-based fruit bar with pineapple, skim milk, coconut cream, coconut fruit, and a natural flavor with soy.
They also have emulsifiers like dextrose, carob bean gum, xanthan gum, modified cornstarch, guar gum, and carrageenan.
#9. Outshine Strawberry Simply Indulgent Yoghurt 
The outshine strawberry is a typical yogurt bar made from skim milk, protein concentrate, strawberry puree, cream, and cane sugar. 
Furthermore, pectin, carob bean gum, and pectin as thickeners and emulsifiers. And natural flavor and color.
There are also beneficial microbes such as Streptococcus thermophilus, lactobacillus delbrueckii, bifidobacterium, and Lactobacillus acidophilus. 
Those bacteria are active and cultured into the yogurt to help ferment the lactose and produce lactic acid for easy digestion.
#10. Half-dipped Outshine Bar
Half-dipped bars are products of ingredients such as strawberries, cane sugar, cocoa butter, chocolate, cocoa nibs, and water. 
Additionally, citric acid, almonds, coconut oil, honey, rice syrup, and soy lecithin. With natural flavor, carob bean gum, and guar gum. 
Other ingredients are as follows: caramel color, vanilla extract, alpha tocopheryl acetate (vitamin E), strawberry juice from the strawberry extract, and ascorbic acid (vitamin C).
Final Thoughts 
Some Outshine bars, such as the fruit bars, are vegan. However, many dairy-dense options exist, such as half-dipped and indulgent bars.
Furthermore, these fruit bars are products from their respective fruit extracts, water, cane sugar, and other essential emulsifiers and thickeners. 
Conclusively, the dairy ones have skim milk included in their recipe.