Do Chipotle Bowls Come With Chips & Tortillas?
Last updated on September 11th, 2023 at 02:14 pm
Customers appreciate the Mexican-inspired cuisines available at Chipotle.
They also get to try different types of food ingredients in a bowl, which is a trending but excellent option. 
Food bowls are versatile and allow one to eat various items at a go, making Chipotle bowls a must-try.
However, many customers wonder if this bowl has all the savory items they enjoy, such as chips and tortillas.
Chipotle browns conventionally don't come with chips and tortillas. They usually feature rice, beans, proteins, and toppings. However, if you're craving these chips and tortillas to tag with your Chipotle bowl, you can order them as a side or add-on. And most importantly, you can customize your meal to suit your needs if that's what you wish to have.
Many fast food restaurants change their menu over time or adjust their meal options, and it's important to keep abreast with these updates. 
Hence, this article will inform you about all you need to know about Chipotle's bowls, its content, how to customize orders, and more.
Do Chipotle Bowls Contain Chips?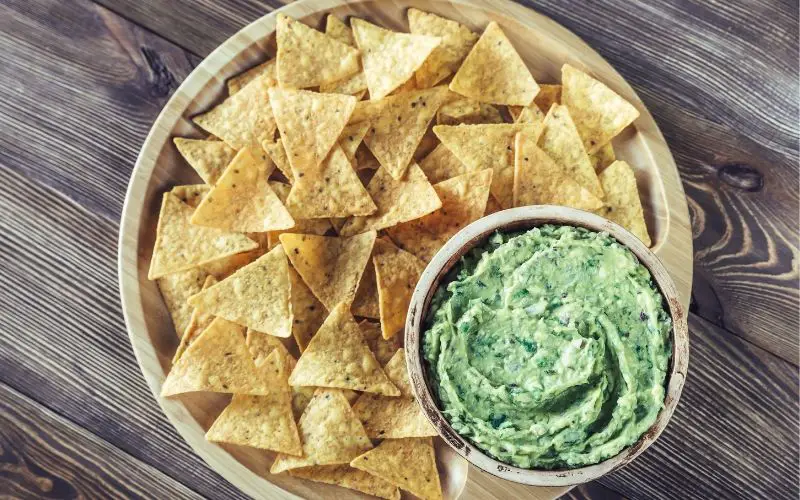 Chipotle bowls don't contain chips as a regular item. It is rather optional and up to each customer to decide as a side on their bowls. 
This fast-food chain doesn't serve its famous burrito bowls with chips because it aims to provide customers with a healthy and customizable experience. 
Some customers are on a diet and watching their calorie count, while others are not. Combining everything can cause the eater to go above their calorie intake. 
Look at the table below for the nutritional value difference between a chipotle burrito bowl with and without chips & tortillas. 
| Without Chips and Tortillas (Serving Size of 1 Bowl) | With Chips and Tortillas (18 Chips as Serving Size 28g) |
| --- | --- |
| Total calories 665. Calories from fat 207 (31.7%) | 788 Calories (123) |
| Total fat 23g | Total fat 26g (3g)  |
| Saturated fat 8g | Saturated fat 8g (0) |
| Cholesterol 155 mg | Cholesterol 155 mg (0) |
| Protein 51g | Protein 53g (2) |
| Vitamin A 603ug 68% | Vitamin A 603ug 68% (0) |
| Vitamin C 63 mg  105% | Vitamin C 63 mg 105% (0) |
| Calcium 350 mg 35% | Calcium 410  mg  40% (60, 5%) |
| Iron 2.3 mg 29% | Iron 2.7 mg 31% (0.4, 2%) |
| Sodium 1845 mg 77% | Sodium  2095  mg 88% (250, 11%) |
This table shows the differences in nutrients when you eat with or without chips & tortillas in your bowl. 
Regardless of the significance of the difference, it matters to some people, and Chipotle understands this hence why they give people customization options.
In addition, the other ingredients in these bowls, depending on which type of Chipotle bowl you choose, are balanced. Hence you can enjoy a flavorful meal as a standalone. 
Do Chipotle Bowls Come With a Tortilla?  
Chipotle bowls don't come with tortillas. They're a separate side dish or snack. 
Chipotle keeps these items optional because they desire a streamlined menu where customers have plenty of options if they ever wish to customize. 
The tortillas and chips come with guacamole to enjoy alongside other meal items or appetizers. 
Furthermore, all bowls don't come with a tortilla because you can decide if you want the entire meal wrapped inside a tortilla. 
This option allows flexible eating options and works effectively for varying dietary choices.
In addition, consider the table above to see the calorie difference between bowls with and without tortillas. 
You'll discover a 123-calorie difference which can be a big deal to some. This streamlined option of customization helps to minimize high-calorie intake and carbohydrate content. 
People who choose to cut back on carbs or follow a diet plan need to be in charge of what they eat, and this method works best.
Overall, this decision favors everyone by reducing complaints from customers who want more control over their eating. 
If you wish to know the number of calories in a meal or plan your Chipotle bowl according to a specific calorie number, you can use this website to achieve that.
What Else Is Included in Chipotle Bowl?
Chipotle bowls have a rice base, lettuce, beans, and proteins such as chicken, steak, or sofritas.
 Then there are topping options like salsa, guacamole, cheese, and any other one the customer prefers. 
In short, there are different options depending on the type of bowl. Below, we'll consider the different Chipotle bowls and what else is in them.
#1. Standard Chipotle Bowl
A standard Chipotle bowl, a burrito meal, generally has a rice base, beans, and meat accompanied by different toppings like salsa, sour cream, guacamole, or cheese. 
In other words, they contain all the ingredients needed to make a burrito but a deconstructed one. 
And most importantly, you can build this bowl with your chosen food items, meaning it is a DIY bowl. 
This article will guide you if this seems daunting because of the endless Chipotle customization options.
#2. Chipotle Salad Bowl
This Chipotle bowl is for people who wish to eat healthier and reduce carbs. Unlike the standard bowl, they replace the rice base with a super green lettuce base.
They also come with beans, queso blanco, protein, toppings, and Chipotle's signature Honey Vinaigrette. 
#3. Chipotle Lifestyle Bowls
Lifestyle bowls are specifically for people on a diet plan. They come in 7 different types and include:
Wholesome bowl
Veggie full bowl
Go half veggie bowl
Grain freedom bowl
Balanced macros bowl 
High-protein bowl
Plant-powered bowl
This new addition to Chipotle's bowl shows how much this company prioritizes the health and well-being of customers. 
As you'll read in the linked article, they're eager to fulfill customers' needs. And you must note that these lifestyle food menus are exclusive items you can only find in the U.S. and Canada.
 And if you're looking to order them online, click here. You can find a nearby Chipotle in your area by enabling your location, or you can input your city or zip code. 
Afterward, you can find the menu, order it, and deliver it.
Can You Ask for Free Tortillas at Chipotle?  
Unfortunately, Chipotle has stopped the free tortilla servings with burrito bowls. You now have to pay $0.25 for any side tortilla. 
Many argue that Chipotle understood the free food hack that customers enjoyed because the burrito bowl contained more items than were found in a burrito wrap. 
So, customers usually ordered this bowl with a side tortilla and wrapped it themselves. Business Insider also mentioned that this was an internal announcement. 
Yet, other sources also reason that this adjustment may have occurred due to the pandemic impact on businesses. 
Since customers moved online, orders couldn't point at the food pans or ask for extra by being friendly or flirting with the servers. 
And this also helped them stick to their consistent size proportions.
Are Chips Free at Chipotle?
Chipotle doesn't offer free chips either as a side, add-on, or snack. And they don't also offer free chips as a regular reward program. 
However, they often run promotions that allow you to get free chips if you purchase specific items or engage in special offers with valid expiration codes. 
The last free chips promotion ended Jan 15, 2023, and began ON the 9th of the same month. 
Chipotle called it the Freepotle chips, and it was only available in select Chipotle branches and through mobile orders or in their restaurants. 
In conclusion, there's been no information on any ongoing free chips promotion.
Keep an eye out and regularly check their website and social platforms to get the news on time before it expires.
FAQs 
Can I Get Chips and Tortillas With My Chipotle Bowls?
Yes, you can order these items on the side with your bowl. They're only available for separate purchases; remember, they're paid items.
Can I Substitute Chips or Tortillas for Something Else in My Chipotle Bowl?
Of course! You can customize your Chipotle bowl to your preferred food items. You can ask for a different protein, topping, or even extra, but you may need to pay additional charges.
What Is Included in the Chipotle Bowl?
It contains your preferred grilled chicken, field greens, Mexican rice, and toppings like salsa, guacamole, ranch, tortilla strips, shrimp, cilantro, and other items.
Which Is Bigger, a Chipotle Bowl and a Burrito?
A Chipotle bowl contains 15% more food than a wrapped burrito, which is why most customers prefer this. They buy a tortilla for 25 cents to wrap themselves