Are Outshine Bars Gluten Free? (Read This First)
Last updated on October 26th, 2022 at 05:19 pm
Gluten-sensitive individuals are to abstain from a gluten diet because of the health hazard associated with its intake.
Frozen fruits such as outshine bars are not an exception for snacks that would also need proper examination for gluten before ingestion.
Most snacks contain gluten because of their compacting and stretchy qualities necessary for preservation.
However, is this the same with outshine bars and their varieties?
Outshines bars are free from gluten and are good products for individuals sensitive to gluten or diagnosed with gluten-triggered diseases. Outshine bars are made from real fruits, natural colors, and flavors and are also a good source of vitamin c. These add to its health advantages and nutritional qualities.
Are Outshine 'No Sugar Added' Gluten Free?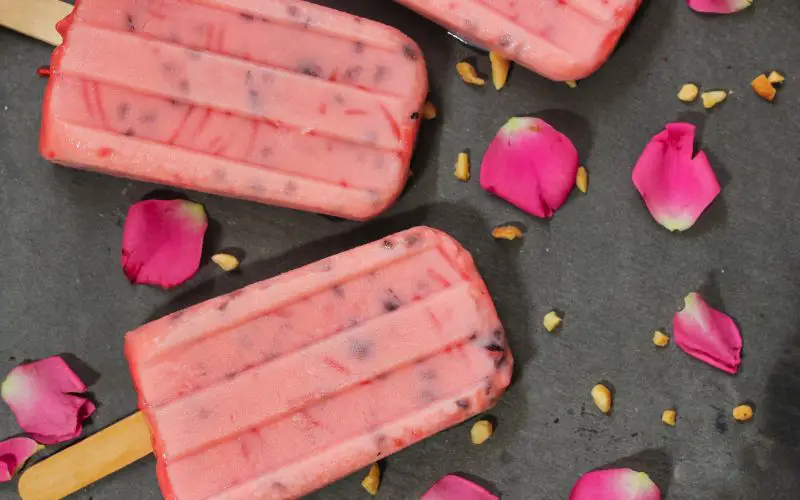 Outshine 'no sugar added' Is a variety of Outshine bars that are gluten-free, just like all other outshine bar products. 
Sugar doesn't determine the presence or the absence of gluten in outshine bars because it isn't one of its sources.
Sources of gluten include; wheat, barley, rye, etc. Outshine 'no sugar bars' are of different fruit and flavor.
They include;
Outshine 'no sugar added' strawberry is the most common of the three. There are;
No high fructose corn syrup
The sweet taste of Outshine bars comes from other sweeteners such as sucralose, dextrose, maltodextrin, Splenda, etc. 
Sucralose is an artificial sweetener made from sugar. They contain no calories and thus are preferable, especially for diabetes. 
Hence, a person with diabetes can find a place with no sugar-added outshine bars. 
Are Outshine Bars Sugar-Free?
There are different varieties of Outshine bars; some are sugar-free, others are not.
The table differentiates the two categories.
| Outshine bars with sugar | Outshine bars with no sugar |
| --- | --- |
| Strawberry frozen fruit bars | No sugar added strawberry frozen fruit bars |
| Raspberry frozen fruit bars | No sugar added raspberry frozen fruit bars |
| Watermelon frozen fruit bars | No sugar-added tangerine frozen fruit bars |
| Grape frozen fruit bars | No sugar added strawberry kiwi frozen fruit |
The calories of Outshine bars are obtained majorly from carbohydrates due to the absence of fat.
The sugar-free category has low calories, decreases in net carbohydrates, and are vegans. 
On the other hand, Outshine frozen fruit bars are high in calories, increase net carbohydrate, and are vegans-free (cream coconut frozen fruit and dairy bars).
What Are Outshine Bars Made of?
The different varieties of outshining bars have special ingredients from which they are made.
However, some basic ingredients are common to these varieties. These include;
No highly fructose corn syrup 
#1. Frozen Fruit or Juice
Natural fruit or juice is the key ingredient of Outshine bars. These fruits or juices are frozen and shaped into bars. 
There are different varieties of fruits used to make Outshine bars. They include;
These fruits are not processed, hence free from gluten and other artificial non-nutritious substances. A bite on an outshine bar feels like biting a natural fruit.
Frozen fruits and juice in Outshine bars are beneficial, especially for children.
Some of these benefits include;
Good source of vitamins and mineral
Low calorie and fat-free, thus decreases the tendency of heart diseases
Prevent cancer and stroke
Good for sight 
Decrease blood pressure etc.
#2. No GMO Ingredients
GMO(Genetically Modified) foods are becoming increasingly common in the market.
Although it has tons of advantages, there are also disadvantages of GMOs. 
Outshine bars have no GMO ingredients except for the creamy coconut frozen fruit and dairy, containing skim milk from rBST-treated cows.
#3. No High Fructose Corn Syrup
Extraneous consumption of high fructose syrup is detrimental to health and can lead to disease conditions such as; type 2 diabetes, fatty liver, obesity, etc. 
In addition, high fructose corn syrup is an unimportant food substance and thus can lead to increased toxicity in the body. Outshine bars are void of High fructose corn syrup.
#4. Fat-free ingredient
Fat is a class of food with high calories. The absence of fat in Outshine bars is the main reason for their low calories. These are why Outshine bars are keto-friendly— free from fats.
Fat-free diets embrace health benefits such as decreasing the risk of heart disease, obesity, breast cancer, and diabetes.
#5. Gluten-free ingredients
Gluten is a non-essential food additive made of two distinct proteins; gliadin and glutenin.
They are significant for the doughing and preservation of baked snacks. Gluten-sensitive individuals are prone to gluten triggers.
These can lead to some autoimmune diseases such as;
non-celiac gluten sensitivity
#6. Signs and Symptoms
It could be mild or severe such as fatigue, bloating, diarrhea, malnutrition, dyspnea, cramps, itchy eyes and mouth, anaphylaxis, etc. Outshine bars are void of gluten.
#7. Natural flavor
Outshine bars are free from artificial flavors made from synthetic chemicals example, artificial grapes, mango, cherry, banana, etc.
Artificial flavors are less costly than natural flavors made from plant and animal sources, and some manufacturers prefer them.
Examples of natural flavor include; citral, acetoin, Amyl acetate, Linden ether, etc. Other ingredients include; water, artificial sweeteners, perfumes, fruit oil, etc.
Putting together all these ingredients, you can prepare frozen fruit bars like outshine in your home. 
Here are the essential ingredients you need for homemade strawberry frozen fruit bars.
Fruit( frozen strawberry)
Below are short step-to-stop guides on how to make nutritious frozen fruit bars.
Step 1:
Blend your strawberry frozen fruit and puree 
Step 2:
Pour into the ice cream mold
Step 3:
Insert the cleft sticks
Step 4:
Freeze overnight(5-6 hours)
Step 5:
Remove from the freezer and loosen the bars with water underneath the ice cream mold.
Step 6:
Unmold the bars and place them back in the freezer.
Are Outshine Bars Keto Friendly?
Outshines bars are keto friendly and in line with the daily intake of calories (5-10%) and net carbohydrates (15-30g) for ketosis (20-30g).
However, in reality, Outshine bars are not the only food substances containing calories the body needs daily.
An actual diet summed up with a variety of outshining bars high in calories may exceed the usual range for calorie intake for ketosis.
Thus, not all outshine bars are keto friendly since they are only appetizers and cannot compensate for other food in healthy living.
Below is a table containing some outshine bars with their net carbohydrate(g) and calories(g). 2 bars/palettes.
| Outshine bars | Net carb(g) | Calories(g) |
| --- | --- | --- |
| Strawberry 'no sugar added. | 6 | 25 |
| Strawberry bars | 31 | 120 |
| Watermelon | 28 | 110 |
| Cream coconut and dairy | 34 | 210 |
| Pineapple bars | 18 | 70 |
| Peach bars | 16 | 90 |
| Lime bars | 16 | 60 |
| Mango bars | 34 | 140 |
However, there are some reasons why Outshine bars may not be considered keto-friendly, these include;
High net carbohydrate variety: these varieties can easily top up the daily calories intake
Varieties containing artificial sweeteners such as sucralose and polydextrose don't go well with ketosis. Preferred keto sweeteners include stevia, erythritol, etc.
Other keto-friendly diets include; walnuts, fish, cocoa, vegetables, coffee, etc.
Conclusion
Outshine bars are gluten-free and pose no danger to celiac or gluten-sensitive individuals. The no-sugar-added variety is preferable for debates. 
Some assortments are low calories and are best for ketosis. Outshine bars are well-endowed and a good family snack. 
Hence, you need not be afraid to place an order when you visit a grocery shop.