Is Maruchan Ramen Discontinued? (Read This First)
Ramen is the most popular of all easy-to-cook foods. It is affordable and easily customizable by adding meat and various veggies for even healthier and tastier noodles.
And Maruchan ramen is a famous Japanese noodle brand that customers have come to love. For noodles this much loved, many hope it's never discontinued. 
However, there's been continuous circulation about its discontinuation. But what's the fact?
There's no definite discontinuation for Maruchan ramen yet. But its discontinuation rumors are due to supply chain issues. More customers seem to demand these noodles and continuously buy them, leading to a high order above what the company can deliver. As a result, many stores stopped selling it, replacing the famous ramen with other alternatives.
By the end of this article, you'll learn more about this ramen's discontinuation and where you can still buy them. 
And most importantly, I'll mention some excellent alternatives for Maruchan ramen, as they'll come in handy soon. 
Are They Planning to Discontinue Maruchan Ramen?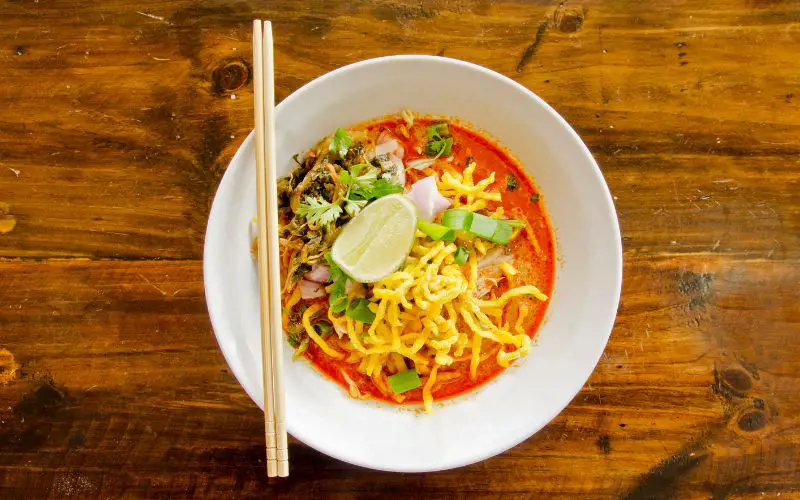 There isn't any outright plan to discontinue Maruchan ramen. But the problem lies with this Japanese noodle company's supply chain. 
Due to the unprecedented increase in demand, most stores have run out of Maruchan ramen following the covid-19 pandemic.
It is no secret that the coronavirus outbreak in late 2019/2020 resulted in numerous problems for companies and the economy.
It didn't even spare the ramen-producing companies like Maruchan. 
How Did Supply Issues Begin With the Pandemic?
During the pandemic, people had to stay indoors as businesses shut down and most activities moved online. 
Many supply companies also had issues with their transportation medium as the workers suffered from the pandemic.
Unfortunately, this was a primary issue as transportation is paramount in every business for conveying the finished ramen to several local stores or branches.
Further, during this crisis, demand for ramen noodles increased because it was simple to make. 
Moreover, dealing with this unusual demand spike and limited supply due to a reduced workforce was a problem. 
There was no way to transport goods and receive processed items from branches, leading to shortages.
You can also learn more about this pandemic's effect on instant noodles here.
But the good news is that the Maruchan company assured customers they're actively working on this issue to ensure their ramen is back in all stores. But it may take some time. 
Why Can't I Find Maruchan Ramen in Stores? 
According to Maruchan from their official page, it is unlikely to find Maruchan ramen in many stores due to the noodle shortage. 
Remember, we discussed this ramen company's supply issues stemming from the pandemic and high demand, resulting in many stores running out of stock. 
However, you most likely can't find Maruchan ramen at your local store because it's out of stock and not discontinued. 
But chances are these noodles are still available in some other stores as there isn't a complete shortage yet.
Where Can I Buy Maruchan Ramen? 
Fortunately, some well-known American stores still sell Maruchan ramen despite the supply shortage and have a stock of it available. 
And like with every other product, you can choose to find these Maruchan ramens in physical stores or check online. 
With physical stores, you can drop by famous supermarkets like
These are some stores you should check out if you need Maruchan ramen. 
And even better, Target confirms having various types of this ramen available for their customers in the super six pack and soup cup. 
But you must remember that their availability varies due to the shortage and increased demand. 
Therefore, the number of customers buying at a higher pace increases daily, so you're not 100% certain to find this ramen constantly available.
The best option is to buy it when you see it. Additionally, to make things even easier for Maruchan ramen lovers, you can utilize their website to find what store has it available.
To begin, input your city or zip code into the search bar, and a list of stores will appear.
You'll find the total number of stores with this ramen, even the exact name. 
If you input Texas or California, a list of stores like Target or Krogers will show alongside the specific address for that store. 
It also displays how many miles it takes to get there and even the number of ramen available.
Further, a map on the right corner will help you find the store from your current location.
In conclusion, the stores do not serve as a guarantee of finding Maruchan ramen there.
They're only some of the best choices for you if you're looking for a store. 
So, it's best always to confirm which store has it in your location from the website. 
If you can't find it in any local store around you, you'll have to get some alternatives for Maruchan ramen.
But not to worry, there are some great ones you'll surely love.
5 Maruchan Ramen Alternatives
The Maruchan ramen may have set a standard with its noodles, but that doesn't mean there aren't other noodles available as substitutes. 
Of all the ramen noodles available, about five will leave you dazzled as the Maruchan noodles did, and here's a list of them.
#1. Nongshim Ramen
This noodle alternative costs more than the Maruchan ramen and has a limited flavor option. But it's spicy and perfect for those who can handle the heat. 
#2. Nissin Demae
These Demae noodles contain a special addition of sesame oil, contributing a different aroma and savory flavor to your noodles. 
It also amplifies the soy and ginger broth giving you a nourishing meal.
#3. Samyang Ramen
Samyang noodles are well-known spicy ramen you should try.
However, you should avoid it if you can't keep up with spicy foods. Regardless, its taste is flavorful, and you'll enjoy it after a couple of mouthfuls.
#4. MAMA Ramen
MAMA noodles contain a thin, flavorful soup different from the usual ramen flavors. Also, it's a bit spicy but an excellent choice for Thai food lovers.
#5. Myojo Ramen
Unlike other soupy noodles, this Myojo ramen is a dry noodle food with several flavors available for you to enjoy. Additionally, it's not spicy and contains mayo for creamy ramen.
These noodles are great alternatives, but there's at least one thing customers don't appreciate about them. 
The table below shows them for each ramen alongside what makes it a great choice.
| Ramen Name | What We Like | What We Don't Like |
| --- | --- | --- |
| Nongshim ramen | Flavorful broth | Cost |
| Nissin ramen | Tasty and easy to make without a stove | Its spiciness took away a quantity of its savory taste |
| Samyang ramen | Many flavors with rich tastes | Too spicy and a bad choice for people with low spice tolerance. |
| MAMA ramen | Perfect taste, add-ins, and spiciness for everyone | The shrimp flavor is bland, and its aroma isn't favorable |
| Myojo ramen | Unique flavors different from the conventional choices | It's a dry noodle dish like Indomie ramen |
Summary
Maruchan noodles are a fine choice for all easy-to-cook food lovers.
However, several other people love this ramen, causing a demand surge higher than the supply. 
Hence, there's likely to be more shortages soon, so it's advisable to try other alternatives while waiting for the Maruchan company to fulfill their promise of returning their ramen to all stores.