Does Pizza Hut Pizza Contain Eggs? (Must Know This)
Last updated on September 11th, 2023 at 02:14 pm
You wonder what goes into your meal so you can eat healthily or avoid eating something dangerous to your health. 
Some people fancy eating pizza with eggs, while others do not. You might be the type that is trying to avoid it because you're allergic to it or it's high cholesterol and loves Pizza Hut's pizza.
So you need to know if Pizza Hut's pizza contains eggs to satisfy your craving or avoid it for health purposes.
Some Pizza Hut pizzas contain eggs, but not all. For example, the dough used in Udi's Gluten-Free contains eggs, and the other pizza dough types do not. However, it's different if your pizza contains some ingredients like meatballs, Chicken Ceasar Salad, Spicy Garlic Wings, Garlic Parmesean Wings, etc., because it contains egg.
I'll tell you if Pizza Hut pizza contains eggs in this article. So you'll know which pizza has eggs so you can know which to order if you're avoiding eggs or want a taste of them in your pizza.
By the end of this article, you will know more about Pizza Hut pizza's ingredients and allergen information. 
Does Pizza Hut Pizza Comprise of Egg?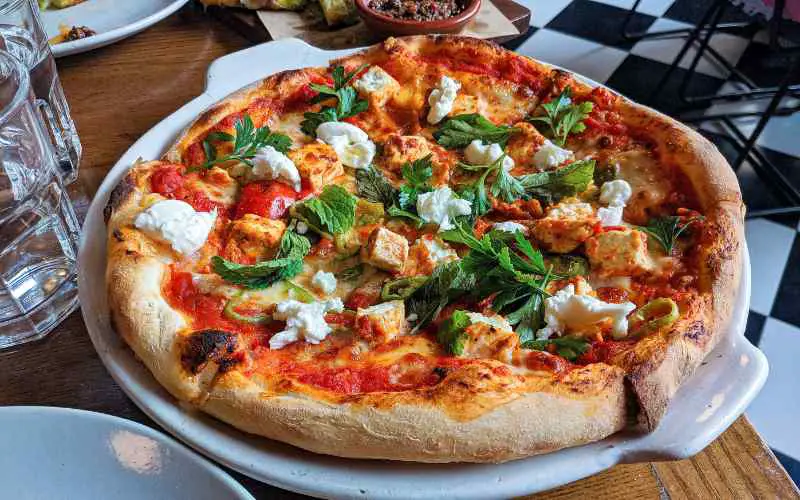 Most Pizza Hut pizza does not comprise eggs. Although many people love eggs in their pizza, only a few Pizza Hut ingredients comprise eggs.
However, the dough of Pizza Hut that comprises egg is Udi's Gluten-Free Pizza. Apart from that, the dough used for all their other pizzas do not contain egg.
Also, you can find eggs in some of their pizza ingredients apart from the dough. 
If you are a fan of eggs in your pizza, get pizzas with these ingredients and if you're allergic to them, avoid them.
For instance, the chicken caesar salad, ranch dipping sauce, and meatballs are perfect examples of ingredients used in Pizza Hut that contains egg.
You can get the ingredients above in your pizza but stay away from pizzas with these ingredients if you are allergic.
Also, if ordering wings with your pizza, beware of "spicy garlic wings" and "garlic parmesan wings," as they contain eggs.
However, those are only some options offered in Pizza Hut with eggs. 
What Ingredients Are in Pizza Hut Pizza Crust? 
When looking at the ingredients in pizza Hut's pizza crust, you should know that they varieties of crusts. So the ingredients in each crust may vary.
The table below shows the different pizza hut crust types and their ingredients.
| Crust Type | Ingredient |
| --- | --- |
| Original Pan Crust (Small, Medium, and Large.) | Enriched Flour, Salt, Wheat Gluten, Water, Yeast, Sugar, Oil, Sauce, Ascorbic acid, and Enzymes. |
| Hand-Tossed Crust (Small, Medium, and Large.) | Enriched flour, yeast, oil, water, ascorbic acid, sugar, sucralose, salt, datem., enzymes, and wheat gluten. |
| Gluten-Free Crust. | Tapioca starch, oil, rice flour, egg whites, salt, water, citric acid, NON-GMO canola oil, tapioca syrup, sugar, yeast, enzymes, and solid corn syrup.  |
| Cheesy Bites Crust. | Dough, yeast, sugar, water, sauce, oil, salt, chili flakes, all-purpose flour, tomatoes, cheese, and toppings. |
| Stuffed Crust. | Dough, oil, sucralose, yeast, water, wheat gluten, enzymes, salt, sugar, cheese, ascorbic acid, and datem. |
| Thin & Crispy Crust. | Soybean oil, salt, enriched flour, yeast, vegetable oil, and water. |
| Hot Dog Stuffed Crust. | Hot dogs, dough, shredded mozzarella, pepperoni, basil, and marinara sauce. |
| Homestyle. | Water, dough, pan release, flour, vegetable oil, yeast, salt, wheat flour, and sugar.  |
| Pan (Fresh). | Water, sugar, salt, dough, wheat gluten, wheat flour, enzymes, vegetable oil, pan release, and ascorbic acid. |
| Pan (Frozen). | Water, yeast, enriched unbleached wheat flour, soybean oil, enzymes, ascorbic acid, salt, calcium sulfate, and distilled monoglycerides. |
Pizza Hut still has other pizza crusts, and their ingredient varies. So before ordering, you can ask if it contains an ingredient you're allergic to or check online for its ingredients.
However, you should know that you might only find some of their ingredients online because they want to keep their secrets private. 
Therefore, it would be best if you asked before making an order.
Does Pizza Hut Make Vegan Pizza? 
Yes, and they have been making it since 2017. So, if you are vegan, request their vegan menu to satisfy your pizza craving.
The good thing is that even the crust on the vegan menu is great for vegans. So you can also enjoy the deliciousness of this cookie while maintaining your veganism.
As a vegan, you can use an alternative to vegan cheese for your pizza with Violife Vegan Cheese in Pizza Hut. 
In Pizza hut, there are a few ways to access their vegan pizza, and they include:
Create your pizza. You can select what flavor you want by picking your veggie toppings, crust style, and sauce for them to create your pizza.
Order their Veggie's Lover pizza without the cheese. This pizza by Pizza Hut is for vegans, so you don't have to worry about being unsuitable.
You can also order a vegan pizza from their vegan menu.
When creating your pizza as a vegan, you are probably skeptical about some of the vegan ingredients, so I'll help make your decision easier. 
Here are some options for the crust flavors, toppings, dough, and sauce for a vegan.
#1. Toppings.
A Sliced banana/jalapenos pepper.
Red Onions.
Mushrooms.
Sweet Pineapple.
Green Bell Pepper.
Mediterranean Black Olives.
Diced Roman Tomatoes.
#2. Dough
Thin & Crispy Crust.
P'Zone Dough
Hand-tossed dough.
Pan Crust.
You only have the classic marinara or buffalo pizza sauce as a vegan option for the sauce. As for the cheese, Pizza Hut has yet to get their vegan cheese, so consider using the alternative.
The same goes for crust flavor, except for the Buttery Blend Crust Flavor for vegans. Don't order any other flavor as it contains dairy.
So as a vegan, you can go ahead and enjoy your pizza. However, if you need clarification about the ingredient, if it's vegan or not, ask a worker so you can be sure.
Pizza Hut Pizza Allergen Information 
The allergen information for Pizza Hut restaurants and their delivery service differs. With the different allergens, your body may react to one of the ingredients in the pizza.
Also, with these allergens in mind, Pizza Hut created a menu free of some ingredients that can cause a reaction. 
You can check the allergen handbook to know which menu is free from which ingredient, so you eat your pizza without any after-effects.
Hence the need to know the allergen information in Pizza Hut pizza. 
Here is some crucial information about Pizza Hut's pizza allergen statement.
Pizza Hut doesn't use peanuts and tree nuts in their pizza. However, it might have come in contact with other ingredients from their manufacturing plants, creating a chance of contamination.
Different pizzas are available that cater to various allergens. However, Pizza Hut restaurant makes all these pizzas in the same kitchen, so contamination is possible.
There is no listing that Pizza Hut uses fish in their menus. However, it's best to be safe and ask if it's safe before getting a pizza.
There is no listing that Pizza Hut uses shellfish on their menus.
Those with wheat allergies can use the gluten-free crust with wheat-free toppings. However, it might be unsafe due to kitchen equipment or different vendor ingredients.
If you have an egg allergy, you're good to go with all the pizza crusts apart from Udi's Gluten-free crust.
If you have a milk allergy, stay clear of cheese. Many Pizza Hut pizzas contain milk, so you should refer to the allergen handbook to know its allergen information