Chipotle Chicken Bowl: Calories, Protein, Carbs, And Price!
Last updated on September 11th, 2023 at 02:14 pm
Different foods have different nutritional content. This phenomenon is true with different foods at Chipotle.
Before you purchase a Chipotle chicken bowl, you should know all there is to it. This includes the calorie load, protein, carbs, and even the price. 
Knowing all these things will help you make a more informed decision when buying your food. So, let's dive in.
An average chicken bowl of Chipotle contains about 500-850 calories, depending on the choice of toppings and dressing you have on it. Besides being very high in calories, this meal also contains several nutritional values that benefit you. And it costs an average of $9 per bowl. 
In this article, we will inform you about the number of calories you would get from a bowl of chicken and the nutritional contents, including proteins and carbs; please stick with me! 
What is the Amount of  Calories In a Chipotle Chicken Bowl?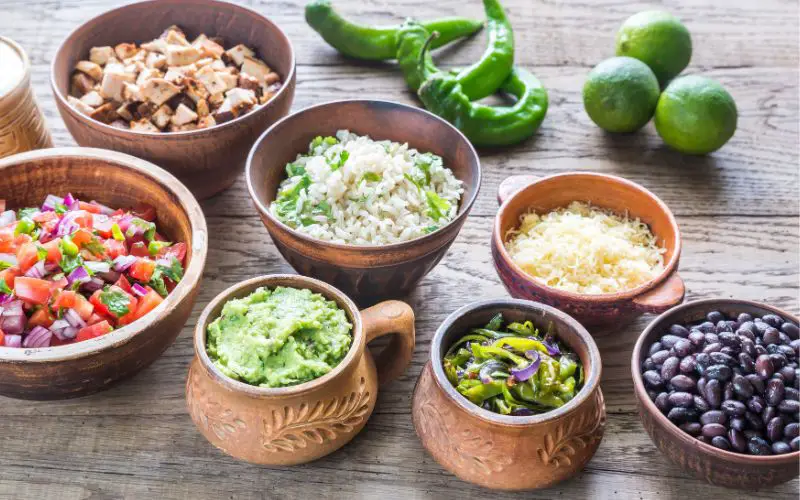 Although the Chipotle chicken bowl is a nutritional meal, it is also a street food with a well-balanced combination of several fresh ingredients that cater to various diet preferences. 
A typical bowl of Chipotle consists of black beans, fresh lettuce, cilantro, lemon or lime, guacamole, creamy salsa, and a major ingredient, flavored chicken. 
There is no exact number of calories in a bowl of chicken from Chipotle, but the amount varies from 500-850 calories. 
This results from the amount and type of toppings you used and the portion control. 
The main ingredient in this dish, the grilled chicken, is a protein-packed option that provides about 200 calories to your bowl of Chipotle. 
The protein, although when eaten in excess, is unhealthy, contains a lot of nutrients, like very high-quality protein, which helps in the repair of worn-out muscles. 
What is the Protein Content of a Chipotle Chicken Bowl? 
A typical Chipotle chicken bowl contains about 32-42 grams of protein, depending on the portion size and ingredients included. 
Steak and tofu are other sources of protein you can get from your Chipotle chicken bowl.
Also, the Carnitas and Barbacoa can offer you very high amounts of protein. 
Chicken and steak contain almost equal amounts of protein supplements and are the highest protein source for your Chipotle chicken bowl. 
Below are some healthy ingredients that can be added to your Chipotle bowl to supply you with the necessary nutrients you need; 
#1. Rice 
Rice is a major ingredient in any Chipotle meal, and it is not different from a Chipotle chicken meal.
Two rice varieties are suitable for your bowl of Chipotle: brown and white rice. 
The white rice digests faster and would be best consumed when you work out.
This rice has a higher glycemic index and spikes insulin into the blood because it has a high fiber content. 
The brown rice has a lower glycemic index and has a higher amount of carbs.
This rice has more fiber and additional nutrients, making it a better option to consume at any time of the day. 
White rice has about 185 calories and 4g of fats, while brown rice has 200 calories and 7g of fats. 
#2. Beans 
Like rice, there are two varieties of beans that are perfect for your chipotle chicken bowl: the black beans and the pinto beans. 
The pinto beans are a very good source of cholesterol-lowering fiber and also contain high fiber, which prevents the blood sugar level from rising fast after a meal. 
The black beans are a better choice because they are packed with more antioxidants and have higher fiber content. 
Black beans contain 120 calories and 1g of fats per serving, while pinto beans contain 115 calories and 1g per serving. 
#3. Salsa 
If you prefer a low-fat and calorie topping, it would be better if you went for the fresh tomato or tomatillo salsa. 
Going with the corn salsa would add extra calories and fats to your bowl. 
#4. Fats 
Various ingredients can provide you with an adequate number of fats in a Chipotle chicken bowl. The sour cream is one of its amazing sources. 
You should use sour cream sparingly because of its high amount of saturated fats and equally high calories. 
Another amazing fat source is cheese. You can never go wrong with Monterey jack cheese or shredded white cheddar. 
What Amount of Carbs is In a Chipotle Chicken Bowl? 
The carbohydrate in a chipotle chicken bowl usually comes from the cilantro lime rice and black beans. 
The rice usually contains about 200-240 calories, while the beans, mostly the black beans, contain about 100-120 calories. 
This carbohydrate provides the body with sufficient dietary fiber and helps protect the body's overall well-being. 
What is the Price of a Chipotle Chicken Bowl? 
Chipotle is a Mexican restaurant that provides its customers with a variety of healthy Chipotle dishes and is inspired by high Mexican food like burritos and tacos. 
The Chipotle bowls served at restaurants are usually more expensive than what is served on other menus in most restaurants. 
Many restaurants claim they source their ingredients from ranchers and farmers who raise their livestock naturally. 
Many ingredients make up several Chipotle recipes, including greens, which makes Chipotle a healthy choice for vegetarians. 
The main ingredients in most Chipotle recipes include burritos, tacos, grilled chicken or salsa, black or pinto beans, white or brown rice, and guacamole. 
There are various recipes for Chipotle, which means there are various prices for these menus.
Below is a table showing the updated price list you can use as a guide when ordering from Chipotle:
| Food  | Size  | Price ($) |
| --- | --- | --- |
| Chicken  | Normal  | 11.2  |
| Carnitas  | Normal  | 11.35 |
| Steak  | Normal  | 12.45 |
| chicken al pastor  | Normal  | 11.2 |
| Barbacoa  | Normal  | 12.45 |
| Cheese  | Normal  | 10.7 |
For the salads and side extras; 
| Food | Price ($) |
| --- | --- |
| Chips  | 2.15  |
| Chips and guacamole  | 5.1 |
| Double wrap with a tortilla  | 0.5 |
| Large sized guacamole  | 5.9 |
| Tortilla on the side  | 0.5 |
| Tomatillo green chili salsa and chips | 2.85 |
| Chips and tomatillo chili salsa  | 2.85 |
| Side of Queso Blanco  | 2.94 |
| Chips and Queso Blanco  | 5.1 |
| Guacamole  | 2.95 |
| Queso Blanco | 1.8 |
| Chips and roasted chili corn salsa  | 2.85 |
| Fresh tomato salsa and chips | 2.85 |
| Large chips and large guacamole  | 8.7 |
At a Chipotle restaurant, you can get a variety of dishes made from a combination of all or a few of these ingredients to get your perfect dish. 
How to Make Your Own Chipotle Chicken Bowl?
You must marinate your chicken ahead of time and grill it. Whatever goes into your burrito bowl wrap is also up to you and your preferences.  
Some ingredients you would need for your bowl include:
Guacamole. 
Rice. 
Chicken. 
Cheese. 
Beans. 
Tomato salsa. 
Corn salsa. 
For the beans, it would be preferable if you used black beans.
Canned black beans can be your go-to beans if you do not have the time to make your chipotle beans. 
You would need oregano; either Italian or Mexican oregano would do. These oregano would taste amazing for this recipe, even if Mexican oregano tastes like marjoram. 
Before mixing your ingredients, you would need to make your chipotle chicken.
Follow the steps listed below to be able to make your chipotle chicken; 
Blend your garlic, red onion, olive oil, cumin, oregano adobe sauce, and chili powder to make your marinade. 
Add a little water to the marinade and pour it into a plastic bag with your boneless chicken thighs or chicken breast, whichever you choose. 
Let it marinate for 30 min- one hour, and then cook your chicken in a skillet with a bit of olive oil. 
When it has cooked for a considerable amount of time, take the chicken out of the pan and chop it into smaller pieces. 
After finishing your chicken, you should prepare your cilantro lime rice.
The procedure you would need to follow to prepare your cilantro lime rice is listed below; 
Bring your pot of water to a boil and add your basmati rice. After that, add salt in appropriate amounts and bay leaves (to taste). 
Cook your rice for 10-12 minutes or until tender, then drain the excess water. 
Rinse the rice with a mesh sieve and pour the rice into another bowl. Stir the lemon and lime juices in the rice, add your chopped cilantro, and then season with salt. 
Your cilantro lime rice is ready! 
You would also need to prepare corn salsa like your chicken and rice.
To do this, follow the procedure listed below:
Cook your corn, preferably frozen, and place them on a baking sheet to cool off. 
Toss your corn with chopped roasted pepper, red onion, cilantro, lemon, and lime juices, and add some salt. 
In addition, you would also need to make your tomato salsa and guacamole to get your ingredients ready. 
To make your tomato salsa, chop your raw tomatoes, peppers, red onions, and cilantro, and then combine all these ingredients with lemon and lime juices in a bowl with a pinch or two of salt to taste. 
Scoop out the flesh of your avocados, mix with lemon and lime juices, and then stir into your chopped onions and cilantro. Also, add a pinch of salt to taste. 
If you are done with these, 70% of the work is done. You would need to build your bowl properly. This part should be fun. 
To begin with, set all the ingredients on the counter and grab your largest bowl, ready to lay all these ingredients in. 
Then add your rice to a corner of the bowl, followed by your beans, and then place your chicken on the other part. 
Now, add your salsa, some corn, and a lot of guacamole.
Next, add your cheese and lettuce to the top of this beautiful bowl, and now all that is left to do is grab a fork and enjoy. 
FAQs
Is Sofritas Vegan In Chipotle? 
Yes, sofritas is a vegan dish that is also vegetarian-approved. This recipe is made from a combination of various vegan ingredients like guacamole, rice, beans, and chips. 
Is Chipotle Celiac Friendly? 
Apart from the tortillas served, every other dish without tortillas is celiac-friendly and gluten-free. 
What Is the Average Price Spent at Chipotle? 
Average customers at Chipotle spend about $17 for fast food from these casual chains. Making it a yearly spanning of about $147.