This is How to Use Starbucks White Chocolate Mocha Creamer!
Last updated on September 11th, 2023 at 02:14 pm
Several options are available at Starbucks if you prefer your coffee to be sweetened and more creamy. You can also add some flavor to your coffee.
Starbucks has rolled out a wide range of at-home creamers for coffee lovers, and the chocolate mocha creamer is a customer's favorite, rich and easy to use.
Pour the Starbucks creamer into a coffee mug, add your desired creamer quantity, and stir gently until the coffee and the creamer blend completely. The white chocolate mocha creamer is usually very sweet, so you don't have to use much of it unless you have a sweet tooth. 
Starbucks got the inspiration for the white chocolate mocha creamer from their signature white chocolate mocha, and the flavors are amazing.
If you desire to enhance your coffee taste but don't know how to use the creamer, this article contains everything you need.
How Do You Use Starbucks White Chocolate Mocha Creamer?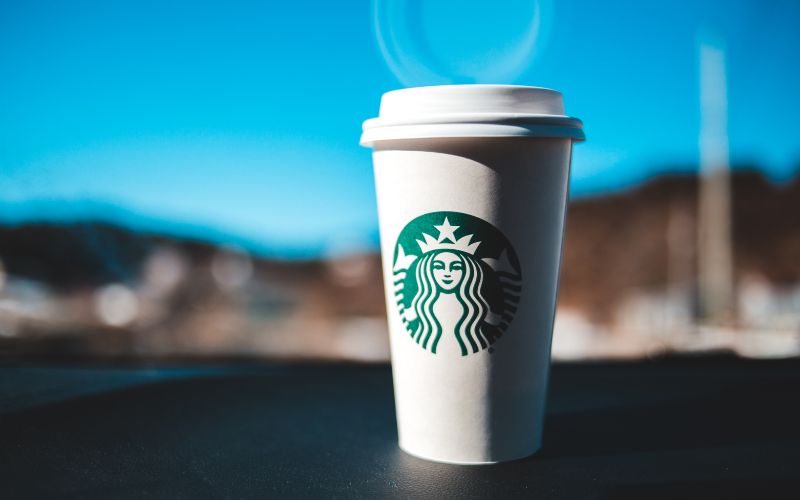 Pour a generous quantity of Starbucks White Chocolate mocha creamer into your coffee cup, follow with your coffee, and stir thoroughly to get a smooth blend.
Before using the white chocolate mocha creamer, shake it thoroughly so it blends. Otherwise, the thick chocolate may pool at the bottom.
You can use Starbucks white chocolate mocha with both hot and cold coffee. And you can add it to your coffee mix before you add a little water to your taste. 
Also, you don't have to combine it with sugar, syrup, or milk because the creamer already contains milk and sugar.
Additionally, you can use your creamer in your cup of coffee at any time of the day; the creamers elevate the taste and flavor of your coffee.
The ingredients in the coffee creamer are skim milk powder, sugar, milk, high oleic soy oil, buttermilk powder, natural flavor, and gellan gum.
Starbucks uses the chocolate flavor, which gives your homemade coffee the same flavor as the Starbucks white chocolate mocha coffee or a white chocolate mocha latte.
The 28 oz container has about 55 servings, which are measured based on a serving size of 1 tbsp. However, you can serve your creamer based on the size of a coffee cup. 
Finally, shake the creamer well before you use it; do not use the creamer if the seal is broken, refrigerate but do not freeze, and always use it within 14 days of opening.
Once you open the creamer, it will go bad within 14 days, even if you refrigerate it. So you have to consume it within 14 days, or you'll have to throw it out. 
How Do You Use Starbucks White Chocolate Mocha Creamer In Hot Coffee?
Starbucks white chocolate mocha creamer is in liquid form and ready to use; all you have to do is add it to your hot coffee, and you're good to go.
The creamer is sweet, so don't put in a lot of it at a time; add a little quantity and then add more to taste as you go along. 
Also, you can pour your creamer into the cup before you add your coffee to it; the order in which you pour your coffee and creamer mostly depends on your preference.
Using liquid creamer is quite easy as you don't have to stir so much for the coffee creamer to dissolve, unlike powdered creamer. 
Additionally, coffee creamer can curdle in very hot coffee, specifically because the water is very hot or because the creamer has gone bad.
When you add chilled liquid coffee creamer to hot coffee, it can curdle or clump together because of the sudden temperature changes.
Thankfully, there are things that you can do to prevent your coffee creamer from curdling in the cup. First, ensure that your coffee is between 180F  to 190F.
Also, after pouring your hot coffee, you can wait about 60-90 seconds before putting in your coffee creamer. 
In addition, warm your coffee creamer before using it. Cold coffee creamer is much more likely to curdle when you add it to your cup of coffee. 
Finally, don't put sugar and creamer in a cup before going in with your coffee. If you wish to use sugar, it's best to put in the coffee, creamer, and sugar lady. 
Otherwise, the sugar will absorb all the water in the creamer and cause it to solidify so that when you put it in your coffee, the creamer will begin to curdle.
Is Starbucks White Chocolate Mocha Better Hot or Cold?
You can drink Starbucks chocolate mocha hot or cold according to your preferences, but a cold white chocolate mocha is better, especially as a summer beverage.
The drink is quite sweet, and with two pumps of espresso, the espresso isn't very strong, so you can enjoy an iced white chocolate macho.
The combination of espresso shots, steamed milk, and white chocolate sauce will give you an ice-cold drink on a perfect summer day.
The white chocolate, which is the essence of the drink, provides a creamy and sweet blend, while the espresso balances it out with a bitter taste that coffee lovers appreciate.
Overall, what you get from the white chocolate mocha is a sweet taste with a slight kick of coffee, a smooth, milky texture, and a mixture of chocolate and coffee flavors.
So, if you love sweet, creamy beverages with coffee undertones and chocolate as the main ingredient, you're in for a treat with the white chocolate mocha.
That is why it is best to serve the white chocolate mocha cold; you can savor all the different tastes and flavors of the drink and appreciate the coffee. 
Furthermore, while the base ingredients are the same for making white chocolate macho, the process and proportions vary.
As a result, the drinks taste different from brand to brand, and some brands also add other ingredients to vary the drink's flavor and get that unique flavor.
The particular flavor also determines whether you can best enjoy the drink hot or cold; if there is more espresso, you'll enjoy it better served hot.
But, if there is more milk or white chocolate, you'll enjoy the drink better when it's cold. White chocolate is a summer beverage and is very refreshing on hot summer days. 
The Starbucks recipe usually has white chocolate and milk; it only contains two shots of espresso, which means it is best to serve it cold.
You can even go overboard and add some ice to the recipe if you're making it home to get that extra kick. But if you want it hot, add an extra espresso shot or two.
The white chocolate mocha is a favorite among coffee drinkers, but they haven't agreed on whether it tastes better served hot or cold. 
While the one you choose completely depends on your personal preferences, there are upsides to either option that should help you decide. 
The table below makes a detailed comparison to guide you. 
| Iced Starbucks White Chocolate Mocha | Hot Starbucks White Chocolate Macho |
| --- | --- |
| It contains milk and ice and is perfect for a hot summer day. | Hot white chocolate macho will allow you to savor the aroma of the blend |
| You can savor the various taste blends  | Hot coffee contains more antioxidants  |
| Iced coffee also contains less caffeine  | Hot coffee can put you in a more relaxed and generous mood. |
Is Starbucks White Chocolate Mocha Creamer Good?
Starbucks white chocolate mocha creamer is a favorite with customers, just like the beverage that the creamer gets its taste and flavor from.
The creamer tastes the same as a cup of white chocolate mocha; it combines the sweetness and aroma of white chocolate, the kick from the espresso, and the creaminess from the milk.
Combining these ingredients makes a very nice addition to your morning coffee and can significantly enhance your cup's flavor, taste, and aroma.
The creamer has a very rich flavor and nice consistency and is very tasty. It tastes just like the white chocolate mocha that Starbucks serves.
Although some customers find the creamer a little too sweet, if you don't like your coffee extremely sweet, don't use a lot of it at a time.
Because the creamer is very sweet, you can serve very little and still get results, but it can be wasted because you have to consume it within 14 days after you've opened it.
On the bright side, the creamer is so rich, thick, sweet, and creamy that a little goes a long way so that a bottle can last for some time, especially for a large household.
The white chocolate creamer has a 4.5 star out of 5 stars rating on Amazon, and it is one of the Starbucks flavors with the highest demand.
The white chocolate mocha creamer contains corn, milk, and lactose, so it isn't suitable for lactose-intolerant consumers.
It also contains refined oils and sugar, which can be unhealthy.
However, the creamer suits you even if you're vegetarian, pescatarian, gluten-free, or keto. 
Finally, 55 servings (1 tbsp, 15ml)  in each Starbucks White Chocolate mocha creamer container contain fat, cholesterol, carbs, and 40 calories. 
Starbucks white chocolate mocha creamer contains vegetable oil, non-fat milk, natural flavor, gellan gum, buttermilk, heavy cream, and sugar. 
Do not freeze the creamer; only refrigerate it. Also, do not consume Starbucks white chocolate creamer if the seal was open at the time of purchase.