Chipotle Burrito Menu Options: A Quick Guide to Tasty Choices
Chipotle is known for its customizable burritos and bowls packed with fresh, sustainable ingredients. Customers can choose from protein options like chicken, steak, carnitas, barbacoa, or sofritas and add toppings like guacamole, salsa, cheese, and sour cream.
Burrito fillings are wrapped in a flour tortilla or served in a bowl with cilantro-lime rice and pinto or black beans.
With so many vegetarian, gluten-free, and kid-friendly choices available, it's easy to satisfy cravings for fast Tex-Mex flavors while sticking to dietary needs and preferences.
The made-to-order format allows for endless unique combinations perfect for a quick, casual Mexican-inspired meal.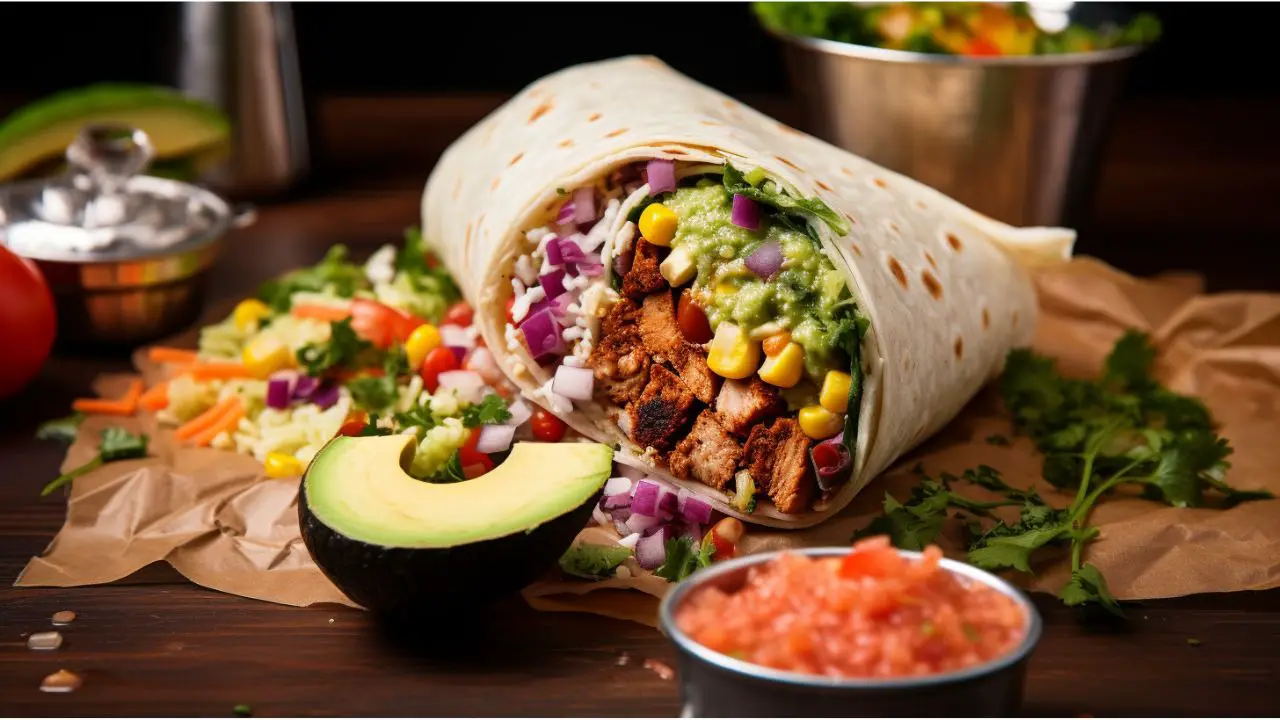 Mexican Cuisine
Chipotle takes inspiration from authentic Mexican ingredients and preparation techniques to craft a menu packed with big, bold flavors.
Their salsas, meats, and cheeses draw from culinary traditions across Mexico while showcasing the freshness of locally sourced produce.
Ingredients
Chipotle boasts an array of vegetarian and gluten-free ingredients to please diverse palates and diets.
Proteins
Chicken – Raised without antibiotics or added hormones
Steak – Grass-fed, grain-finished beef
Carnitas – Slow-cooked pork
Barbacoa – Shredded beef braised in a blend of spices
Sofritas – Organic spiced tofu
Veggies
Fajita veggies – Onions, bell peppers
Romaine lettuce
Fresh tomato salsa
Tomatillo green chili salsa
Tomatillo red chili salsa
Guacamole
Beans
Pinto beans – Slow-cooked from dry beans
Black beans – Wholesome and fiber-rich
Rice
Cilantro-lime rice – Made fresh daily
Brown rice – Nutty, chewy texture
White rice – Fluffy long grain
Toppings
| Cheese | Sour Cream | Salsa |
| --- | --- | --- |
| Shredded Monterey Jack | Creamy, tangy | Fresh Tomato |
| Shredded Cheddar | | Tomatillo Green Chili |
| Queso | | Tomatillo Red Chili |
With so many options for meats, salsas, beans, rice, and toppings, customers can craft a bowl or burrito packed with Tex-Mex flair.
Healthy Options
One of the best parts of the Chipotle dining experience is the ability to customize your meal to match your dietary needs or eating plan.
With its focus on fresh, responsibly sourced whole ingredients, Chipotle makes it easy to create nutritious and satisfying orders.
Chipotle offers many choices to meet dietary needs:
Vegetarian and vegan with sofritas, fajita veggies, beans, rice
Gluten-free with corn tortillas or bowls
Keto with carnitas, chicken, steak, cheese, sour cream, guac and salsa
Paleo and Whole30-approved ingredients like barbacoa, fajita veggies, lettuce
Low-carb bowls and salads with extra meat and no rice or beans
Diabetic-friendly with brown rice, black beans, meat portions
Vegetarian and Vegan
Vegans, vegetarians, and flexitarians have ample options to build delicious plant-based meals. Simply opt for tofu sofritas or fajita veggies as the protein.
Load up on extras like fresh tomato salsa, tomatillo green chili salsa, guacamole, beans, and lettuce, and skip the cheese and sour cream to keep it vegan.
For an extra dose of nutrients and texture, double up on beans, veggies, and rice. The key is piling on delicious toppings so you don't miss the meat.
Almost every combination can be customized to align with specialized diets thanks to the fresh, responsibly sourced ingredients.
Patrons can enjoy bold Mexican cuisine without sacrificing healthy eating goals.
Gluten-Free
Gluten-free diners can enjoy signature burrito bowls, salads, tacos with corn tortillas, and even burritos wrapped in lettuce leaves instead of flour tortillas.
As long as you avoid the flour tortillas, the proteins, toppings, salsas, and chips are naturally gluten-free. Just request any off-limits ingredients to be left off.
Keto and Paleo
On low-carb, high-fat diets like keto and paleo, Chipotle is an ideal option. Skip the tortillas, rice, and beans and load your bowl or salad with carnitas, barbacoa, chicken, steak, chorizo, cheese, guac, and salsa. The meats and veggies align perfectly with clean eating approaches.
Whole30
Chipotle has all the ingredients you need to make a Whole30-compliant meal. Simply get a salad or bowl with chicken, steak, carnitas, fajita veggies, salsa, guacamole, and romaine lettuce. Avoid rice, beans, cheese, sour cream, and tortillas.
Diabetic-Friendly
Chipotle offers healthy options for balanced blood sugar levels. Prioritize lean proteins like chicken and steak over fattier meats.
Opt for black beans or brown rice instead of white rice. Include fiber-rich veggies without going overboard on high-fat toppings. And be mindful of sodium from cheeses, salsas, and salty meats like chorizo.
With its customization options and focus on fresh ingredients, Chipotle empowers customers to enjoy flavorful Tex-Mex cuisine tailored to their specific dietary needs and restrictions.
Fast Casual Dining
The Chipotle dining experience balances customization and speed through its interactive service format.
Rather than waiting for cooks to prepare each dish, customers can build their perfect meal by passing through an assembly line of ingredients.
Order Assembly Line
The signature assembly line allows customers to walk down a counter and select exactly what they want in their bowl, burrito, tacos, or salad.
Steps in the ordering process:
Choose a format – burrito, bowl, tacos, salad
Pick protein – chicken, steak, carnitas, etc.
Select rice or skip for salads.
Choose beans or fajita veggies.
Add salsa, cheese, sour cream, lettuce, and other toppings
Finish with guacamole or chips/drinks
Pay at the register
Employees guide customers through each step and prepare the meals quickly using specialized equipment behind the counter.
The streamlined system delivers fast service without compromising food quality or customization.
Customizable Orders
With its build-your-own concept, Chipotle empowers customers to craft a perfect Mexican-inspired meal.
Diners can:
Mix and match proteins.
Add extra toppings
Select from 4 salsas
Choose between rice and beans
Specify ingredient portions
Request light or extra sauce
Ask for items to be left off or on the side
Almost every menu item can be adjusted based on personal preferences and dietary needs.
Customers appreciate the flexibility to control ingredients and simulate dishes like burrito bowls, nachos, and more.
Online Ordering
For added convenience, customers can order online or through the Chipotle app for quick pickup or delivery.
Online ordering allows guests to:
Customize orders in advance
Save favorite orders for reordering
Earn rewards points
Skip the line by picking up digital orders
Get Chipotle delivered
With its customizable digital options, Chipotle makes it easy for busy customers to enjoy their preferred bowls, burritos, and other menu items however and whenever they want.
Sustainability
Chipotle aims to source ethically raised ingredients and reduce its environmental impact through initiatives like:
Responsible Sourcing
Chipotle pursues sustainable sourcing through practices like:
Serving organic, non-GMO produce when possible
Working with local farmers when seasonally available
Committing to humanely raised meats

Chicken raised without antibiotics
Steak from grass-fed cows
Pork from pigs allowed outdoor access

Obtaining dairy from cows not treated with rBGH hormones
Partnering with suppliers that pass animal welfare audits
By investing in quality ingredients, Chipotle supports farmers, reduces waste, and brings more wholesome food to customers.
Food Waste Reduction
To limit leftovers and overproduction, Chipotle employs tactics such as:
Made-to-order preparation with frequent ingredient restocking
Customizable servings and sides
Customer-facing inventory levels via the app
Donating unsold food to shelters through the Food Donation Program
Specials to sell surplus seasonal produce
| Initiative | Impact |
| --- | --- |
| Donating pre-consumer waste | Provided equivalent of 15 million meals in 2020 |
| Composting | Diverted 12,000 tons of waste in 2020 |
By streamlining operations and repurposing extra food, Chipotle reduces waste while supporting local communities.
Chipotle also uses recyclable and compostable packaging to avoid landfill contributions.
Through thoughtful procedures and partnerships, the restaurant promotes sustainability from farm to counter to table.
Frequently Asked Questions
What type of cuisine does Chipotle serve?
Chipotle serves fresh, customizable Tex-Mex and Mexican-inspired cuisine like burritos, bowls, tacos, and salads. Their menu highlights bold flavors and quality ingredients.
Does Chipotle have vegetarian, vegan, or gluten-free options?
Yes, Chipotle has many vegetarian and gluten-free options. Vegan orders can be accommodated by choosing plant-based proteins like sofritas or beans, skipping cheese/sour cream, and picking guacamole or salsas for flavor.
Can I customize my Chipotle order?
Absolutely! The build-your-own format allows complete customization of proteins, toppings, salsa, and sides to match your tastes and dietary preferences.
Is Chipotle healthy?
Chipotle serves fresh, responsibly sourced ingredients that can be configured into healthy meals. Options like salad, brown rice, and vegetable toppings make it easy to create more nutritious orders.
Does Chipotle cater?
Yes, Chipotle offers catering for groups and events. You can order catering online or visit your local restaurant to arrange trays with your preferred assortment of proteins, toppings, tortillas, chips, and guacamole.
Can I order Chipotle online?
You can easily order online or through the Chipotle app for quick pickup or delivery. This allows you to customize your meal in advance and skip the lines!