Did Starbucks Discontinue Almond Milk Frappuccino?
Last updated on October 26th, 2022 at 05:18 pm
Starbucks can boast a huge array of delicious beverages quickly becoming favorites for many people. 
An example is the Almond Milk Frappuccino. However, over the years, Starbucks has discontinued several of these beloved beverages to make way for newer ones. 
Hence, it would not be a surprise if you wondered if Starbucks has discontinued Almond Milk Frappuccino.
Yes, Starbucks has discontinued Almond Milk Frappuccino. One of the main reasons behind discontinuing the beverage is that Starbucks aims to reduce its carbon footprint by exploring healthier plant-based menu options. In its place, the brand introduced the new, Dairy-free Oatmilk Frappuccinos. The Oatmilk Frappuccinos come in 2 delicious flavors: Dark Chocolate Brownie and Caramel Waffle Cookies.
What Happened to Starbucks Almond Milk Frappuccino?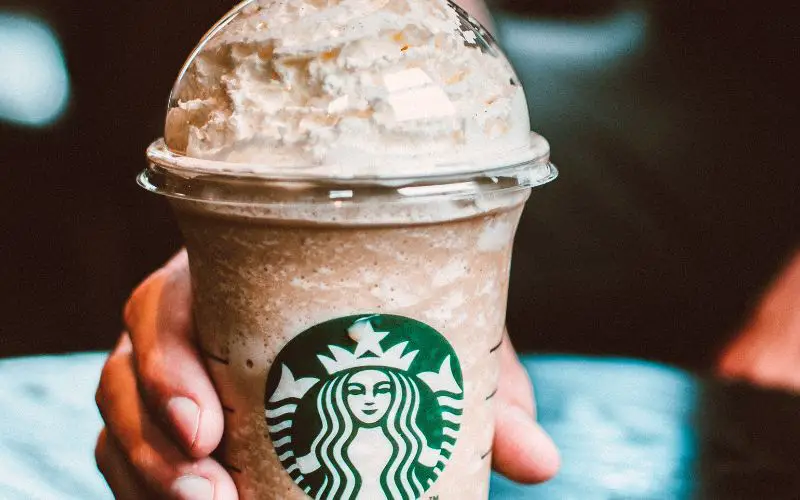 The new Starbucks Oat milk Frappuccino is a substitute for the discontinued Almond milk Frappuccino. 
This change is because Starbucks strives for more environmentally friendly beverage ingredients to reduce its carbon footprint. 
Starbucks explains that the Oat Milk substitute is a much healthier and greener option than almond milk. 
Generally, dairy products are the main sources of carbon emissions in the brand's operation chain.
The company has earmarked an ambitious 50% emissions level cut by 2030. 
Aside from being healthier options, the new substitutes also taste amazing, unlike the Mocha and vanilla flavors, which were the dominant flavors used in the discontinued almond frappuccino.
These newer Oat Milk varieties come in Dark Chocolate Brownie and Caramel Waffle Cookie flavors. And they taste incredible. 
The Oat milk Frappuccinos are now bottled and sold in grocery stores all around the country.
The products were certified by various health organizations, including Kosher, which makes the product completely vegan and dairy-free. 
The Oat milk Frappuccinos are gluten-free, egg-free, Nut-free, peanut-free, and soy-free.
To have a clearer view of the benefits of the new Oat milk Frappuccinos, here's a complete list of the beverage ingredients:
If you want to know more about the Oatmilk Frappuccinos, you can visit Starbucks' website for information.
Almond milk Frappuccinos are not the only beverages that were discontinued. 
Over the years, Starbucks Cut out many beverages from the menu to make way for healthier options.
Some of these other discontinued products are:
#1. Starbucks Unicorn Frappuccino
This Frappuccino disappeared from Starbucks' menu in 2017. It was an immediate favorite at the time when it came out.
Customers enjoyed the beverage's fruity flavor and burst of colors. 
Despite the Unicorn Frappuccino being an instant success, the product was only available for a limited time before it was discontinued completely. 
#2. Starbucks Dark Barrel Latte
The Dark Barrel Latte was also a big hit when it came out in 2014.
Although Starbucks restricted release to certain states, the beverage did gather a lot of attention and was highly praised by most. 
The non-alcoholic coffee beverage had a dark, malty caramel topping that gave the drink a strong, unique taste.
Sadly, Starbucks pulled the Dark barrel latte from the menu after a while.
#3. Birthday Cake Frappuccino
The Birthday Cake Frappuccinos were introduced in 1995. It was a massive success. However, the product was discontinued after a limited period. 
The Frappuccino contained Vanilla beans and hazelnut blend with a whipped cream topping that struck home with many customers. 
There has been an argument over the benefits of the new Oatmilk varieties and the former almond milk Frappuccinos. 
Here is a table listing the Environmental, nutritional, and dietary information on both non-dairy milk- types:
| Ingredients | Almond milk | Oat milk |
| --- | --- | --- |
| Fat | 2 grams | 1.5 grams |
| Calories | 59 | 79 |
| Fiber | 1 gram | 2 grams |
| Carbohydrate | 8 grams | 14 grams |
| Carbon footprint | Extremely low | Fairly low |
Where Can I Get Starbucks Almond Milk Frappuccino?
Since Almond milk Frappuccinos were discontinued, the beverage is becoming increasingly difficult to find and purchase. 
Usually, if you find one, it will most likely come from old stock or might even be a fake product.
If the product is from old stock, check for the expiry date on the bottle and verify if it is past due. 
If it is not, you're in luck. You can buy the Frappuccino. However, if it is not, return it to the store owner. 
When popular brand products get discontinued, Adulterators take advantage of the opportunity to manufacture fake replicas of the discontinued products and sell them to unassuming consumers. 
Hence, it is best to call the company of a discontinued product you are searching for and ask if there are areas or stores where you could purchase the product.
Or, you opt for substitutes for the discontinued product. You could try buying from online overseas platforms. 
Sometimes a product could be discontinued in one country but still in production in other countries worldwide.
The downside is that you may need to purchase bulk orders, and there could be taste or ingredient differences between the product you buy and the one produced in your country. 
Therefore, it is best to call Starbucks and verify if you can still purchase Almond milk Frappuccinos in shops within the country or your state. Here is a link to Starbucks' customer care line. 
Can You Get Non-dairy Frappuccinos at Starbucks?
Yes, Starbucks now sells non-dairy Frappuccinos. However, customers in locations in the US pay a surcharge for non-dairy milk. 
This treatment has received backlash from non-dairy advocacy groups; as such, there is tremendous pressure on Starbucks to remove the surcharge. 
Starbucks has been working on adding non-dairy Frappuccinos to their menu for a long time. 
They recently found success when they introduced vanilla and Mocha flavored Frappuccinos made with almond milk instead of dairy milk. 
Starbucks then substituted Almond milk with Oat milk, introducing the Dark Chocolate Brownie and Caramel Waffle cookie-flavored non-dairy varieties. 
An action has caused scarcity of the newly integrated substitute due to the demand for Oat milk.
The brand also launched a new creamer known as The Pumpkin Spice Flavored Non-dairy Creamer. This creamer is a blend of almond milk and oat milk.
Below are a few non-dairy Starbucks Frappuccinos you could try out:
Mocha Cookie Crumble Frappuccino
Dark Chocolate Brownie Oatmilk Frappuccino
Caramel Waffle cookie Oatmilk Frappuccino
Is Starbucks Discontinuing Light Frappuccino?
Starbucks Mocha light Frappuccino has been discontinued. 
The decision to discontinue two products was because the company believed the taste of Mocha light Frappuccino was too close to the original Mocha Frappuccino. 
However, this doesn't mean that Starbucks has discontinued all light Frappuccino beverages. 
There are still more delicious options besides the Mocha light; an example is the Caramel light Frappuccino (Blended Coffee). 
This delicious light Frappuccino contains buttery caramel syrup, nonfat milk, and roast coffee.
Another option is the Coffee light Frappuccino, made with brewed espresso, skimmed milk, and coffee. 
Even though the Mocha light Frappuccino has been discontinued, you could try making your own homemade Mocha light Frappuccino.
You will only need to source the ingredients, which include:
Conclusion 
Starbucks discontinued Almond milk and replaced it with the new Oat milk varieties.
Oat milk is a healthier and less fattening option than Almond milk. It is also very rich in fiber.
The company is taking serious strides toward reducing its carbon footprint by half before 2030 and making bigger room for non-dairy milk options on its menu.