Does Pizza Express Do Delivery? (Let's Find Out)
Craving a taste of PizzaExpress's Italian cuisine from the comfort of your home? Or do thoughts of sumptuous pizza bites keep causing your mouth to water on a lazy day? 
We all are familiar with that feeling of not wanting to get out of bed or leave the comfort of our homes. 
If you're torn between your cozy bed and satisfying your cravings, you might wonder, "Does PizzaExpress do delivery?" 
Yes, PizzaExpress provides fast and timely delivery of tasty menu meals. You can order through PizzaExpress Delivers or the company's partner Uber Eats. Aside from these, you can also request food delivery through other dispatch services. However, you must place your order on the same day you need the delivery.
In this article, you'll discover various channels for ordering meals from PizzaExpress. You'll also learn how to use these delivery platforms.
By the end of this read, you'll be able to order doorstep meal delivery and savor Italian-style dishes while lounging at home or on the go.
PizzaExpress Delivery Options and Partnerships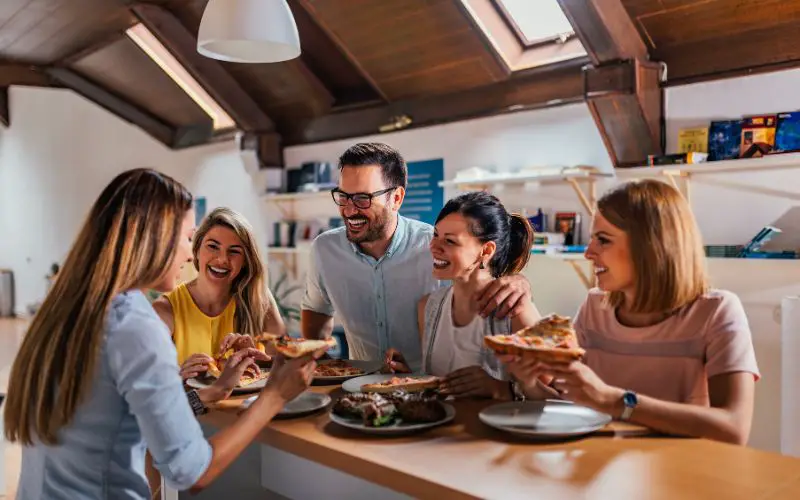 Have you longed for spicy Italian food or a delicious slice of Italian pizza? 
With PizzaExpress's delivery service, you can get the finest Italian food without visiting a restaurant or going through the stress of cooking.
Those delectable dishes and crusts topped with your favorite ingredients are just a click away, whether at home or in your office. 
Interestingly, through partnership agreements, you can order five-star meals from PizzaExpress through other platforms. So, let's explore the options!
PizzaExpress Delivery Platform
The restaurant chain PizzaExpress provides home delivery via its platform, PizzaExpress Delivers. 
The company established this platform in partnership with Uber Eats to enhance its fast food express delivery services.
This innovation allows you to order from the PizzaExpress website or the Pizza Express mobile app. All you need is your postcode. 
Enter it on the website or app and explore an extensive menu featuring not just pizzas but also salads, pasta, and all sorts of Italian food.
Interestingly, there's a special deal for members of the PizzaExpress Club. All members can enjoy a classic pizza at just £7.95 on every order placed via PizzaExpress Delivers.
If I were you, I wouldn't hesitate to jump on this exclusive offer
Uber Eats Partnership
Although customers can place meal orders from the PizzaExpress Delivers website,  there is still the need for a courier service. 
So, PizzaExpress now partners with Uber Eats as their trusted pizza delivery service, helping to satisfy those spontaneous cravings by delivering mouthwatering dishes right at your doorstep.
Whether you want to treat yourself to gourmet pizza, Lasagna, or Risotto, or you're planning a feast for friends, PizzaExpress and Uber Eats have got you covered.
So, order online from PizzaExpress through Uber Eats and enjoy hot and fresh food anywhere, any time.
Other Delivery Partnerships
Apart from Uber Eats, Pizza Express has teamed up with a handful of other food delivery platforms that ensure you get your favorite finger-licking dishes.
Below is a list of delivery services through which you can receive meals from PizzaExpress.
Deliveroo
Grubhub
DoorDash
Postmates
These platforms assist in providing food delivery from Pizza Express at lightning speed. However, availability may depend on the location.
Additional Services and Menu Items Available for Delivery from Pizza Express
The name PizzaExpress suggests that the restaurant specializes solely in pizza. But that's untrue. The restaurant offers more than just pizza. 
Pizza Express has a broad menu that caters to various palates, ensuring a fulfilling dining experience.
Numerous delicacies are available if you decide to pop in for breakfast, lunch, or dinner or request delivery.
You can count on the meticulous menu curation for meals that will appease your taste buds. 
If you're wondering what PizzaExpress's menu entails, here's what to expect:
Pizza: From Margherita to American Hot, get an authentic Italian pizza for yourself, your friends, or kids.
Pasta: Fancy some spaghetti? Or perhaps you're in the mood for some penne? The pasta options on offer are sure to satiate your cravings.
Salad: Go light but flavorful with fresh and vibrant salads that never compromise on taste.
Desserts: End your meal with something sweet! Choose from an assortment of classic Italian desserts like Tiramisu or Panna Cotta.
Below is a table containing some food categories and delicacies under them.
| Pizza | Dessert | Salad |
| --- | --- | --- |
| Spicy Guiseppe | Tiramisu | Rocket salad |
| Duo Romana | Lime and basil sorbet | Mixed salad |
| La Cubana | Billionaire's Sundae | Raw slaw |
| Funghi Di Bosco | Chocolate fudge cake | Beetroot Buddha bowl |
| Polla Forza | Chocolate brownie | Bosco salad |
PizzaExpress offers amazing food options to satisfy your sweet tooth. While visiting the restaurant to dine is cool, ordering your meal is even better.
Pizza Express Delivers can come to your aid when you are short of time but in dire need of food. 
Thanks to food delivery services, you can purchase and munch on exotic delicacies without visiting the eatery. 
How Does The PizzaExpress Delivers Platform Work?
Pizza Express has enhanced its delivery service by launching its special platform, PizzaExpress Delivers. 
This service is in partnership with Uber Eats, making it a reliable option for pizza lovers. 
When you visit the PizzaExpress Delivers website or app to order, an Uber courier will transport your meal to you.
The PizzaExpress delivery service begins as soon as you place an order online. 
Below is an outline of the procedure.
Firstly, go to the Pizza Express website or download their app.
Select the 'Delivery' option.
Enter your postcode and browse through the menu.
Add your favorite gourmet pizzas, delicious pasta, or other Italian food items to your basket and checkout.
There's a lovely perk that comes with using PizzaExpress Delivers– Contactless delivery. 
In light of COVID-19 safety measures, Pizza Express has included the contact-free delivery service in their procedures. 
They ensure every order is sealed properly and left at your doorstep to minimize contact. 
So whether it's fast food express delivery of tantalizing pizzas or restaurant food deliveries with other tasty Italian dishes, customer health and satisfaction are always prioritized.
So next time when hunger strikes, don't think twice! Grab your phone, place your order, sit pretty, and await your meal.
Ordering Pizza Express Through Deliveroo or Postmates
Italian meals always have intense flavors that can catapult you to cloud nine. That's why it's the best of all foreign cuisines.
With such excellent taste, you'll find yourself constantly craving more. 
Thankfully, with swift food delivery services like Deliveroo and Postmates, you can enjoy the best meals without leaving your vicinity.
Here's how to get PizzaExpress meals through Deliveroo or Postmates.
Navigate to Deliveroo or Postmates app.
Type in 'Pizza Express' in the search bar.
Browse through their extensive.
Select your preferred items and place your order.
Note that these fast food express delivery services are contingent on availability in your area. So ensure to confirm availability before ordering.