Do This to Get Free Burritos At Chipotle!
Hey, foodies! Have you ever dreamt of biting into a delicious, free Chipotle burrito? Well, dreams do come true!
This guide on "How to get free burritos at Chipotle" is your treasure map.
Let's embark on this flavorful journey together – unearthing Chipotle's free burrito codes, diving deep into the Chipotle rewards program, and discovering the joy of earning free burritos at Chipotle.
Hold your horses! There's more! We'll also dish up secret tips about Chipotle promotional offers and giveaways.
So buckle up and get ready to celebrate with a mouthwatering, complimentary burrito from Chipotle. Stay tuned!
Unlocking the Secret to Free Burritos at Chipotle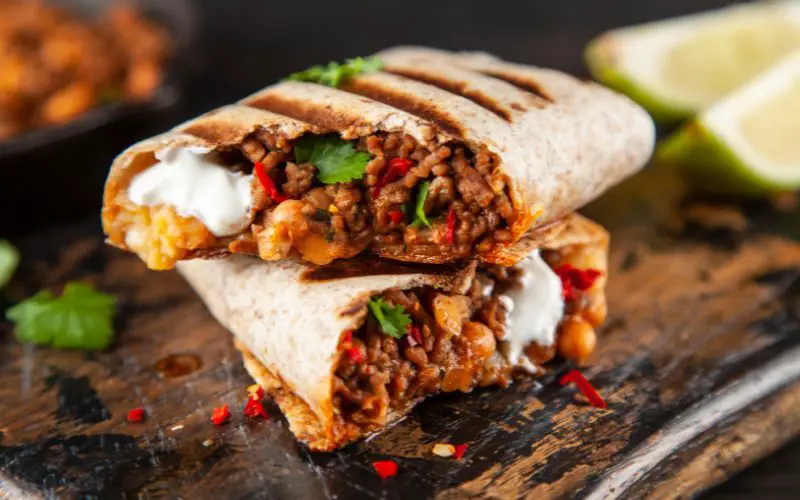 Did you know you can sink your teeth into a tasty Chipotle burrito without spending a dime?
Yep, it's true! Here are a few nifty tricks to score a free Chipotle meal. Let's unwrap them one by one.
#1. Be A Part of the Chipotle Rewards Program
First off, joining the Chipotle Rewards program is as easy as pie. You collect points, and before you know it, you're "earning free burritos at Chipotle." 
It's like hitting the jackpot every 1250 points because that's when you savor a free entree.
#2. Celebrate with National Burrito Day Promotions
During National Burrito Day, Chipotle throws special promo codes on its Twitter handle.
It's like an Easter egg hunt for adults, but instead of eggs, we're hunting for scrumptious burritos using the magic spell – "Chipotle free burrito code."
#3. Score Big During the NBA Finals
During the NBA Finals, each time an athlete sinks a three-pointer into the hoop (basketball lingo), Chipotle offers free food!
The first 300 folks who text in win their very own free entree. Yes! It's raining "free food at Chipotle."
#4. Play to Win with Online Games
Sometimes, life excites with online games where victors are rewarded with "Buy one Entree, get 1 FREE" coupons.
#5. Unwrap Freebies With Gift Card Purchases
Have you ever thought about buying gift cards?
Well, now is your chance because during promotional times, if you buy $30 gift cards – Voila! A complimentary burrito flies into your hands like magic!
#6. Savor Special Promotional Offers during Back-to-School Season and Nurses Week
You know what they say – there's no such thing as a free lunch…unless it's Back-to-school season or Nurses Week Giveaway!
Students and nurses earn their place under the sun in these periods that offer complimentary goodies, including our esteemed hero: The Burrito!
Eat Up The Benefits Of Working Long Shifts At Chipotle
Employees working long shifts also occasionally find delightful surprises awaiting them in meals per shift – yep, we're talking about our favorite character: Burritos!
Remember to follow their social media handles so that no opportunity goes unnoticed, and remember- Fortune favors those who love food!
Securing Free Burritos during National Burrito Day and Other Promotions
Chipotle is like the Easter Bunny for burrito lovers; it occasionally drops treats.
Its promotional offers are akin to a treasure hunt, with the most common 'hidden gem' being the famous Chipotle free burrito code.
These codes pop up during special events and promotions like National Burrito Day. It's all about gettin' in quick and textin' fast!
#1. What's The Buzz About National Burrito Day?
Well folks, on this day, Chipotle becomes the Santa Claus of Mexican food!
They post unique codes on their Twitter account (@ChipotleTweets), first turning it into an exciting game of fastest fingers.
To nab a free burrito, text these codes to 888-222. Bingo! You've now entered the qualifiers for the "Celebrate with a free Chipotle burrito" event!
#2. Earning Free Burritos – Not Pie In The Sky!
You read that right! Chipotle also has another way of earning free burritos: "When they hit a three, burritos are free!"
This is an NBA finals promotional gimmick where they give away free food whenever someone makes a three-point shot.
Sounds cool? Imagine sitting in front of your TV, biting your nails for your favorite team and that sizzling hot Chipotle treat.
#3. Social Media: Your Magic Carpet To Free Meals.
Also, remember, guys, ensure you're following their official social media accounts for real-time updates about ongoing promotions.
Who knows? You might just spot that shooting star – their next Free Food offer.
Follow them on Twitter
Like their Facebook page
Keep an eye out for any latest Instagram posts
Don't forget to turn on notifications because these offers often vanish faster than lightning!
So there you have it, folks – some tips straight from the horse's mouth!
Now start hunting cause those deliciously wrapped parcels of joy won't wait forever! Let's get that 'guac' rollin'!
Taking Advantage of Free Burritos during the NBA Finals
Have you ever heard of scoring your next meal from a three-point shot? If not, then, my friend, you're missing out on some real hoops magic! 
Chipotle's remarkable promotional offers during the NBA Finals are a slam dunk.
How it works is as simple as dribbling a ball! Whenever a player nails a three-pointer (talk about shooting for the moon!),
Chipotle broadcasts an exciting "when they hit a three, burritos are free" campaign.
It's like every swoosh sounds sweet music to your tummy and wallet, too!
Here's what you need to do: Keep an eye on the screen, and as soon as you see a code flash up after that victorious three-pointer shot – shoot your text to 888222 with lightning speed.
The first 300 fast-fingered fans will benefit from a delicious, free Chipotle meal. But remember, just like Cinderella had till midnight, you've got to be quick!
#1. Keeping Up with the Game
Now I know what you're thinking – how can one stay updated with every score when engrossed in the thrill of the match?
It's simple—the answer lies in following Chipotle's social media handles religiously.
By doing so, not only will you experience real-time NBA action, but you will also get hands-on access to exclusive bonuses like earning free burritos at Chipotle.
#2. The Winning Strategy
The strategy here doesn't require an intricate playbook—just appetite and agility.
So here's your game plan:
Step 1: Tune into the NBA Finals faithfully.
Step 2: Keep your phone handy – ready to text anytime.
Step 3: As soon as 'Mr. Three-Pointer' does his thing – TEXT that Chipotle-free burrito code faster than light!
Step 4:Celebrate with a free Chipotle burrito (because why not?)
So, let your love for basketball feed your passion for burritos.
After all, ways to get complimentary food from Chipotle, especially during exciting events like this one, are undoubtedly worth cheering about!
Playing Online Games to Earn Buy One Get One Free Coupons
Ever thought you could play your way to a free burrito? Well, buckle up because Chipotle has some surprises for you.
Rather than twiddling your thumbs, you could be munching on a delicious burrito.
#1. A Fusion of Fun and Free Food
On occasion, Chipotle rolls out online games that engage its customers and reward them with delicious treats.
These games are more than just a fun pastime. They provide an opportunity to hit the jackpot – a free Chipotle burrito- a delightful, cheesy, filling jackpot!
In these exciting games, whether it's tackling trivia or skill-based challenges, upon completion, players are usually required to fill out a form.
It's as simple as ABC! And voila! Players score themselves "Buy one Entree, get 1 FREE" coupons – eloquently termed as the Chipotle Free Burrito Code. Now, how's that for an enticing game reward?
So next time they launch another game session:
Keep your eyes peeled
Make sure your gaming skills are sharp
Join in the fun
Because who knows? You might just be playing your way to a scrumptious feast.
#3. Your Guide To Scoring the Deal
Now if you're wondering about how you can become part of this exciting prospect of earning free burritos at Chipotle through playing games:
Check their website regularly.
Follow them on their official social media platforms like Twitter (@ChipotleTweets).
Sign up for their newsletters and alerts.
This way, when they announce any upcoming games or challenges- you will be one step ahead of everyone else- ready with your gaming face on!
The long and short of it is, don't miss out on these opportunities to combine joy and food in one package because nothing tastes better than a victory meal- especially when that meal is a lip-smacking burrito from Chipotle.
After all, isn't it said that the best things in life are earned… occasionally they come via an engaging game from our favorite Tex-Mex chain!
Obtaining Complimentary Burritos through Gift Card Purchases
Have you ever heard the saying, "A bird in the hand is worth two in the bush?"
Well, in Chipotle language, it would translate to something like, "A gift card at Chipotle is worth a complimentary burrito." Surprised?
Well, pinch yourself because you aren't dreaming! Here's how this sweet deal works.
Purchasing Gift Cards During Promotional Periods
"But I don't see any promotional offers!" Take a breather, and let me let you in on some insider info.
Remember those times when holidays are around, and we're all on a shopping spree?
Well, Chipotle often jumps on that bandwagon and releases their promotional offers right then.
Here's what to look out for:
Look for those shiny $30 gift cards.
Purchase one during a promotional period.
BAM! You just earned yourself a free burrito!
It's like hitting two birds with one stone; you get to give someone (or even yourself!) a nice gift while also reaping the rewards for your savvy purchase.
Earning Free Burritos at Chipotle with Your Gift Card
Okay, okay, I can almost hear you say, "I've got my gift card AND my free burrito code. Now what?" Patience is key here, folks!
Follow these steps next:
1. Get yourself to your nearest Chipotle store or their online platform.
2. Place an order for your favorite burrito.
3. Use that shiny new Chipotle-free burrito code you've got stacked up.
4. Voila! You have your favorite burrito without spending an extra penny!
Remember how we used to make lemonade out of lemons back in our summer days?
Well, now it's time to make yummylicious burritos out of free Chipotle meal codes.
So folks, ready or not, here comes your chance to bag some delicious rewards through the 'Chipotle Rewards Program.' 
Hop onto this gravy train, earn points with every mouthwatering bite, and let that Mexican fiesta never end!
Always keep an eye peeled for any new 'Chipotle promotional offers' and 'Chipotle giveaways.'
After all, who doesn't want a taste of that perfect wrap filled with spiced beans, tangy salsa & guacamole gracefully rolling on their taste buds?
So let's taco 'bout these awesome ways to get complimentary Burritos at Chipotle more often, shall we?
Oh, wait! Before I forget. Do you know someone working long shifts at Chipotle?
Make sure they know they're entitled to free food at Chipotle after five 5-hour shifts as part of the employee benefits. It doesn't get better than this. Can we get an Amen?
In conclusion –OK, wait – I promised no conclusions, so I'm zipping my lip there, But remember folks: when life gives you lemons – no scratch that – when Chipotles give you points, get those FREE BURRITOS!