Are Chipotle Bowls Bad? Unveiling the Truth!
Last updated on September 11th, 2023 at 02:14 pm
Everyone loves a Chipotle bowl because of the variety of food combinations, large portions, and homely taste.
However, Chipotle bowls have some food options that make people with diet goals or strict meal restrictions shy away from them.
If you're wondering whether eating Chipotle bowls on diets or following meal restrictions is a bad idea, you're in the right place.
Chipotle bowls are only bad if you choose unhealthy food options while customizing your bowl. However, if you stick to healthy options such as large servings of vegetables, freshly grilled meat, beans, and lime rice, you'll enjoy a healthy and tasty meal. You should also request fresh ingredients whenever you're getting a Chipotle bowl.
In this article, I'll explain which meals at Chipotle are the healthiest or unhealthiest options and if Chipotle bowls are good for weight loss.
By the end, you'll know if Chipotle bowls are unhealthy and if consuming them every day is advisable.
Are Chipotle Bowls Unhealthy?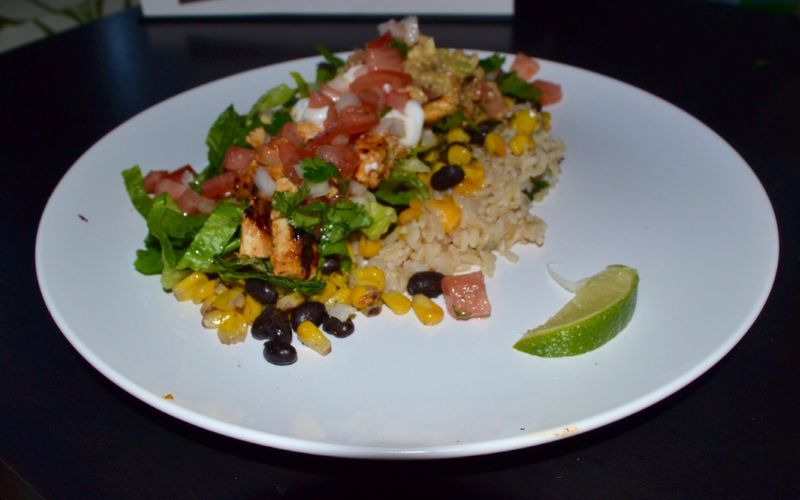 Chipotle bowls are only as healthy as you make them because it all boils down to the types of food you pile up in your bowl.
Various food options are provided for you when you order a Chipotle bowl, which is meant to help you make the best decisions for your health.
However, if you stick to piling carbohydrates and various sauces in your bowl, it will likely be an unhealthy meal choice.
Alternatively, choosing proteins, vegetables, and low-fat foods will make you enjoy a healthy and filling meal.
Chipotle restaurants do their part to prioritize your health by providing fresh food options every day instead of stale and unhealthy ones.
However, if there's a burrito tucked under your Chipotle bowls stacked with other fresh food options, you might still be indulging in an unhealthy meal.
This is because Chipotle's burritos are tucked inside a tortilla, and various sauces are added to the mix, making it less nutritious. 
Luckily, you can avoid putting together an unhealthy Chipotle bowl by requesting healthy options or practicing portion control as you place your order.
An example of a healthy and low-calorie Chipotle bowl would include cauliflower rice, vegetables, guacamole, beans, salsa, and your choice of meat.
Additionally, It's amazing that a Chipotle bowl combination will meet your nourishment needs regardless of your diet.
You can use their accurate nutrition calculator if you're still confused about how to customize the best Chipotle bowl for your dietary requirements.
Chipotle's nutrition calculator shows you the exact amounts of proteins, carbohydrates, fats, vitamins, and sodium in your meal to help you make an informed decision.
However, If you still need more pointers to customize your Chipotle bowl, below are some points to guide you; 
#1. Choose a Low-calorie Bowl or Salad
The first step is to avoid a burrito held together by a tortilla that contains 320 calories, and most of them are unhealthy fibers.
Instead, it would help if you leaned toward the bowls or salads you can customize to nourish your body and energize you.
A burrito can hold over a thousand calories after adding other ingredients to the tortilla, but a customized bowl can hold 400 healthy calories.
You should also avoid loading your Chipotle bowl with tacos because too much can make your meal unhealthy.
#2. Add an Energizing Protein Choice 
The second step is to choose your favorite protein from the options available to ensure you enjoy a healthy dose of proteins in your Chipotle bowl.
Three amazing protein-rich options are on the food list: sofritas and steaks, which are 150 calories, and carnitas, which are 210 calories.
Sofritas are made from soybean to serve as a great protein option for vegetarians, but it's important to know they have a high sodium content.
Aside from the sofritas, the other protein options will give your Chipotle bowl a perfect and healthy balance between proteins, carbs, and veggies.
#3. Stack Your Bowl with Veggies and Beans
The next step is to spruce up your healthy Chipotle bowl with various vegetables and beans to provide you with vitamins and plant-based proteins.
The Fajita vegetables are an excellent choice of veggies because they're delicious, rich in vitamins and minerals, high in fiber, and low in calories. 
The Romaine lettuce is also a lovely addition to your chipotle bowl because each serving is five calories, nourishing, and served fresh.
You can also add a minimal serving of guacamole to enrich your body with healthy fats and an amazing flavor.
Chipotle's Pinto or black beans are equally fantastic choices to supplement your bowl with plant-based protein at 130 calories per serving.
#4. Seal the Deal with a Healthy Rice Option
The last piece of the puzzle to making the perfect and healthy Chipotle bowl is a healthier rice option with lower carbohydrate content than white rice.
You can replace white rice with brown rice, which is an option that has less sodium content and is richer in fiber.
Alternatively, you can opt for cauliflower rice, which is rich in vitamins, proteins, and fiber, with the advantage of being low in fats.
Is a Chipotle Bowl Good for Weight Loss? 
A Chipotle bowl is great for weight loss if you stick to the food options that benefit your calorie-deficit meal plan.
It's difficult to craft a Chipotle bowl that suits your new calorie requirements when trying to lose weight, but a few pointers can help.
Below is a list of tips to help you create the perfect Chipotle order to support your weight loss journey; 
#1. Choose a Base that is Low in Carbohydrates
Anyone losing weight should know that foods high in carbohydrates will do them a disservice.
Therefore, you should start building your Chipotle bowl with brown rice or corn tortillas, which are low in carbs and rich in calcium.
#2. Stuff Your Bowl with Veggies
Vegetables are an awesome way to fill your bowl without adding unnecessary calories and still get vitamins, fiber, and minerals.
You can stuff your Chipotle bowl with fresh tomato salsa, roasted chili-corn salsa, romaine lettuce, fajita veggies, and red chili salsa.
#3. Avoid High-Calorie, Non-nutritional Additions
Various sauces spice up the taste of a Chipotle bowl or burrito, but if you're on a weight loss journey, it's best to avoid them.
Avoid high-calorie ingredients like sour cream, queso, guacamole, flour tortillas, chips, and carnilla.
#4. Pair Your Meal with a Low-sugar Beverage
You can also prioritize your weight loss efforts by choosing a beverage with low sugar to keep your calorie intake low.
It would be best to avoid gassy sodas, sweetened teas, and fruit juice because they all contribute to weight gain rather than weight loss.
Alternatively, you can buy a water bottle or unsweetened tea and enjoy it with your healthy Chipotle bowl.
What is the Unhealthiest Food at Chipotle? 
The unhealthiest food at Chipotle is the burrito because of the high calories, which are low in nutrients.
The Chipotle burrito has a high sodium content, loads of fats, and not enough protein to nourish the body.
Also, the burritos are loaded with unhealthy sauces with high sodium content alongside loads of fat and cholesterol.
In conclusion, if you're on a diet or trying to lose weight, you should avoid Chipotle's burritos to avoid falling off the wagon.
What's the Healthiest Food at Chipotle? 
Chipotle has various healthy food options, and it's impossible to say which is the healthiest because they're all nutritious and delicious.
You're in luck if you're wondering which healthy options you can choose when placing your Chipotle orders.
Below is a list of healthy and nutrient-packed orders that you can find at any Chipotle restaurant:
A bowl of lettuce, fajita veggies, tomato salsa, and guacamole
Three steak tacos with romaine lettuce and fajita veggies
Barbacoa salad with guacamole and tomato red salsa.
A bowl of brown rice, fajita veggies, queso blanco, chili corn salsa, and chicken.
A vegetable burrito bowl (no tortilla).
A bowl of brown rice, steak, romaine lettuce, tomato salsa, and sour cream.
Is it Good to Eat Chipotle Bowls Daily? 
Eating from a fast-food chain daily isn't advisable, but several factors would determine if it's a healthy choice.
For example, Chipotle's food choices are usually fresh every day, but some have a high sodium level that isn't healthy for daily consumption.
Chipotle is inexpensive, filling, and savory, but it should be consumed in moderation to reduce the risk of high blood pressure and sodium-induced heart disease.
However, it is safe to enjoy a Chipotle bowl filled with proteins, vegetables, and vitamins now and then if you're so fond of it.
If you're uncertain about the food combos that are more nutritious than harmful, below is a table that shows the nutrients in the healthiest Chipotle food options; 
| Foods | Portions | Calories | Fats | Carbs | Sugars | Protein | Vitamins |
| --- | --- | --- | --- | --- | --- | --- | --- |
| Fajita veggies | 2.5 oz. | 20 | 0.5 grams | 4 grams | 2 grams | 1 grams | 34% |
| Steak | 4 oz. | 190 | 6.5 grams | 2 grams | 1 grams | 30 grams | 2% |
| Romaine salad | 2.5 oz | 10 | 0 | 2 grams | 1 gram | 1 gram | 80% |
| Romaine tacos | 1 oz | 5 | 0 | 1 gram | 0 | 0 | 45% |
| Pinto beans | 4 oz | 120 | 1.0 grams | 22 grams | 1 gram | 7 grams | 4% |
| Black beans | 4 oz | 120 | 1.0 grams | 23 grams | 1 gram | 7 grams | 4% |
| Cilantro lime rice | 3 oz | 130 | 3.0 grams | 23 grams | 0 | 2 grams | 2% |
| Chicken | 4 oz | 190 | 6.5 grams | 1 gram | 1 gram | 32 grams | 12% |
| Steak | 4 oz | 190 | 6.5 grams | 2 grams | 1 gram | 30 grams | 2% |
| Guacamole | 3.5 oz | 150 | 13.0 grams | 8 grams | 1 gram | 2 grams | 42% |
References