Did Starbucks Discontinue The Star Drink? (Explained)
Last updated on October 26th, 2022 at 05:19 pm
Starbucks may be famous for great coffee, but there are so many other offerings at Starbucks that you might want to try. 
In addition to nicely brewed coffee, Starbucks has several other tasty and nutritious refresher drinks, one of which was the star drink. 
Starbucks Star drink is a brew of diced kiwi fruit, Star-fruit flavor, kiwi flavor, and coconut milk that many patrons love.
Unfortunately for lovers of the Star drink, Starbucks discontinued the drink and removed it from the Starbucks menu. According to Starbucks, they discontinued the drink because demand for it wasn't high. Other drinks were more in-demand than the Star drink, so they decided to discontinue it and focus on more popular refreshers. 
Why Did Starbucks Discontinue The Kiwi Starfruit Drink?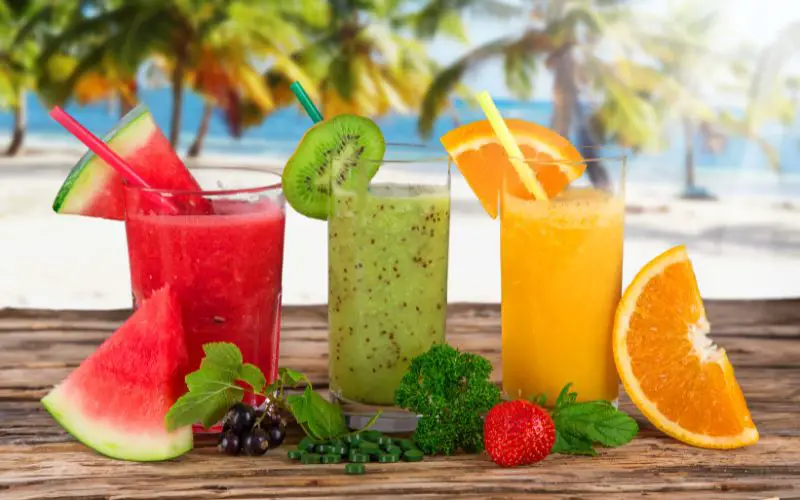 Starbucks discontinued the kiwi star fruit drink because it wasn't very popular among patrons, and its demand wasn't high enough. 
Starbucks said that since the drink wasn't selling, they discontinued it to focus on more popular in-demand refreshers.
Starbucks has always been very popular for its well-brewed coffees, but besides coffee Starbucks has several delicious drinks on its menu. 
Some years ago, Starbucks introduced its new line of refreshers, starting with the strawberry Açai refresher 2016.
The Starfruit refresher came in 2020, way behind the dragon drink in 2017.
Several patrons enjoy the refreshers, especially as they're a blissful break from lattes and iced teas. 
However, unlike the others, Starbucks said that the Starfruit refresher was not very popular with the patrons, so they had to discontinue it.
The Kiwi Star Fruit refresher only stayed on the menu for a few months before the coffee giant discontinued it. 
Some drink lovers thought the company had recalled the drink for health reasons, but the speculations did not last long before the company announced its discontinuation.
Although the management said that they discontinued the drink because it was not selling, a lot of customers did not buy it; the reason that is. 
The refresher was quite popular, and the sales may have been low because it didn't stay on the menu for a long time, and several patrons didn't get a chance to try it.
Those who did wished it would make a comeback which didn't happen.
And with the information that Starbucks is having supply challenges, many people think that is why Starbucks discontinued the tasty drink.
What Flavor Is Starbucks Star Drink?
The Starbucks Star drink has a mixture of kiwi and star fruit flavors. According to Starbucks, the Star drink is made with Star-fruit and Kiwi flavored juice. 
It also contains real diced kiwi fruit, and coconut milk, all mixed and shaken with ice.
The taste is tangy, sweet, and refreshing, especially in a warm summer. Starbucks says the drink is summer re-imagined, and they are not wrong.
The Star drink is a creamy, sweet, refreshing mix of Kiwi and Starfruit juice, coconut milk, and some real kiwi fruit. 
The mixture is sweet and a little tangy because of the Star Fruit extract.
While kiwi and Starfruit are the major ingredients, coconut juice brings everything together and makes the drink creamy. 
There are ice cubes in the drink, but you can keep it for a while, and it won't get too light from the ice melting.
In addition to that, the flavor is unique, and the coconut milk knocks it out of the park. 
And even if you're concerned about the health implications, you should know that the drink is very healthy.
Look up the nutrition facts in the table below.
| Nutrition Facts | Amount |
| --- | --- |
| Calories | 130 |
| Total fat | 2.5g |
| Saturated fat | 2.5g |
| Trans fat | 0g |
| Cholesterol | 0mg |
| Sodium | 65mg |
| Total carbohydrate | 26g |
| Dietary fiber | 1g |
| Total sugar | 22g |
| Protein | 1g |
| Caffeine | 44g |
Is Starbucks Getting A New Refresher In 2022?
Starbucks is getting not one but two new refreshers in 2022. Like all Starbucks refreshers, these two new refreshers will be available during the summer. 
So, in the summer of 2022, Starbucks will introduce two new refreshers.
The newest addition of drinks at Starbucks is the pineapple passionfruit Starbucks refresher beverage and the paradise drink Starbucks refresher beverage. 
According to Starbucks Senior Product developer, the new refreshers will be a pop of color for the summer, delicious. Perfect for the hot summer days ahead.
According to Starbucks management, the pineapple passion fruit refresher contains tropical flavors of pineapple and passion fruit. 
The clue is in the name. The beverage is a delicious mix of pineapple and passion fruit with diced pineapple pieces.
The drink also contains green coffee extract, which twists it.
And if you want another flavor twist, you can add some lemonade to the refresher. However, lemonade will increase the calories.
The paradise drink Starbucks refresher beverage is like the pineapple passionfruit refresher but with a dash of coconut milk. 
Starbucks says that "the non-dairy paradise drink refresher adds coconut milk to the pineapple passionfruit Starbucks refresher drink for a creamy, dreamy tropical sip.
Each drop is a perfect summer sip for a moment of escape wherever you are. Starbucks management has described the refresher as sunshine in a cup. 
Reagan Powell, a senior product developer at Starbucks, has described the flavors as radiant and joyful.
A Grande of the pineapple and passionfruit refresher contains only 100 calories.
The paradise drink refresher contains coconut milk which takes the calories to 140 in a Grande. 
Also, you can opt for lemonade in your pineapple passion fruit refresher for an extra burst of flavor.
Starbucks Star Drinks Alternatives
Customers love the Star drink. After Starbucks discontinued the Star drink, many customers took to Twitter to ask that Starbucks bring the drink back, but unfortunately, the Star drink hasn't made a comeback. 
So, if you enjoyed the Star drink while it lasted, you'll be looking for something else to take now that it's no longer available. There are other options for you.
#1. Dragon Drink Starbucks Refreshers 
The tropical drink contains dragonfruit flavor and sweet mango flavor shaken by hand.
Like the Star drink refresher, this refreshing pick-me also contains coconut milk and ice. The scoop of real diced dragon fruit brings the drink together. 
This amazing fall delight has 130 calories and 3g of fat. It is not exactly like the Star drink but has the same tropical feel with creamy coconut milk and racy flavors.
#2. Paradise Drink Starbucks Refreshers
This drink is a combination of two tropical flavors; pineapple and passionfruit.
These two flavors combine with creamy coconut milk and diced pineapple to give a delicious drink. The drink is also healthy, with 140 calories and 23g of sugar.
#3. Pink Drink Starbucks Refreshers
This hot pink colored drink is made with strawberry flavor and contains accents of passion fruit combined with creamy coconut milk. 
The combination gives a fruity and refreshing taste to every sip. In Summer, spring, or fall, you can enjoy this amazing drink in place of your favorite star drink.
#4. Pineapple Passionfruit Starbucks Refresher
The new Starbucks refresher in 2022 is a perfect alternative to the Star drink. 
The bright and bold combination of passionfruit and pineapple flavor with diced pineapple creates a perfect tropical drink. 
It is immensely refreshing and immensely delicious. The drink also contains only 100 calories and 19g of sugar.
#5. Strawberry Açaí Lemonade Starbucks Refresher
This mixture of passion fruit, Acai mixed with lemonade, and diced pieces of frozen strawberries is delightful. 
This strawberry refresher is the perfect blend of sweet and tangy. It's your perfect drink on a hot summer afternoon. 
Conclusion
Starbucks discontinued the star drink because it wasn't as popular as the other refreshers on the menu. 
While patrons loved the delicious mix of kiwi and Starfruit flavor, Starbucks was not satisfied with the drink's performance and gave it the boot.