How Many Slices In A Little Caesar's Pizza? (Explained)
Last updated on September 11th, 2023 at 02:13 pm
Almost everyone loves pizza. An average American eats pizza practically every day. And there are a lot of pizza chains.
You may decide to go for the standard delivery chains, or you can explore the new brands. 
But whatever your decision is, one fact is sure: Little Caesar pizza is delicious and fluffy.
So how many slices are in a little Caesar's pizza? This article will tell you more about this pizzeria.
Little Caesar's pizza has different slices depending on the size. The small pizza contains eight slices, the large size contains ten slices, and the extra-large pizza comes in 16 slices or more.
Little Caesar 5-dollar Pizza, How Many Slices?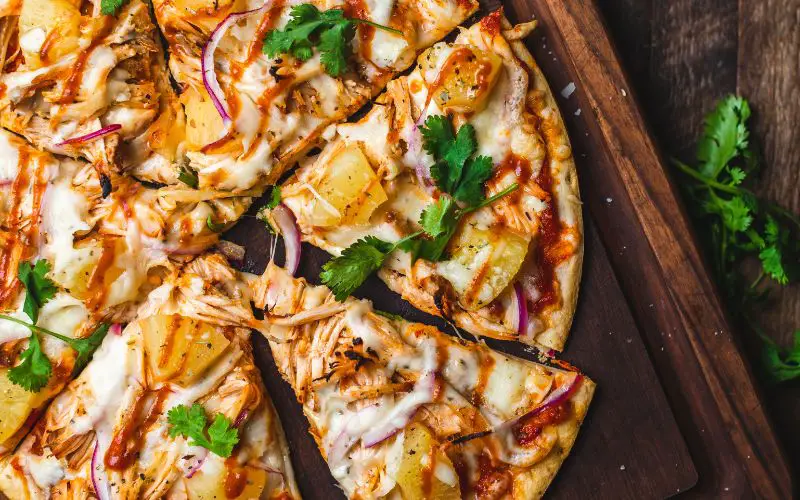 Little Caesar's 5-dollar pizza, known as the hot and ready pepperoni pizza, contains eight slices.
However, their famous 5-dollar pizza increased by 11% to 5.55 dollars. The increased hot and ready pepperoni pizza comes with more pepperoni increased by 33%. 
It is the third biggest American-based pizza manufacturer after Domino's pizza and Pizza Hut.
It was established in 1959 by a couple named Mark and Marian Ilitch in Detroit, now their headquarters.
This pizza firm runs in 24 countries around the world. They also have different branches in all 50 United States. 
In addition, it is famous for its "hot and ready" pizza. They have them ready when you arrive at the restaurant, so you must enter and grab your pizza during crunch time.
They are the ones that keep Americans busy with their constant supply of fast pizza to their customers. 
Little Caesar offers a low pizza price among its contemporaries due to the following reasons:
#1. They Take Shortcuts With Their Cheese
Little Caesar eatery uses mozzarella cheese, which is the least expensive among cheeses. Mozzarella cheese has low water content and is from natural milk.
This cheese does not contain starch or additives; this is to help preserve it for a more extended period.
It helps make both veggie pizza and non-veggie pizza. So, due to its longer shelf life, the cost of Little Caesar pizza is reduced.
#2. Little Caesar Makes the Sauce And Dough They Use
This self-production is another reason their pizza is economical. Little Caesar produces enough dough to prepare up to three million pizzas daily. This dough retains its freshness.
#3. They Use Crazy Bread to Complement Their Pizza
A little Caesar jammed Crazy-bread, and its fluffy breadstick is almost identical since they both contain Parmesan cheese, garlic, and butter.
But the crazy bread is slightly different because it includes an extra melty cheese inside it than the fluffy breadstick.
It is cheaper to bake the crazy bread compared to the pizza. So, that is the reason for selling it for 3 dollars.
Crazy bread is a 3-piece package with eight breadsticks topped with butter and garlic. It also contains parmesan cheese which comes with a crazy sauce.
#4. The Customers Walk Into the Restaurant 
Unlike other pizza manufacturers running after delivery, little Caesar allows their customers to walk into their eatery.
This pizza chain can also sell its chicken wings and soda to the customers who walk in. This method will save the customer time. 
Even though customers walk in to order, they still offer safe foods because, when the customer walks in, they don't have direct contact with the food.
Instead, little Caesar will direct them to the pizza compartments to receive their order.
Then, the customer will scan the QR with their mobile phones and pick up the pizza from a heated counter.
#5. They Cautiously Place The Topping Used In Making The Pizza
Little Caesar eatery makes sure its toppings are as steady as possible. The meat and cheese used in their pizza are not much to reduce the cost of their pizza.
Although they try to reduce cost, they ensure the ingredients used are of good quality.
How Many Little Caesars Pizzas Do I Need For 30 People? 
Calculating the amount of pizza you want to order for a specific number of people can be very confusing. Since you won't want any leftovers, you can't specify what each person will eat.
For 30 people, it's best to order 12 large pizzas or 16 small pizza sizes.
When ordering a pizza for a large number of people, you can know the exact number of pizzas to order by multiplying the total number of people you are inviting by ⅜; if you don't get a whole number, just round it up. 
Each slice of pizza is about ⅛ of the pie, and an average adult can eat three slices of pizza per meal while a child will eat two pieces per meal.
But because people's eating habits differ, you can increase the estimate to 4 slices of pizza for adults and three portions for children. It is more satisfying to have leftovers than for anyone to go hungry.
When ordering pizza from the little Caesar restaurant, these are some of the best delicious menu items you need to consider.
#1. 3 Meat Treat Pizza
This pizza is the best order for someone who wants a pizza with moderate meat.
The three meat treat pizzas have different toppings; bacon, pepperoni, and Italian sausage. This topping makes it a delicious treat.
#2. Buffalo Caesar Wings
The Buffalo wings are a side dish to any little Caesar pizza. It is a tasty wing roasted in the oven with an amazing Buffalo sauce. Buffalo sauce adds to its crispy feeling.
#3. Hula Hawaiian Pizza 
If you love pineapple on your pizza, the Hula Hawaiian pizza will be one of your favorites. Little Caesar perfectly balances the sweet and salty taste without one dominating the other.
#4. Veggie Pizza
The veggie pizza is worth trying if you are a vegetable lover or omnivore. They crown the pizza with green vegetables such as mushrooms, olives, green pepper, and onions.
So, you don't need meat to have a tasty pizza.
#5. Crazy Bread
This bread is delicious, especially when dipped in the crazy sauce. Next, the company sprays the bread with parmesan cheese.
#6. Extra Most best Pepperoni Pizza 
Extra's best Pepperoni Pizza is classic because it contains double cheese and pepperoni as the typical size of little Caesar pizza.
#7. Hot and Ready Cheese Pizza
This pizza is one of the signature dishes of little Caesar. It is part of what built the empire. This food is always hot and ready whenever you walk into the restaurant.
The hot and ready cheese pizza is a simple round common pizza filled with sauce and cheese mixture, just like all other little Caesar pizzas.
#8. Stuffed Crazy Bread
It is crazy bread packed with cheese to make it delicious bread with crazy sauce, and you don't need to pay extra money for it.
#9. Thin Crust Pepperoni Pizza 
Little Caesar thin crust pepperoni pizza breaks apart easily when you take a bite due to its crispy crust. But if you don't like pepperoni, you can order a Thin crust with cheese.
#10. BBQ Caesar Wings
If you are not a fan of the sweet and spicy flavor in Buffalo caesar's wing, you can go for the BBQ caesar's wing. They are delicious and less spicy.
#11. 5 Meat Feast
This pizza comes with two extra tasty meat than the 3 Meat treat. Also, this pizza can get Italian sausage, smoky ham, pepperoni, bacon, and seasoned beef.
#12. Garlic Parmesan Caesar Wings
This wing is tastier than the other wings offered by the little caesar. Unfortunately, it is just a side dish, so you will only get six pieces.
#13. Italian Cheese Bread
Like the Garlic wing, it is just another side dish you can order alongside your pizza. This bread has ten slices of fresh bread with cheese and Italian spice. This addition leaves the bread edge crunchy.
#14. Stuffed Crust Pepperoni Pizza 
This pepperoni pizza crust has tasty melted cheese. In addition, the crust has parmesan cheese and butter.
How Many Slices Are In a Large Little Caesar Pizza?
Little Caesar's large pizza, which is over 16-inches in diameter, has ten slices.
Since each of these pizzas is ⅙ of the size, the large pizza is about 60 square inches of the surface area.
A significant little Caesar slice contains 240 calories and 10 grams of fat. These calories are from the cheese and dough used in making the pizza.
The pizza sauce has blended tomatoes, garlic, salt, sugar, and seasonings.
The common topping used for the pizza is pepperoni. Other toppings are sausage, mushroom, onions, and green pepper.
Little Caesars makes use of the Detroit-style pizza recipe. It makes the pizza coating heavy and chewy. 
Compared to other pizzas, the sauce of the little Caesar is thicker. Also, the pizza cheese is a mixture of mozzarella and provolone. This blend gives the pizza a little tangy taste.
How Many Slices Are In a Small Little Caesar Pizza?
A small little Caesars pizza which is 14- inches in diameter, has eight slices. It is the average number of slices the Little Caesar restaurant made before ordering.
The purpose of making this pizza is to enhance customers' quick and convenient experience.
How Many People Does a Little Caesar Pizza Feed?
A 14-inch little Caesar pizza will feed about 3-4 people. But if they are starving, it will not be sufficient for them. The extra-large pizza will provide for 6 to 8 people successfully.  
The hunger and eating habits will determine the number of little Caesar pizzas people will eat.
Also, the type of little Caesar pizza and the side dish you order will determine the number of people you will feed.
Conclusion
Little Caesar is one of the top-producing pizzerias. Their food is cheap, and they offer different choices on their menu. Above all, the restaurant makes cleanliness their priority.
Therefore, if you are looking for a pizzeria that allows customers to enjoy affordable, delicious varieties of pizza, Little Caesar is the best place to go.