Does Pizza Hut Use Peanut & Peanut Oil? (Explained)
Pizza hut is a restaurant chain that produces popularly enjoyed fast food, especially pizza, and everyone loves trying out popular fast-food restaurants. 
Naturally, this means that people with specific allergies will need to be on the lookout for ingredients in use before trying Pizza hut out.
If you're allergic to peanuts and peanut oil and wonder if Pizza hut uses these ingredients, you'll get the correct answers in this article.
Pizza hut does not use peanut or peanut oil in preparing food. However, pizza hut's management admits that common manufacturing plants that supply food to their restaurants might use peanuts. Interestingly, pizza hut provides a table of ingredients to ensure that people do not consume food they're allergic to.
In this article, I will provide the ingredients used in Pizza hut's crust and the type of oil used by Pizza hut. 
By the end, you will know if Pizza Hut uses peanuts and the ingredients to look out for if you have allergies.
Does Pizza Hut Use Peanuts in Their Pizza?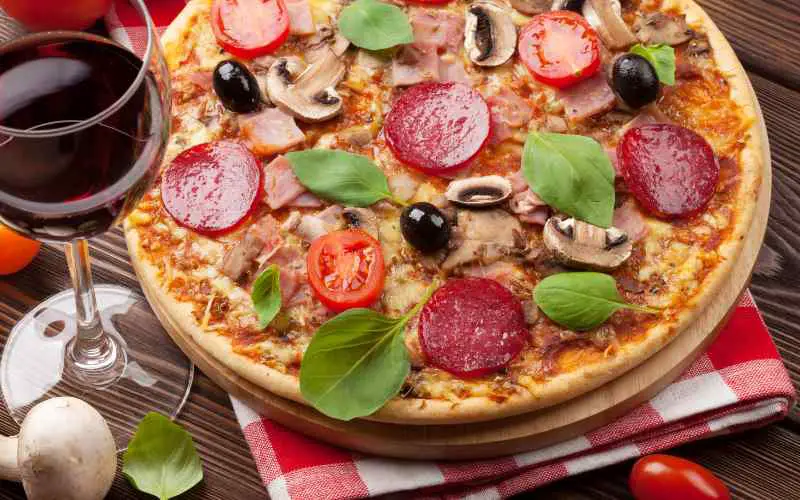 Pizza hut makes it known on its website that they do not use peanuts in its restaurants.
However, there's also a disclaimer that common manufacturing plants that supply food to pizza hut restaurants may use peanuts.
Pizza hut makes provisions for people with different taste palettes and allergies to enjoy their products.
They provide food on the menu that excludes allergens like peanuts, soy, wheat, eggs, or milk, and they also provide vegetarian food options. 
However, Pizza hut explains that since the same kitchen equipment is used for cooking various foods, some allergens may mistakenly come in contact with allergy-free food. 
Thus, you are still taking a risk by eating dishes that do not contain peanuts, so you should be well informed beforehand.
Below is a table of Pizza hut's allergens to guide you on which pizzas are safe if you are prone to peanut allergies; 
| Pizza Hut Dishes | Peanuts or Their Derivatives | Safe for Peanut Allergies  |
| --- | --- | --- |
| Pan pizza  | No | Yes |
| Hot n' spicy chicken strips | Possible cross-contamination | No |
| Breaded chicken strips | Possible cross-contamination | No |
| Mac n' Cheese | Possible cross-contamination | No |
| All sauces | No  | Yea |
| All cheeses | No  | Yes |
| Meat toppings  | No  | Yes  |
| Fish toppings  | No | Yes |
| Vegetable toppings | No | Yes |
| Classic pizza | No | Yes |
| Cheese stuffed crust pizza | No | Yes |
| Garlic butter stuffed crust pizza | No | Yes |
| Peri peri stuffed crust pizza | No | Yes |
Does Pizza Use Peanut Oil in Their Pizza?
Pizza hut does not use peanut oil in any of its pizza recipes.
Instead, they try as much as possible to keep peanuts and peanut oil out of their ingredients composition for pizzas and sides.
If you're allergic to peanuts and peanut oil, it's safe to say that all the pizzas available on the Pizza hut menu are safe for you.
However, it's safer to avoid consuming side dishes on the Pizza Hut menu that are not in-house products. 
The side dishes on their menu contain ingredients bought from common manufacturing plants where peanuts or peanut oil might've contaminated them. 
What Ingredients are in Pizza Hut Crust?
The main ingredients in Pizza hut's pizza crust include; enriched flour, yeast, soybean oil or vegetable oil, salt, sugar, and wheat glucose. 
Aside from the significant ingredients above, pizza hut's crust is kept fresh by adding TBHQ (tert-Butylhydroquinone) for preservation. 
Several people love the crust of Pizza hut's signature pan pizza, but they would need a similar recipe to recreate it. 
Interestingly, the article provides a fantastic pan pizza recipe with the same satisfaction derived from pizza hut's crust. 
The ingredients needed for this recipe include the following; 
Milk
Yeast
Sugar
Salt
Warm water
Vegetable oil
All-purpose flour
Tomato sauce
Oregano
Basil
Marjoram and, 
Mozzarella cheese. 
Below are the instructions required recipe for making Pizza hut's pan pizza signature crust; 
Begin by preparing the dough mixture. Also, place the yeast, salt, sugar, water, and dry milk in a bowl and mix by stirring.
Secondly, allow the mixture to sit in the bowl until the yeast forms bubbles. Immediately you notice bubbles, add oil to the mixture and stir it again. 
Thirdly, add flour to the yeast mixture and mix until the dough forms.
For the next step, you'll need to place the dough on a flat surface dusted with flour and knead it for ten minutes.
After this, add 3 ounces of oil to a 9-inch cake pan and ensure that the oil spreads evenly around the cake pan.
Next, use a rolling pin to flatten a ball of your previously kneaded dough and place it in the cake pan.
The next step involves spraying the top of the dough lightly with olive oil and leaving it to sit until it's puffy.
After this, preheat your oven to 475° F, add your pre-made sauce and choice of toppings to the pan, and cook until the crust is brown. 
Lastly, remove the pizza from the oven and enjoy the signature delicious Pizza Hut pan pizza crust.
What Oil Does Pizza Hut Use?
Pizza Hut uses soy oil to prepare all the dough used in making the pizzas available on their menu.
However, some pizza hut recipes include canola oil, such as sides that require frying in their preparation. 
Asides from soy oil and canola oil, Pizza Hut also use vegetable oil to make their pizza crust appear shiny and sumptuous.
Pizza Hut uses soy oil because it is flavorless and affordable for bulk pizza production across all the restaurants attached to its chain.
However, if you still need to be sure about soy or soybean oil, the health benefits will convince you to try it.
Below are the health benefits of consuming foods made with soybean oil; 
Soybean oil has a high smoke point of 450° F which allows it to prevent or relieve the body of oxidative stress. 
Soybean oil contains heart-healthy fatty acids that could reduce the risk of heart disease.
Soybean oil is a fantastic option for high-heat cooking because of its high smoke capacity.
Soybean oil is rich in vitamin K, an essential daily need for proper bone metabolism and blood clotting. 
Soybean oil is rich in omega-3 fatty acids, which are great for fetal growth, brain function, heart health, and immunity.
Soybean oil is a rich source of vitamin E, an anti-inflammatory nutrient that protects your skin from damage, acne, and atopic dermatitis.
Soybean oil has a neutral taste that does not interfere with the original taste of your dish while enriching it with nutrients.
Soybean is a versatile and reliable vegetable oil used for baking, frying, roasting, sautéing, salad dressing, and skincare products.
FAQs 
Is Pizza Hut Safe for Peanut Allergy?
Pizza Hut is safe for people with peanut allergies because peanuts or peanut oil aren't used in their recipes.
Are There Peanuts in Pizza Hut? 
There are no peanuts in the food on Pizza Hut's menu; however, ingredients from other manufacturing plants might be cross-contaminated. 
What Allergens are Used in Pizza Hut Pizza? 
Pizza Hut's pizza recipes accommodate vegetarians and allergic persons, but they use tomatoes and yeast, which few people are allergic to.