Does Pizza Express Accept Tastecard? Get the Facts!
Tastecard often called the "Holy Grail" for foodies, is a membership card that offers incredible discounts on dining out at thousands of restaurants across the UK. 
Tastecard has forged partnerships with numerous restaurants to make dining out more affordable.
If you find yourself craving a mouth-watering pizza but are also mindful of your budget, you may want to know if the iconic Pizza Express accepts the Tastecard.
Therefore, "Does Pizza Express accept tastecards?" read on to find the answer.
Pizza Express did accept Tastecard, but not anymore. Pizza Express declared the termination of their partnership with Tastecard publicly and announced that from February 1st, 2021, they would no longer accept Tastecards. Apart from Tastecards, there are other discounts that Pizza Express offers. However, you can only access most of these discounts when you join the Pizza Express customers database.
In this article, I will reveal whether or not Pizza Express accepts Tastecard. I will also explore the other restaurant discount cards offered by Pizza Express.
In addition, I will offer you tips on how to get access to the discount cards, and by the end, you will discover the one that's most suitable for you.
The Discontinuation of Tastecard Benefits at Pizza Express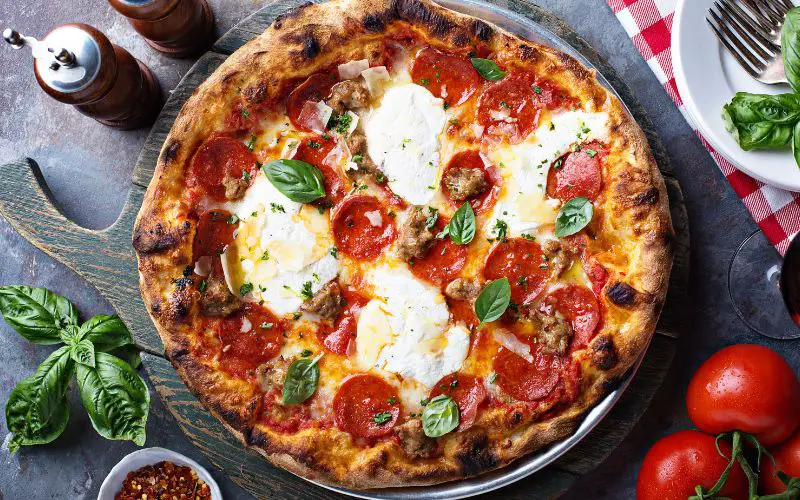 The Tastecard, a popular dining discount card, offered exclusive Pizza Express deals. 
Treated as a membership card in restaurants like Pizza Express, the Tastecard allowed diners to indulge in their favorite specials at significantly reduced prices.
Sadly, in an unfortunate turn of events, Pizza Express has discontinued benefits for Tastecard holders from February 1st, 2021.
This news hits particularly hard for those who enjoyed using their membership card in restaurants like these.
Pizza Express and Tastecard had a mutually beneficial relationship that gave rise to several enticing Pizza Express deals for Tastecard restaurant patrons. 
Before this decision took effect, Pizza Express customers used to enjoy some enticing offers, and one of them was the unforgettable 2-for-1 deal.
This 2-for-1 deal applies every day, even on weekends. With this outstanding discount, Tastecard holders could double their delight without doubling their expenses. 
Some of these fantastic discounts include:
Sharing two Margherita pizzas with a friend and only paying for one.
Enjoying two servings of mouth-watering Penne Pollo Ad Astra but picking up the tab for just one.
Enjoying two BBQ Chicken at a discount and leaving your wallet intact.
Indeed, these offers made Tastecard restaurants like Pizza Express a favorite destination among food lovers looking for dining out savings. 
However, from February 1st, 2021, these benefits have been discontinued as PizzaExpress no longer accepts Tastecards.
But why exactly did Pizza Express and Tastecard end their relationship? You may be curious. 
The truth is that no significant reports or widespread information were suggesting that Tastecard and Pizza Express had any issues. 
Partnerships like these often benefit both parties by attracting more customers to the restaurant while providing discounts to Tastecard users.
However, the restaurant industry can be competitive and subject to various factors that may affect individual businesses.
Check the table below for the pros and cons of using Tastecard in the restaurant industry.
| Pros | Cons |
| --- | --- |
| Customers have savings on dining out. | It requires a membership fee. |
| Customers have access to exclusive offers. | There are some restrictions on menu items. |
| Easy to use app. | You can't combine it with other offers. |
| It's great for group dining. | It may not be valid on special occasions. |
| Access to a wide range of cuisines | Limited availability during peak hours. |
Meanwhile, despite this change, Pizza Express continues to provide multiple avenues through which customers can get discounts or special deals. 
One such way is by joining their customer database on their official website. Doing this lets you get regular updates about the brand's current offers and menu changes.
Where to Find Current Pizza Express Offers and Updates
Fortunately, despite the end of Pizza Express offers with Tastecard, you can still find amazing discounts and promotional offers from this popular chain. 
However, how do you find Pizza Express's current offers and updates? An excellent starting point is visiting the official Pizza Express website. 
The process is quite straightforward. Go to Pizza Express's official website and sign up for their customer database. You should also sign up for their newsletter.
Doing so ensures you always stay updated with menu introductions and exclusive discounts for members.
While you may miss those good old days when you used your Tastecards liberally at PizzaExpress, it's important to remember that change is inevitable. 
Therefore, kindly embrace this newly introduced route towards enjoying those mouth-watering meals at Pizza Express without breaking the bank.
So, register today because nothing should stop you from enjoying delectable dishes.
Some other ways to find current promotions include:
Browsing through discount websites known for sharing dining-out savings.
Cross-checking different social media platforms where brands often share exclusive deals with their followers.
Take time on your next visit to inquire directly from staff about current specials or upcoming promotions.
Above all, remember that even though it no longer counts as one of the Tastecard restaurants, there are still plenty of Pizzaiolo favorites on discount at Pizza Express.
Exploring Other Ways to Get Discounts at Pizza Express
While discontinuing Tastecard benefits at Pizza Express may be disappointing, there are still several ways you can enjoy your Pizza from the brand without breaking the bank.
Here are some alternatives to Tastecard restaurants that you might consider:
#1. Pizza Express Deals
Pizza Express offers regular deals and promotions that can provide excellent dining-out savings. 
It's always a good decision to check their website or app for the latest discounts before planning your visit.
In addition, if you loved using your dining discount card at Pizza Express, consider joining their customer database. This way, you will stay updated about any new deals they might have.
#2. Become Part of Their Club
PizzaExpress is proud to introduce its Pizza Express Club, designed to offer customers an exceptional experience filled with special offers, exciting events, and personalized rewards. 
Becoming a member of the Pizza Express Club is not only simple but also completely free, making it accessible to everyone. 
As a member of the Pizza Express Club, you'll receive many benefits, like personalized rewards straight into your inbox, mouth-watering discounts, and invitations to exclusive events.
In addition, you will enjoy prior access to Pizza Express's latest menu creations.
#3. Dining Discount Card Alternatives
Many other restaurant membership cards offer benefits similar to Tastecard in Pizza Express.
Pizza Express offers excellent restaurant discount cards like Tesco Clubcards, gift cards, and many more.
Although these cards may work differently than Tastecards, they offer substantial dining-out savings.
Remember, although the Pizza Express Tastecard offers have been discontinued, there are still plenty of opportunities for enjoying tasty Pizza Express discounts.