What Are The Worst Apples For Applesauce? (Must Know)
Last updated on October 26th, 2022 at 05:20 pm
The sweet and tasty result of boiling, peeling, and pureeing apples for your applesauce; what about them apples?
After making your first batch of homemade applesauce, you might wonder what kind of apples to use in the future. Which are the best and worst apples for applesauce? 
Not all apples are created equal, so if you want to make the best applesauce possible, it's essential to use the right apple for the job.
Here's how to tell which varieties will give you the best tasting results and which ones you should avoid at all costs! This article covers which the worst apples for applesauce are.
There are bad apples for making your applesauce; these aren't totally bad, but just are' suitable for making applesauce. Among these are Red Delicious apples, Gala, Fuji, and McIntosh. Although we still use some of these apples in our applesauce, they have to be mixed with other varieties for you to get a good result.
Which Apples Don't Have the Right Flavor Punch?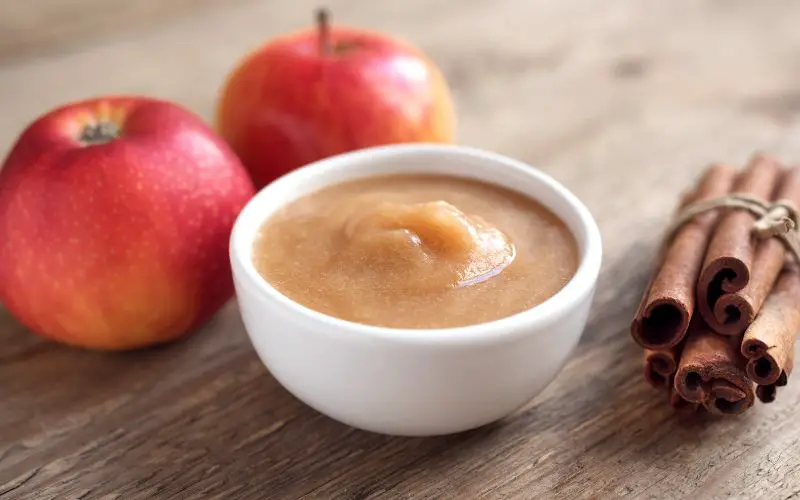 While there are many different types of apples, not all make good applesauce.
The best applesauce apples are those with a lot of natural sugar and a strong flavor. So, which apples should you avoid?
Suppose you want to make applesauce that will impress your friends and family, avoid those varieties of apples that don't have much flavor.
Stay away from Red Delicious, Fuji, Gala, and McIntosh.
These apples are either a bit too mushy or don't have the necessary flavor punch for the extended baking time required for pies and tarts.
Why are Mcintosh, Gala, Fuji, or Red Delicious Apples the Worse Apples for Applesauce?
| Red Delicious Apple | Gala | Fuji  | Mcintosh |
| --- | --- | --- | --- |
| The flesh of a Red Delicious apple is too dense and mealy, making for a chunky sauce and not smooth. | Gala apples can be a bit too sweet to make applesauce. | Fuji apples are crisp and sweet, which makes them not the best choice for applesauce. | McIntosh apples also don't make a good sauce because they are too acidic. |
| The skin of a Red Delicious apple is also very fragile and is prone to bruising, so it doesn't add much structure or body to the sauce. | The flesh of a Gala apple is too dense and doesn't break down well when cooked, which means that your applesauce will be chunky and not as smooth as it could be. | While Fuji apples are crisp and sweet, they're not the best choice for applesauce. When cooked, Fuji apples can become mushy and bland.  | McIntosh apples aren't ideal for sauce due to their high water content, which makes your sauce thin and watery. |
| The flavor of a Red Delicious apple is too sweet and one-dimensional, without the complex notes that other apples can provide. | Gala apples are pretty sweet, so if you're looking for tart applesauce, this isn't the correct type of apple to use. | | McIntosh apples don't have a lot of flavors, so your sauce will be bland. |
What Kind of Apples Does Mott's Use for Applesauce?
The Golden Delicious apple is the apple species utilized in the production of Mott's Applesauce.
The Golden Delicious apple variety is the nation's second most popular variety.
For its crisp and juicy texture, it maintains its shape quite well, giving it an excellent option for meeting all of your culinary requirements.
You can eat them fresh or use them in pies, baking, and sauces, which is why it's Mott's choice when making applesauce.
The states of Washington and Pennsylvania, as well as Canada, are responsible for producing these apples.
Can You Use Soft Apples for Applesauce?
Yes, you can use soft apples for applesauce. While you can technically use any apple to make applesauce, some varieties yield a tastier (and better-looking) final product than others.
Softer apples require less time in the oven, allowing you to spend less time in the kitchen overall, so choose apples of various types to achieve the optimum flavor. 
However, using soft apples for applesauce isn't without its downside, as it might not have as much flavor as fresh apples.
You can also use soft apples for homemade applesauce, but you'll want to use about twice as many soft apples as you would crisp ones.
Soft apple varieties include Red Delicious apple, Yellow Delicious.
The Best Apples for Applesauce
The best apples for apple sauce may vary depending on your preferences.
Before choosing the apples that would be best for your applesauce, you must know which apple suits you best.
Apples that work well in apple sauce generally fall into three categories: sweet, tart, and mixed (tangy, crispy, and sharp). 
To have the best apples for applesauce, you have to ensure you mix your apples from sweet to tart and mix them well.
Do have at least two to three of the categories of the apples.
#1. Sweet and Mildly Sweet Apples  
When we talk about apples that are sweet, mildly sweet, or even very sweet, some species of apples fall into this category.
You have to ensure you can categorize these apples so you can know which apples to mix when making your applesauce to get the best apples for your applesauce.
Examples of apples in this category are listed below:
#1. Gala
Gala apples feature pinkish-red stripes on a pale yellow background.
This delicious apple has vanilla overtones and is best fresh or juiced, although its mild flavor pairs nicely with tart apples.
#2. Fuji
These apples are sweeter. This Japanese apple combines a Red Delicious apple and a Rawls Jennet.
It boasts firm, creamy, fine-grained flesh and a long life cycle, making it excellent year-round.
This sugary-sweet apple is perfect for munching, baking, and applesauce.
#3. Crispin (Mutsu)
Crispin apples often called Mutsu apples, are a 1940s hybrid between Golden Delicious apple and Indo.
These apples have delicious gritty flesh that cooks well. As their name suggests, these crisp apples provide a crunch for salads, pies, and sauces.
These greenish-yellow apples are at their finest from September – October.
#4. Golden Delicious Apple
It is large, pale yellowish-green, thin-skinned, and sweet. The soft, white flesh cooks well for homemade applesauce.
Golden Delicious apples are picked in September and October but are available year-round.
#5. Honeycrisp
This juicy, delicious apple is sweet and tart. Due to their popularity, Honeycrisp apples are more expensive than Gala, Granny Smith, and Red Delicious apples. 
#6. Cortland
These apples are brilliant red with yellow streaks and patches. This popular apple has pleasant, similar-tasting white flesh to the McIntosh that doesn't brown rapidly.
They are best for making applesauce in mid-to-late September.
#2. Tart Apples
Looking into the category of tart apples, we find that they are tart and a tad sweet. Here are a few examples of apples that fall into this category:
#1. McIntosh
This tart, sweet, and juicy apple is excellent for applesauce. McIntosh apples have easy-to-peel red and green skin and don't need much cooking time, making them suitable for desserts.
#2. Gravenstein
The Gravenstein apple may be the best for making applesauce among the varieties in this category.
Still, locating them is getting harder because their growing season is so short, and there are fewer orchards. 
#3. Macoun
These are the best eating apples. They're sweet, tangy, and juicy but only seasonally available.
#4. Jonamac
It is a hybrid of Jonathan and McIntosh apples, but sweeter. The Jonamac apple's honey-like flavor is popular.
#5. Granny Smith
This tart apple makes lip-puckering applesauce. This Australian apple with lime and grapefruit flavors cooks beautifully and can be combined with milder apples to form a sweet and sour sauce.
Granny Smith apples are available year-round and have a green peel.
#3. Mixed Apple
This apple category is crisp, tangy, and sharp. Examples of apples in this category include; 
#1. Braeburn
This crisp apple keeps its shape when cooked. Cooking mellows this apple's intense flavor and offers nutmeg and cinnamon for fall baking.
#2. Rome
Rome is circular, red, shiny, thick-skinned, and firm. Its delicate flavor makes it less acceptable as an eating apple than other types. It comes out in late September.
#3. Ida
Idared apples are sweet and tangy, juicy and crunchy. They are available beginning in the fall and continuing throughout the early summer.
#4. Liberty
The Liberty apple is a delicious, somewhat tart, disease-resistant eating apple.
Generally, softer apple cultivars, such as Golden Delicious apple and Fuji, are ideal for making applesauce because the apples will be cooked down significantly during the process.
You should use McIntosh and Golden Delicious apples to make a primary batch of applesauce.
Since Golden Delicious apples are more tender than other varieties, they break down faster during cooking and provide an excellent base for apple sauce.
Despite their tendency to become mushy, fresh, and crisp, McIntosh apples are perfect for baking applications such as pies and sauces.
Conclusion
When making applesauce, you do not just want to use any apples.
There are apples that you should be on the lookout for, so you do not use them and ruin the taste and feel of your sauce, and there are also apples that you should use to get the best result from your sauce.