This is What Happened To Sour Starburst!
Last updated on October 26th, 2022 at 05:19 pm
Have you gone to your regular store searching for your favorite sour starburst? You may find out that the sour starburst is no longer on sale. 
What may have happened to the production of your favorite bars? Well, let's see.
Mars discontinued Sour Starburst because the product sales were low. Sour Starburst gradually disappeared from the market since the sales were low around 2011. However, there has been an increasing demand and longing for sour Starburst over the years and up until now.
Why Was Sour Starburst Discontinued?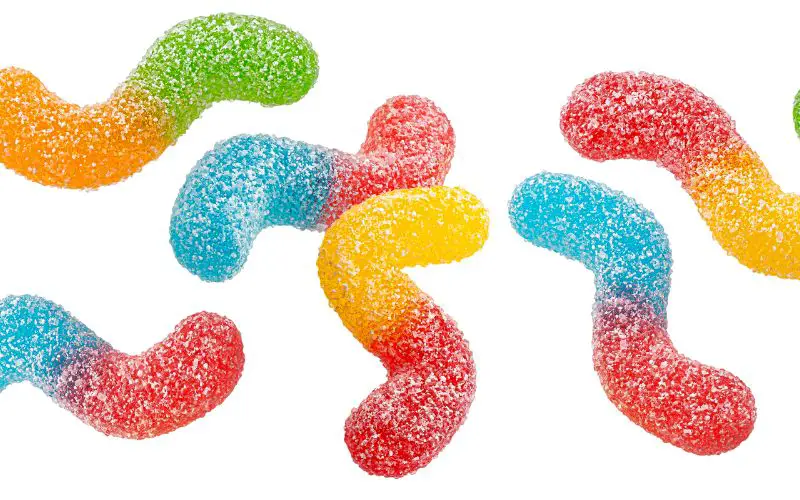 Mars discontinued Starburst sour gummies because the sales became very low, and the manufacturers had to stop their production. 
Mars introduced Starburst sour candies between the years 2006-2007. Initially, when Mars introduced the Starburst Sour, the sales were okay. 
However, demand for Starburst dropped, which led to the company bringing the production of Starburst sour to a halt in 2011.
Some sources also speculated that the cessation of the production of Sour Starburst by Mars company was because they had some dodgy ingredients added to it while preparing the sour Starburst. Since 
Though Mars is known for its reliability and authenticity with its products, the above speculations couldn't hold water. 
Starburst discontinuity was a huge surprise to many, especially those who have had a feel of it and how it tastes. Writing about its flavor is even mouth-watering. 
However, Starburst sour is still around, and you can get any of their candies from a huge collection.
The specific flavor you want might not be in circulation for one reason, which may be unhealthy for the consumers. 
How Does Sour Starburst Taste?
You can not forget the taste of a sour starburst in a hurry. Starburst sour has a taste that sticks for a while in the mouth, even after consuming it. 
Starburst also has delightful flavors such as; sour tangerine, sour strawberry, and sour green apple.
The two main types of sour starburst flavor are; Sour Watermelon and Sour Green Apple. 
These two types of sour starbursts taste differently, brought about by their constituents and their making process.
#1. Sour Watermelon
This type is hot pink and has a quick sour bite that's almost salty, which sends an impulse to your satiety center in your brain. It's quite intense to the end.
#2. Sour Green Apple
This type of Starburst sour is acid green with a tangy and juicy taste when ingested.
Sour Green Apple also has a plastic flavor of chemical green apple amidst an apple juice flavor.
Where Can I Buy Sour Starburst? 
Since the Mars company had discontinued Starburst Sour, there are places where you can make an order for a Sour Starburst or any other varieties of Starburst of your choice. 
Many fans are now excited that they could get sour gummies from some platforms.
These platforms include Amazon, Instacart, Walmart, and many more sites around the globe. 
The table below shows some of the different types of Starburst product and their related prices.
| Types of Starburst Products | Prices ($) |
| --- | --- |
| Starburst candy canes: containing 12 pieces | 4.80 |
| Starburst lollipops | 29.95 |
| Minis fruit candy starburst – FaveREDs | 3.50 |
| Fruit candy starburst – FaveREDs: 15.6-ounce | 5.50 |
| Fruit chews candy starburst: 3LB bag  | 12.95 |
| Fun size fruit chews candy starburst packs | 129.50 |
| Fruit candy starburst – FaveREDs: 24-pieces | 29.95 |
| Fruit chews candy packs – original: 36-pieces | 36.00 |
| Gummies candy – sour: 8-ounce bag | 3.50 |
| Gummies candy – original: 8-ounce bag | 3.50 |
| Tropical fruit chews candy packs: 36-pieces | 36.00 |
| Duos fruit chews candy: 12.5-Ounce bag | 4.95 |
| Starburst-filled tubular candy cane | 3.00 |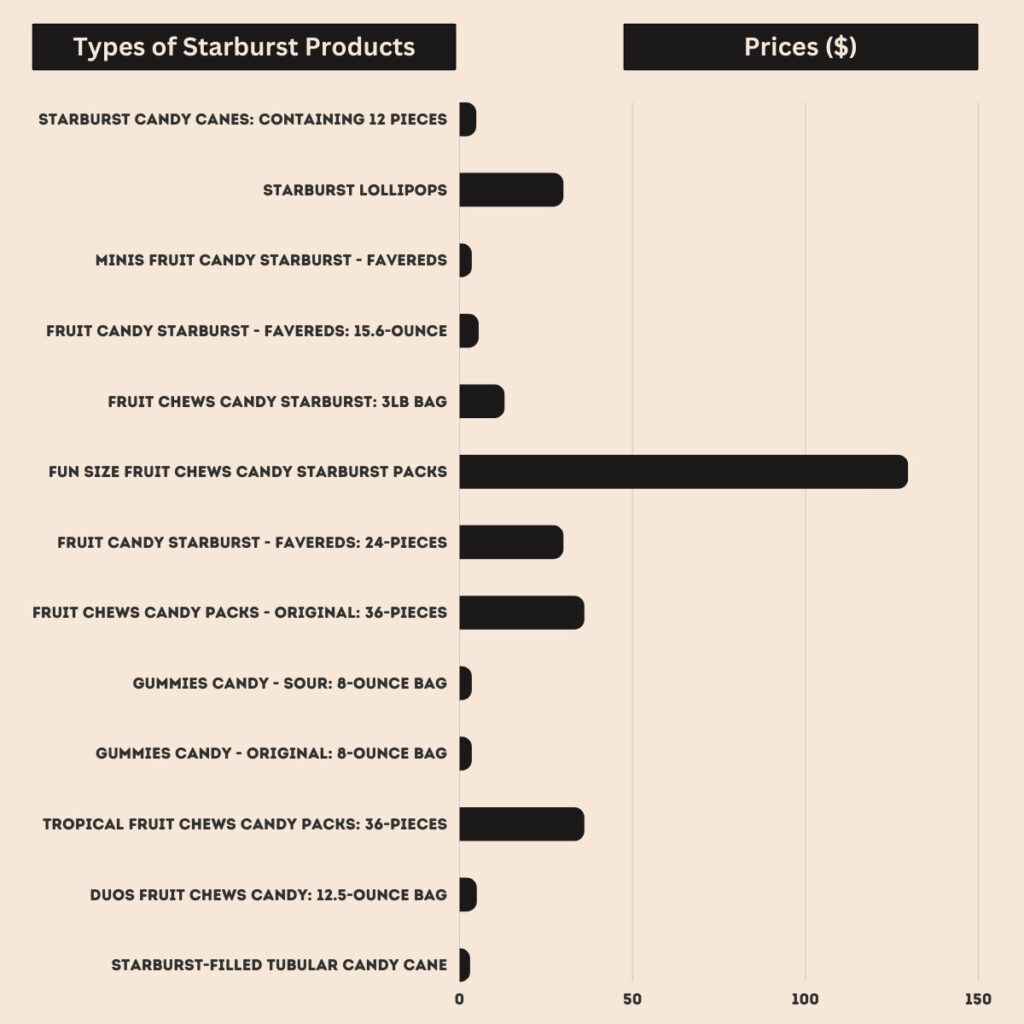 However, there are ways you can enjoy your Starburst without having sour candies.
The fact that sour Starburst is not in the market should not hinder us from enjoying other world goodies. 
The various recommendations are good for an optimal feel of good starburst candies.
#1. Starburst Duos
One major advantage of Starburst duos over other candies is that they retain their original classics. However, at the same time, they give tons of new flavors. 
Originally, Starburst had limited selections, and customers were allowed to choose from the options such as strawberry, lemon, lime, and orange. 
But you can do more with the Starburst Duos, the company's latest product.
#2. The Pink Flavor
The pink flavor is the most outstanding and tasty flavor that Starburst offers based on popular demands and individual preferences.
If you want to have your candy and be happy with yourself afterward, I recommend you go for pink. 
#3. Try a Cocktail 
Starbursts will allow you to drink a dessert wherever and whenever. 
Mars has got you covered in this aspect by launching a new Starburst Cosmopolitans, which has a taste beyond what you would expect. 
Try to imagine the fruity flavor of Starburst adding that sour richness to your fresh beverages. There is no harm in trying this out.
Sour Starburst Alternatives
You can use different alternatives in place of a Sour Starburst. You don't have to worry because these alternatives will give you nearly the same feeling as the sour Starburst. 
Listed below are the various alternatives to Sour Starburst: 
Starburst Tropical Fruit Candy
SweeTARTS Mini Chewy Candy
Snack Chest Cookies, Chips & Candies Ultimate Snacks
Now and Later Original Chews Candy
Full-size Skittles & Starburst mix.
Sugar-free chewing gum with icebreakers and ice cubes of cinnamon. 
Full-size fruit taffy in airheads candy bars.
Ring pop bulk variety party lollipop suckers that are individually wrapped.
Sweet Choice Bite Sized Candy Gift Box Care Package
You must consider certain factors before buying chewy sweets like Starburst.
Below are the various factors vividly explained:
#1. Ingredients
You employ many ingredients in making different types of candies to make them tasty. You hinge your choice of candy on the kind of ingredients used. 
Examples are chocolate chips, nuts, marshmallows, coconut flakes, etc.
The ingredients matter when you're considering flavor and health benefits.
#2. Calories
Aimless chewing of candy bars could lead to excessive weight gain over time.
To put your weight to check, always buy the candy with the lowest calories possible.
#3. Flavor
As numerous as the candy bars, so is their flavor. The kind of flavor you want depends on individual preference. 
The flavors available could be; orange cream, strawberry lemonade, strawberry banana, citrus slush, tropical punch, plum, mixed berries, green apple,  etc.
#4. Size
It's not all about the calories, flavor, and ingredients, in as much as all these are good, the size of the candy bar is also put into consideration whether the candy is worth purchasing. 
However, the larger the size, the more money you pay to buy it. 
#5. Brand
It would be best if you always considered your candy brand, which will give you maximum satisfaction. 
However, some of these brands don't taste very good. Hence, it would be best if you take caution. 
Conclusion
Mars discontinued Sour Starburst because the sales of the product were low.
The discontinuity of the production doesn't mean that there are no alternatives for it. 
You can order Starburst from Amazon, instacart, and Walmart. However, there has been an increasing demand and longing for sour Starburst over the years and up until now.